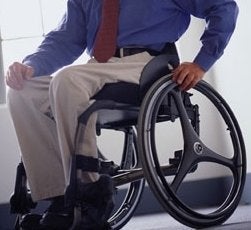 When I was 16 years old, I had no person with a physical disability that I could look up to as a mentor. My heroes were Bob Costas, Dick Stockton and other Syracuse University broadcasters. All able bodied.
I craved someone with a physical disability that I could emulate. I needed to see the path to success -- a role model, a mentor. As I speak to individuals around the country, other people with disabilities share the same story. They had no role models. It is true today with the next generation of people with disabilities.
People with disabilities have very few mentors or ways to connect with other people with disabilities.
I am often asked what am I going to do to follow up my autobiography or the Public Broadcasting documentary produced about me Get Off Your Knees. I wasn't sure, but now I am. I want to help solve this problem.
I want to create a network of mentoring. I want to tell the stories of other inspirational people. By taking my strong entrepreneurial spirit, I am starting a small business dedicated to mentoring and connecting people with disabilities. This organization is dedicated to inspiring people towards their future employment and education. This organization is Our Ability. It begins today!
Our Ability is social media web site/video-production company telling the stories of inspirational people with disabilities. The stories of successful people in their middle career who will serve as inspirational role models to young people with disabilities. When a young person 16 to 25 years of age is questioning their career path, they can look for inspiration on Our Ability. These are stories of real people with ways to interact with businesses, organizations, universities and through social media. We can talk with one another about shared experiences.
What will we find on Our Ability? People. Individuals like Doug Hamlin, owner and president of his own software firm succeeding after trampoline injury years ago. Soon, you will find Josh Levine at Barclays Capital - a person with great strength, a hearing impairment and responsible for many millions of dollars for an international organization. Or, Beth Butler. An extremely impressive and persevering individual with a visual impairment working to bring more corporate diversity into Lowe's Home Improvement.
In time, there will be resources, job postings and blogs from businesses/organizations/universities. Cargill, Barclays Capital, the USBLN, Syracuse University and many are showing their support for this venture before its launch. There is a business interest in connecting, employing and educating people with disabilities. We look forward to adding more partnerships. Each additional partnership will provide Our Ability with the resources be able to produce the stories of people with disabilities that will serve as mentors. At its core, Our Ability will connect people.
Last month, I wrote a blog in regard to Start Up America. I pointed out people with disabilities struggle with employment. It can become very hard for businesses to understand a disability enough to be able to look past that difference and see the ability of the person applying for a position. In January 2011, the percentage of people with disabilities in the labor force was 20.1. By comparison, the percentage of persons with no disability in the labor force was 69.5. The unemployment rate for those with disabilities was 13.6 percent, compared with 9.7 percent for persons with no disability, not seasonally adjusted.
Our Ability will be a success if we connect and mentor individuals with disabilities. Our ultimate goal will be achieved when the unemployment rate as well as the labor force percentage - are equal. If we do our job, the stories we tell will not only inspire individuals with disabilities but will help raise the awareness of the ability and desire within all of us to be equally educated and employed.
Help me tell the story. If you know an individual with a disability, share this website. If you know a parent with a child with a disability, share this website. If you know a soldier coming back from war with a disability, share this website. If you know a business looking to hire a diverse workforce that looks like the rest of the world, share this website. If you know a university interested in educating people with disabilities, share this website. And most importantly, if you know anyone looking for inspiration, share Our Ability.

Calling all HuffPost superfans!
Sign up for membership to become a founding member and help shape HuffPost's next chapter