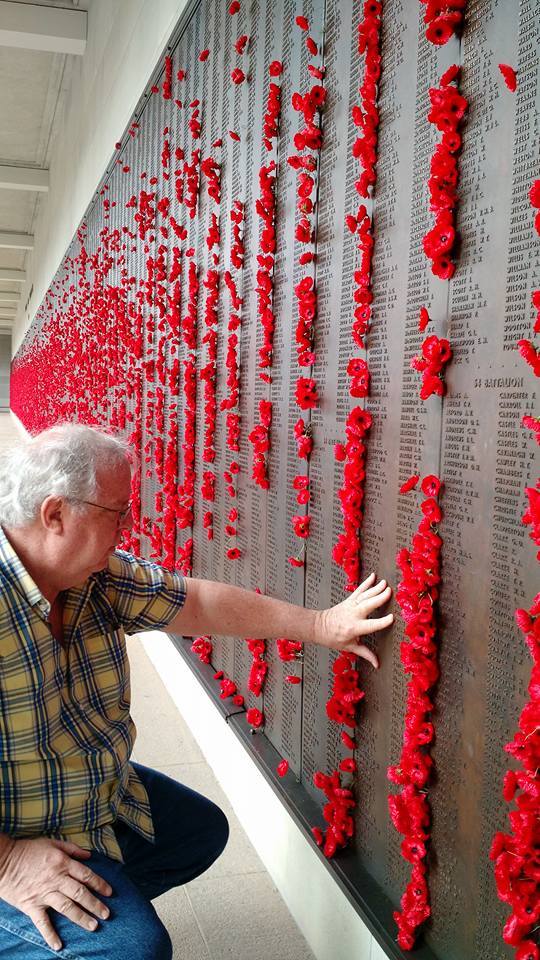 At Thursday's National Prayer Breakfast, President Trump repeated his always-inappropriate attempt to shame the world community by saying, just hours after insulting Australian Prime Minister Malcolm Turnbull,
"It's time we're going to be a little tough folks. We're taken advantage of by every nation in the world virtually. It's not going to happen anymore. It's not going to happen anymore."
I was embarrassed by the President's remarks towards perhaps our greatest friend and ally, remarks that betrayed nearly a century of an unalloyed partnership annealed in battlefield blood and national treasures.
Australia and I have a long history together, beginning in the mid-1950s, though I'm sure Australia does not recall the details; she has been quite busy over the intervening six decades. Suffice to say, I remember every detail of our many trysts, and it is in this state of remembrance that I rise to defend one of the most important allies America has ever had, or will ever have—provided Donald Trump has not done the relationship irreparable harm.
Shortly before I turned ten, I began reading novels by Nevil Shute, a British-born emigre to Australia. Shute was a pilot (as were my parents) and aeronautical engineer (as was my dad) who became one of the most important novelists in my life, and a major figure in the literary world in the mid-20th century. Shute's material (In the Wet, On the Beach, A Town Like Alice) was pretty raw for a pre-teen, but the writing was such a lyrical paean to the vast continent half-way around and under the world that it grabbed my imagination, and I knew one day I'd visit it and love it.
In the early 1960s, as the American space program got underway, plans were made to build the necessary facilities to stay in touch with U.S. astronauts orbiting the Earth. Multiple tracking stations were built across the Australian continent for the effort.
I can still recall the scratchy audio of Glenn talking via feeds to television stations covering the American's three-orbit flight. But what I remember more clearly was my reaction to the names of the Australian towns hosting the tracking stations. And during subsequent space flights, Australian cities turned their street lights up full—it seemed every house was ablaze in light--so our astronauts could look down and see beacons of friendship and encouragement shining up to them in the black of night.
My perspective on Australia morphed a bit when I was in high school and read about the infamous British military campaign during World War I at Suvla Bay on the Gallipoli peninsula in 1915. Gallipoli and Suvla Bay would be Australia's introduction to a war that would claim 62,000 of its young men's lives during World War I. The Australians' casualty rate in WWI was among the highest of the Western Allies, a testament to how deeply involved in the fighting the Australians were.
I wanted to know more about Australians in battle, so I began researching their participation in other wars. My reading took me on an eye-opening journey through the history of Australians in combat, and, in particular, how often the Australians had fought side-by-side with Americans from World War II, in nearly every theatre, through Korea and into Vietnam. Their mortal sacrifices were incredibly dear to a nation with such a relatively small population to begin with.
Today, the Australian military is a steadfast partner with American forces in every ongoing theatre of combat. Australian soldiers die next to American soldiers. Australian soldiers give their blood to wounded American soldiers, just as our soldiers give blood to them. Australians have guaranteed to the free world their sons' and daughters' blood and treasure in partnership with America.
Nowhere is this service and sacrifice more evident than in the Australian War Memorial in Australia's capital, Canberra. Charles Bean, Australian historian and World War I correspondent, wrote of the War Memorial,
"Here is their spirit, in the heart of the land they loved; and here we guard the record which they themselves made."
The walls framing the Memorial's colonnade are clad in bronze, into which are engraved the names or more than 102,000 Australians who died in service to their country. Although I am an American, I found the name "Moore" repeated over and over, panel by panel, and I felt a kinship with those fallen heroes.
This past November, my face wet with tears, I stood next to the tomb of the Australians' Unknown Soldier, while I watched the changing of the honor guard. No ceremony—not even that at Arlington National Cemetery—exceeds the depth of sorrow, the height of glorious honor, or the breadth of national pride embodied in that ceremony. Every image I ever had of Australia flooded back to me, and I was humbled and so very proud to be an American with such friends.
I challenge President Trump to visit the Australian War Memorial, without his entourage, and witness, alone in silence, the Unknown Soldier's colleagues standing watch over a fallen national hero. And then I challenge him to ever again make such a callous, witless, and heartless phone call to the people of Australia.
As I watched President Trump's blustering performance on Thursday, I thought of my family and my American friends who live and work in Australia. I thought of my new Australian friends who were so warm and welcoming to me when I visited for the first time last year. And I thought of that sacred memorial to Australia's fallen servicemen and women, so many of whom fell alongside their American counterparts.
The boyhood books I read, the images of astronauts sailing over the Outback, and all my studies of Australians' fierce determination to fight for freedom as America's partner--and at such mortal cost—coalesced in Canberra in November. When I touched that wall of heroes I felt something noble and ineluctable which carries our mutual friendship far beyond the petty rants of a petty man. Thank you, Australia.
Calling all HuffPost superfans!
Sign up for membership to become a founding member and help shape HuffPost's next chapter