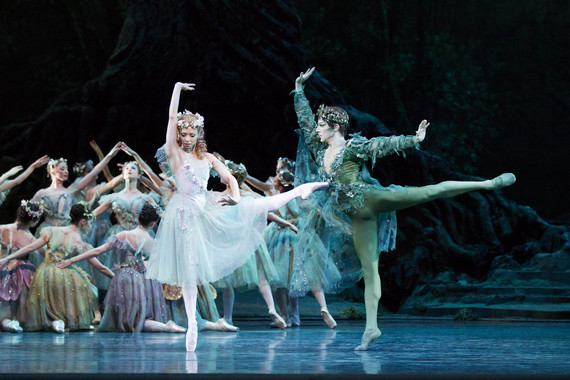 The Dream (c)ROH, Johan Persson
Steven McRae and Roberta Marquez as Oberon and Titania
Watching the Royal Ballet is like staring at a Degas painting for two and a half hours. One notes the circularity of each dancer's technique, the sweetness of her smile. She and her partner seem vestiges of 19th-century romanticism, stored at Covent Garden and displayed every few months like a museum exhibit. The company preserves, but it doesn't push and evolve. Still, it's pretty.
As Dame Julie Andrews once said, "A queen is never late. Everyone else is simply early." The Royals seem to agree -- it's been 11 years since the troupe has traversed the Atlantic to perform in New York City, and yet it seizes the David H. Koch Theater as though it never left. But despite the ease with which the ballet aristocracy performs classic repertoire for Manhattanites, there's little content beneath the veil of serendipity. The work feels belabored, even lazy at times. It's... comfortable.
Artistic Director Kevin O'Hare has brought two rotating bills to Lincoln Center, neither of which will appear during the Royal Ballet's tours through Chicago and Washington. He must have wanted to present something uniquely suited to NYC, where visionaries abound and audiences can distinguish between art and kitsch. For Program A, he honors the legacy of choreographers who are beloved not only in London, but also in the five boroughs: Frederick Ashton and Kenneth MacMillan take center stage. Program B sounds more exciting, more innovative -- featuring works by Wayne McGregor, Christopher Wheeldon, and Liam Scarlett, it at least promises fresh blood. Unfortunately, I haven't seen it, as it opens Saturday. What I do know is that what precedes it is tired and tiresome.
Program A starts with The Dream, Ashton's coveted rendition of Shakespeare's comedy of errors. The set looms, grandiose with the kind of mystery that envelops a moonlit eve. Sarah Lamb plays Titania, and she is, for lack of a better word, stunning. She's the epitome of a ballerina, with grace, flirtation, and whimsy to spare. No wonder she's the Royal Ballet's latest muse.
Her Oberon, however, is unrefined and thus forgettable. Steven McRae tries to command the public, but dwindling attention spans refocus on the corps and their articulation, the costumes and how they dazzle in the spotlight, or even the man in the next seat and his incredible fashion sense. Yes, McRae is flat. He has none of the power and trickery that defines Oberon, and for that one begrudges him an ounce of enjoyment.
In the male cast, James Hay is the standout. His boyish energy coupled with exquisite lines make him a saving grace in a ballet that's all too reliant on bourrées and penchées, the tropes of Taglioni-esque drama. When the curtain closes, one misses Lamb and Hay. The rest could have dissipated into the background.
Then, during the second act, one fears the curtain may never close. Macmillan's Song of the Earth hasn't earned the same acclaim as his Romeo and Juliet and Manon, and after seeing it, one need not wonder why.
Personally, I'm not a fan of listacles, but Buzzfeed could do a nice roundup of "The 15 Emotions You Feel While Watching Song of the Earth." Highlights would include boredom, confusion, and incredulousness. MacMillan must have been another victim of Martha Graham's genius, trying to replicate her abstract emotionalism with classical vernacular. But even Graham often used narrative as a jumping off point for her work; it was Merce Cunningham who took abstraction to another level, and he did so by focusing on shape instead of vulnerability. In Song of the Earth, which premiered on the Stuttgart Ballet in 1965, MacMillan tries to combine shape and passion in one dynamically vague package, and what ensues is a conglomeration of mish-mosh backed by too many ideas and too little time. Song of the Earth could have been three or four different pieces. MacMillan decided to make it into one, and therein lies his mistake.
The Royals do what they can with the choreography they're given. Veteran Carlos Acosta is the Messenger of Death. That's poignant because he recently announced that he will be retiring in the near future, and given the Royal Ballet's track record, he may not cross the pond again before his final bow. Marianela Nuñez portrays the Second Song, and her concentration is astounding. She attacks each step with clarity and precision. But she'd be wonderful in anything; for example, I'd think I'd enjoy her more as Cinderella in next week's shows with American Ballet Theatre.
Altogether, Program A proves disappointing. The return of the Royals has been the talk of the town for months, and I think most expected more from one of ballet's vanguards. Like I said, last night was pretty. But in the 21st century, when ballet can evoke something more than aesthetic, "pretty" doesn't quite cut it.
REAL LIFE. REAL NEWS. REAL VOICES.
Help us tell more of the stories that matter from voices that too often remain unheard.