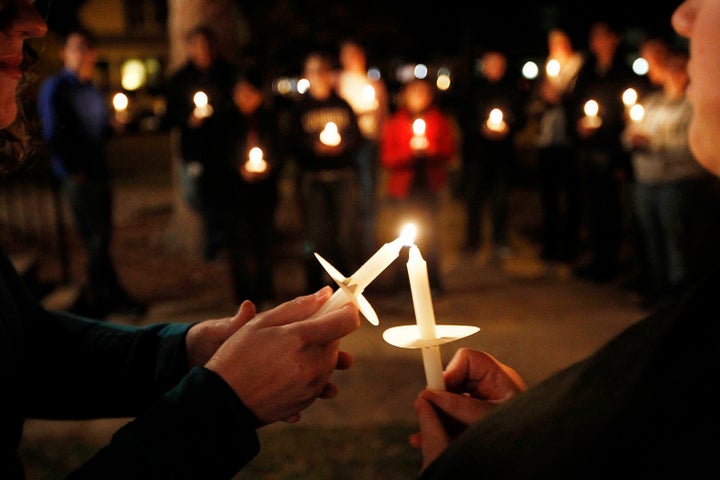 "There will be signs in the sun, moon and stars. On the earth, nations will be in anguish and perplexity at the roaring and tossing of the sea. People will faint from terror, apprehensive of what is coming on the world, for the heavenly bodies will be shaken. At that time they will see the Son of Man coming in a cloud with power and great glory. When these things begin to take place, stand up and lift up your heads, because your redemption is drawing near." Luke 21:25-28, NIV
To follow recent events is to understand quite clearly that we live in disturbing, perhaps even apocalyptic, times. We are certainly not the first people to witness violence and hatred around us and be drawn towards despair. The early church understood themselves as living in the "end times," and it would be difficult to blame them. Rome was set upon and besieged by multiple raiding tribes (not to mention internal rebellions) before finally falling in the 5th century, and Christians themselves were subject to multiple persecutions, sometimes involving mass executions at their most extreme. To witness events of such brutality must make one doubt the continuance of life afterwards. But many of our saints--martyrs, in particular--are those heroes who rose above the brutality and the doubt to bear witness to a future reality of God's reign of love. So must heroes today.
AP reporter Josh Replogle had worked at the Pulse nightclub as a bartender for a couple of years during college, and he rushed there in the middle of the night to cover last week's massacre. Although straight, he said of his time there
"I felt loved," he said, his voice cracking. "I felt acceptance, and I'd never really had that before."
How is it that a straight, white man, the pinnacle of privilege in our society, speaks of finding "acceptance, "something we wouldn't imagine he would even need, at a gay nightclub? Because outside that club and other such refuges, the world is awash with bullies, people who have to tear others down to feel better about themselves, people who speak words of hate rather than love. Replogle knew he didn't belong to that world, and so he felt more welcome, more truly himself, in a world based on tolerance, a bully-free zone. Having been embraced by that world, he was strong enough to document it and get the message out about the community that had embraced him, not retreat behind a justifiable veil of anger.
"I truly believe if everyone could have the experience I did, the world would be such a different place," he said.
Yes, perhaps then we wouldn't live in a world where bullies are so revered that more than a third of the population hopes to seat one in the White House. Politics can feel like a corrosive pursuit, and throughout time, Christians, and other religious groups before and since, have frequently decided to absent themselves from the world of politics, seeing it as distracting from and even destroying the spiritual life of a community. It's a stance that, frankly, makes a lot of sense, and I can understand withdrawing from political life in order to protect one's own sanity. This election season alone could be enough to drive anyone to become a desert hermit--or at least move to Canada. But Jesus said "Render therefore unto Caesar the things which are Caesar's; and unto God the things that are God's" (Matthew 22:21, KJV), acknowledging that there are things that operate under the control of earthly powers, and we abdicate our responsibility if we disengage from them entirely; however, we must always remember to keep our focus on what really matters, the God-things.
Hate and bigotry can dominate, perhaps even rule for a time, but they never win out because God is ultimately in charge, prodding along our humanity as we reluctantly advance. If you are waiting for "signs" of redemption, for God to write a message across the sky in white fluffy clouds, then you are part of the problem. We know the difference between right and wrong and the contrast could not be more stark. We have all the information we need. The important thing is not to retreat from the ugly political scene, nor to fight it with teeth clenched and knuckles bared and as much anger and hatred within ourselves as we are repulsed by on the outside. We have been given a rock to stand on, to guide us through the political muck, so that we do not make decisions based on the trending political party or candidate but on a deeper following. Politics and parties belong to the world of Caesar, and we must give them their due. But we follow a higher power than Caesar, so when we stand with the LGBT community, when we stand against violence, when we stand up against bigoted hate speech, we do so not out of worldly political ideology but out of timeless love. Love for our brothers and sisters, and love for the one who leads us in the ways of peace. When we stand in love, we cannot accept leaders who use hate speech and schoolyard bullying tactics on everyone in their path. We cannot accept indiscriminate access to death machines by our own fellow citizens. When we stand in love, politics becomes easy, because whatever decision we make will flow from our love for our creator and our trust that, over time, things are being put right and redemption is drawing near. Do not be frightened. Stand up and lift up your heads.
Calling all HuffPost superfans!
Sign up for membership to become a founding member and help shape HuffPost's next chapter
BEFORE YOU GO