Join us LIVE Saturday at 11am Pacific/2pm Eastern (NEW TIME!) and Sunday at 5pm Pacific/8pm Eastern on www.TalkRadioOne.com for our exclusive LIVE motoring and motorsports talk shows!
Steve Parker's The Car Nut Show
NEW TIME! Join us LIVE every Saturday at 11am Pacific/2pm Eastern
Some major car news this week: Toyota has admitted a major mechanical problem with its 3.8 million recalled Toyota and Lexus vehicles, after denying it just a week ago. And the "acceleration incidents" are not because of the wrong-sized floor mats; it's the gas pedals and maybe the ECUs in all the vehicles, too. And this week Toyota also announced a 110,000 unit recall of their Tundra pickup. Also, the Euro company which was negotiating with GM to buy Saab has backed out of the deal ... and there was plenty more, too. Let's discuss! The call-in number is: 213-341-4353.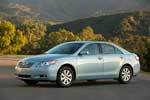 Toyota's Camry, America's best-selling car, may have deep-seated throttle problems
Steve Parker's World Racing Roundup
Sunday starting at 5pm
This morning I had my first drive in the Chevrolet Volt extended-range hybrid and I'll have my first report on this critical car for GM. Thanksgiving night I went to the Turkey Night Grand Prix at Irwindale Speedway and we'll have a full report on the great competition there. This week is NASCAR's "Champion's Week" and for the first time ever it's being held in Las Vegas ... and fans can pay to attend and see their favorite drivers reap their rewards. Plus plenty from racing's 'silly season'. The call-in number is: 213-341-4353. Join in!


Jeff Gordon finished third in NASCAR point standings this season
Podcasts of both shows are available one hour after the live shows conclude. That's our NEW TIME this Saturday at 11am Pacific/2pm eastern and Sunday at 5pm Pacific/8pm Eastern time every week on www.TalkRadioOne.com!
REAL LIFE. REAL NEWS. REAL VOICES.
Help us tell more of the stories that matter from voices that too often remain unheard.