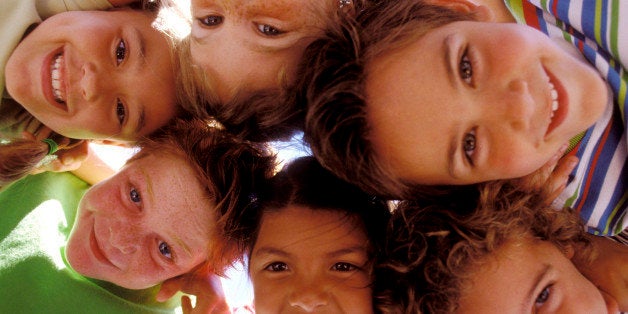 Another shooting, a weekly event in our culture; politicians denigrating each other and most of the world population; massive amounts of money being spent to keep us feeling secure. How far does this all have to go before we begin to look at the root causes of all of this chaos?
How long before we realize that how we think about each other and take care of each other is the only way we can stop this madness? Children growing up in environments of deprivation and fear are going to grow up angry and aggressive. Children who grow up in a constant state of anxiety not knowing to whom to turn for comfort and solace grow up isolated and feeling alone.
And it's not just in impoverished or third world societies. There are children all over our country who are unable to learn because of lack of support at home and at school. Children are pushed beyond their understanding of how to cope because of parents who expect them to behave beyond their developmental capabilities. Children are pushed aside and bullied because their peers and their families perceive them as being different. Children are pushed into situations that make no sense to them and fear asking for help. How much pushing can a child sustain before they push back? Where do they turn?
Some turn within and become reclusive. Some turn to organizations that exploit them for ideological goals. Some act out against others to regain the power they have lost. When there is nowhere to turn for security and comfort there are always places that will fill the gap and those places are usually harmful to them and others.
Now is the time to address those gaps. We've done a lot of talking about educating the underserved, providing alternatives for children living in high stress environments, helping parents understand the profound influence they have in their children's lives but little is done to find effective strategies to solve these problems.
A lot of arguing is done about gun control but there is little discussion about why so many of us feel the need to have guns. We are all so fearful of each other that we rarely stop to consider how an outreached hand can be more powerful than the point of a gun. We over protect our children rather than give them the emotional skills to protect themselves and develop meaningful relationships with those that are different. We spend more time at our jobs than with our children and expect them to develop values from what they see and hear in their everyday lives. And we live in fear of loss of our lifestyle and values while we sit in judgment of others.
Our children are our future, why is it so hard to invest in them? They need us to guide them and provide them with feelings of safety and love. They need structure and boundaries more than spankings and harsh words. If they are treated with patience and compassion they will learn patience and compassion. If they meet the world with hope and confidence they may not feel the need to have guns to protect themselves from the unknown.
It is time to look at ourselves and take responsibility for what is going on in the world. One child at a time, one family at a time, one community at a time, building toward a future in which we all feel safe and unafraid of one another.
Popular in the Community