Recently, my family and I undertook a do-it-ourselves Grand Tour that had been planned entirely by the children. My husband and I were along for the drive. And to pay.
Our objective was to explore some of the important sights in the history of Western Civilization in the company of our kids before they take off and have families of their own. The real Grand Tourists invested months in these expeditions. We allowed 17 days. As a friend remarked before we departed for this Euro-adventure in a rental car, our plan could have inspired the script for a Chevy Chase movie.
We gave our children (ages 15 and 25) general parameters and a budget. Where did they decide to take us? Here are snapshots of the five Italian cities our teenaged son and art historian daughter wanted to see: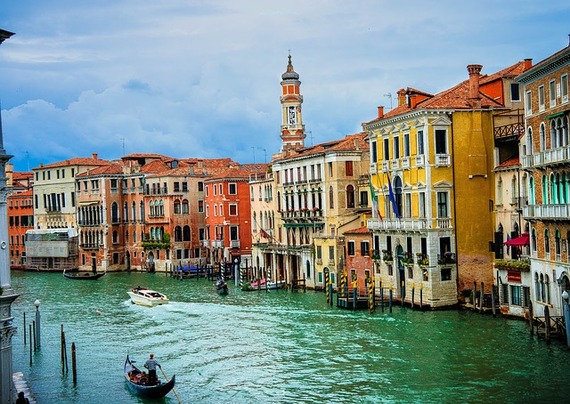 Founded as a place of refuge by pious pirates, Venice developed into one of the richest trading posts the world has ever known. The great wealth generated by the merchants of Venice was funneled into building an island city that is a living work of art. You don't need me to remind you of the tourist sights of Venice, but I will tell you that, for this first-time visitor, they were more impressive than expected.
We arrived after a long day in our little rental, hauled our bags from the parked car, loaded them on to the water taxi, and sat back for our first view of Venice. Shipyards, warehouses, and industrial parks, decorated with graffiti, grimy, grim...
Then, finally, suddenly, the Venice we expected--rows of Gothic structures, along both sides of the Grand Canal, rose colored, blue, green, and white, with arched windows and balconies, each building appearing to rise directly from the water.
Because the land was more swamp than island, the architects of Venice erected the city on pilings. These have sunk, or the water has risen, so that, today, you don't see the pilings. Visible only are the ornate facades of the buildings, which appear to float above the sea.
We indulged in a gondola ride one afternoon from the area where we'd been shopping back to the Piazza San Marco, near our hotel. Nowadays, the gondolas aren't for getting around Venice. To get from one point to another among the islands of this city nowadays, you take a water taxi. The gondolas today are an extravagance.
"The gondolier is your key to Venice," ours explained as he escorted us to his waiting vessel. Then, throughout our 40-minute ride, he continued to introduce us to his city.
"You are here at the right time," he told us, "in winter. Venice is a different place in winter. The tourists are gone, and Venice is yours alone. It is cold, but with good shoes and a coat, it is fine. And Venice...ah, this beautiful city...she is yours alone..."
We toured the basilica, the Doge's palace, the ancient prisons, the Campanile, other churches, museums...
We wandered up and down, in and out of the narrow thoroughfares, shopping, snacking, sipping our share of Bellini's...
We worked tirelessly to fulfill our obligations as tourists in Venice, moving around quickly until our time ran out and it was time to move on to a much less famous spot...
Ravenna is a quiet Italian village with a rich history that is largely overlooked. We made a point of stopping here because our daughter wanted to see Justinian's mosaic in the Basilica of San Vitale. This is a recognized masterpiece that almost no one makes the trip to see. Any time of year, you can walk straight up to the window, buy your ticket, and continued directly into the church, where you'll have no competition for front-row viewing of the ancient work.
The heart of Ravenna's old town is interesting and pleasant but small. Not much to keep you here after you've viewed the noteworthy art and architecture.
On the other hand, lunch in Ravenna cost less than 10 euro per head...whereas the best we managed in Venice was more than double that.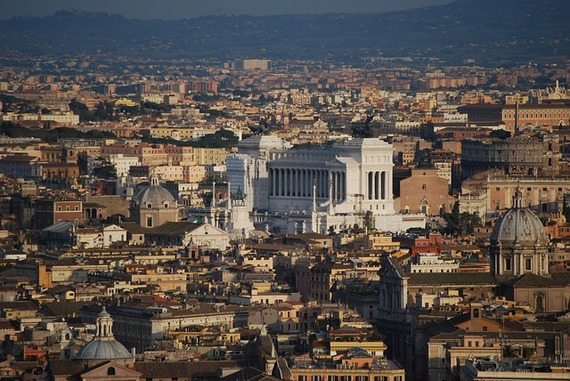 Our third stop was Rome, a city where you'll never run out of fun and interesting ways to spend your time. Still, this wasn't my favorite part of the trip. I find Rome too urban with none of the veneer that Paris has managed to paint over herself. Rome is gritty and real...while Paris, to continue the comparison to the city that, I admit, I prefer, is genteel and romantic.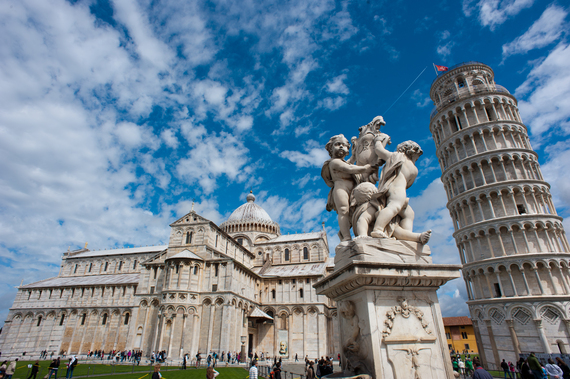 Perhaps the biggest surprise of this tour around Italy was Pisa. Everyone comes to see the tower, but Pisa has more to offer. Its riverfront homes, candy-striped basilica, and baptistery showcase a bygone age of wealth. At one time, Pisa merchants competed successfully with those of Venice. Eventually, the city fell to Florence. Today, it's a one-hour stop for tour buses.
However, if you're looking for a classic Old World experience, I'd give this city more attention. The old town is charming, and the town beyond is pleasant. There's enough to keep your interest for even an extended visit, and you're minutes from the sea.
Busloads of travelers come and go from the tower each day while the rest of this city goes about its business. Because few seem to recognize any reason to stay the night in Pisa, hotel rates are a relative bargain.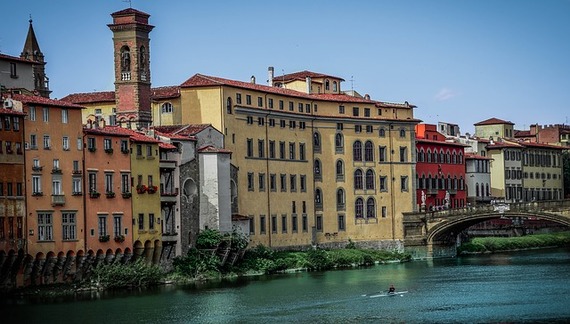 If you're an art-lover like our daughter, Florence could be your ideal destination in Italy. I preferred Pisa. While Pisa is cozy, Florence is aloof. Florence is also a dramatically more expensive place to hang out. If budget is a concern, rather than planning overnights in Florence, base yourself in Pisa instead and visit Michelangelo's home town on day trips. It's but an hour away via autostrade.