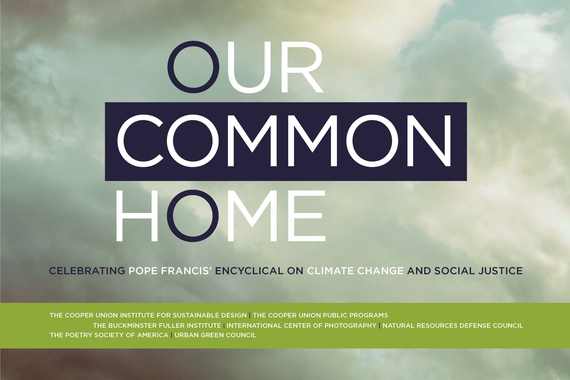 In January we learned that 2015 was the hottest year on record. And, as if that wasn't frightening enough, we found out on Saturday that February was the warmest month in recorded history. Clearly, our climate is changing and action needs to be taken to address this critical issue.
Few global leaders have met this challenge with more urgency and determination than Pope Francis. The Pope's 2015 encyclical on climate change, Laudato Si, galvanized a new level of awareness on the moral necessity of addressing the climate crisis, challenging the communities of science, ethics, justice, economics, and religion to imagine new ways of protecting our planet based upon compassion and environmental knowledge.
To explore this issue, the directors of several organizations dedicated to fighting climate change--among them the Cooper Union Institute for Sustainable Design, the Natural Resources Defense Council, and Urban Green Council--have joined forces with Cooper Union's Department of Public Programming, the International Center of Photography, and the Poetry Society of America to present a free public event, Our Common Home, at the Cooper Union in New York City this Thursday, reflecting a focused desire to bring disparate conversations together.
This open gathering includes a range of diverse voices to reflect on the significance of the Pope's letter--among them Mary Evelyn Tucker, senior lecturer and research scholar at Yale's School of Forestry and Environmental Studies and Divinity School; David W. Orr, professor of Environmental Studies and Politics at Oberlin College; and Arthur Lerner-Lam, professor and deputy director of the Lamont-Doherty Earth Observatory at Columbia University.
Woven within these presentations, artists, poets, writers, and educators -- including Marie Ponsot, Andrew Sullivan, David Turnbull, Kathy Jetnil-Kijiner, Scott Chaskey, Joy Harjo, and Timothy Donnelly -- will contribute their own inspirational responses. The works of esteemed photographers, including Sebastião Salgado, J. Henry Fair and James Balog, will be projected throughout the event to observe the important ways in which visual art investigates and influences our perceptions of the world.
The perspectives shared at Our Common Home will offer a multifaceted and holistic path forward in protecting our planet. This is a monumental task, but it's also one that we avoid at our own peril.
Our Common Home is free and open to the public. The event will take place on Thursday, March 24, at 7:00 p.m. in The Great Hall of The Cooper Union, 7 East 7th St., New York, NY 10003. We hope you'll join us. Visit www.poetrysociety.org to register your attendance.
Co-authored by Alice Quinn, Executive Director of the Poetry Society of America