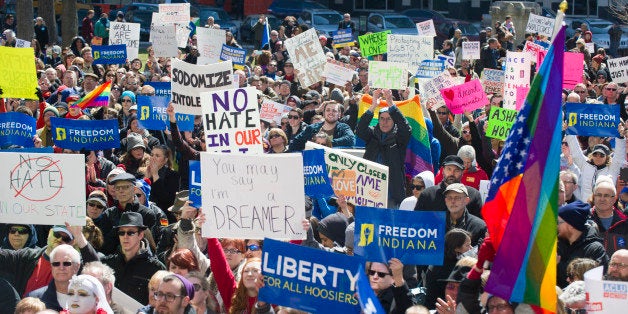 Since its founding more than 200 years ago, our great nation has consistently marched toward fulfilling the ideal that all people are equal under the law. This process has not always been easy but it's an ideal we still believe.

Fairness and equality are core American values.

That's why most Americans would be surprised to hear that a gay couple could be married on Saturday, post photos of their wedding on Sunday, and then be fired on Monday for no reason other than the fact that they're gay. Laws that allow discrimination against LGBT people in employment, access to public places, housing, and other core areas of their lives run against our fundamental understanding of what it means to be American.

However, recent events in Indiana, Arkansas, and around the country have made clear not only that LGBT Americans lack express legal protections against discrimination, but also that there is a great need for these protections.

As it was originally written, the bill enacted in the State of Indiana last month does violence to our core American values and underscores the importance of enacting comprehensive non-discrimination legislation that protects the rights of LGBT Americans.

But the threat of discrimination to LGBT Americans goes far beyond the boundaries of just one state. There is similar anti-LGBT legislation pending in some 28 states this year, according to the Human Rights Campaign. The reality is that the lack of comprehensive Federal LGBT non-discrimination protections means serious consequences for LGBT Americans and their families.

Today, only 19 states and the District of Columbia offer protections for employees on the basis of sexual orientation and gender identity, and only an additional three states prohibit sexual orientation-based discrimination. The fact is that in most states, good, competent employees can lose their jobs solely because of who they are or whom they love. In fact, according to one recent study, one in 10 lesbian, gay, and bisexual workers reported having been fired because of their sexual orientation.

The list goes on and on:
• A January survey of self-identified LGBT Americans by the Human Rights Campaign found that 63 percent of LGBT Americans report experiencing discrimination in their personal lives.
• A Michigan study reports that same-sex couples are discriminated against in 27 percent of housing rental, sales, and financing tests.
• The Department of Housing and Urban Development found evidence that heterosexual couples were favored over same-sex partners in 15 percent of rental market tests.
• More than half of LGBT middle and high school students said in a study that they don't feel safe at their school.
• Another study found that almost 56 percent of lesbian, gay, and bisexual individuals reported discrimination while trying to get health care. 70 percent of transgender individuals reported the same.

There is no question that leaving the protection of LGBT Americans to the current patchwork of state laws is not working. But there is also no question that public opinion is firmly on the side of ending discrimination against the LGBT community. Nearly 70 percent of likely voters support a comprehensive federal bill to protect LGBT Americans from discrimination.

And that's why I have been working -- along with Senator Jeff Merkley, our colleagues, and leaders in the LGBT community -- to prepare to introduce a comprehensive non-discrimination bill that ensures LGBT individuals are afforded the same protections against discrimination as all other Americans.

Let's be clear. No American citizen should be denied housing, the ability to attend school, to apply for a mortgage, or to serve on a jury because of their sexual orientation or gender identity.

This bill would, for the first time, cut through the patchwork of 50 different state laws and regulations in order to ensure that all LGBT Americans can enjoy their most basic human rights -- no matter where they live, work, or go to school.

There is a clear and urgent need for these commonsense protections, and I am looking forward to introducing this proposal later this spring and working with members of both parties to offer real solutions to this problem.

The recent news out of Indiana made clear that we have plenty of work to do if we are to live up to the fundamental values of equality to which we all aspire.

It's time that LGBT Americans are finally guaranteed the same rights and liberties that all Americans hold sacred.
Calling all HuffPost superfans!
Sign up for membership to become a founding member and help shape HuffPost's next chapter