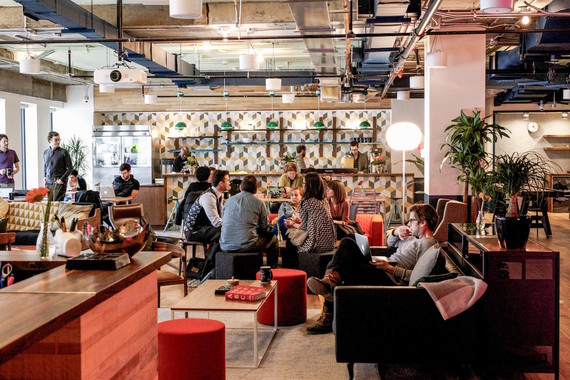 You've likely heard of the benefits of collaboration in a coworking space, especially during a business's early stages. There are many recent studies touting the advantages -- 89% of people report being happier due to coworking; 67% say coworking improved their professional success.
Naturally, here at Shopify, we wanted to build one of our own. How hard could it be?
Our Partner Program works with third-party designers, developers, and creatives from around the world who provide services to Shopify merchants. Many of our partners have a hard time finding their first client, and although they have tons of design and development skills, they sometimes need a little help on the business side of things. That's where the idea for the Shopify Partner Studio came about.
We rented out an office from Jeffrey Zeldman's Happy Cog office on Madison Avenue in New York City, and accepted applications for residents who would spend three months working together in it -- our very own coworking space. We were overwhelmed with the response, and so excited when our first cohort moved in.
So how did it go? Overall, our Studio residents learned a lot. We brought in some of our top Shopify Experts to show them the ropes, gave them fast-tracked access to our Shopify Experts Marketplace, and provided educational training like a how-to on Shopify's template language, Liquid.
What we learned, though, is that there is more to a coworking space than the actual physical space. It's a motley blend of many different elements that need to come together juuuuuust right in order to really and truly provide a great coworking experience for residents.
Here's what we learned along the way:
Choose somewhere that has all the infrastructure you need. That means desks, chairs, lamps, etc. Even wall art -- you don't want people staring at blank walls trying to get inspired. We picked an empty office, and ordered furniture from Ikea to assemble ourselves -- we had the blisters to prove it. Consider working with a partner that already has furnished office space, unless you're willing to invest the big bucks up front to set up a beautiful, inspirational work space.
Allocate adequate resources and/or form partnerships with existing educational institutions to help you provide programming for your residents. Make sure you have someone who is dedicated full-time to ensuring that your coworking residents are gaining valuable education and insights. Either that, or partner with someone who has existing educational programming that you can piggyback off of.
Set expectations as to how often your residents should be using the coworking space. When we accepted our applications, we chose mostly based on work experience, but we didn't pause to think about the logistics. We had a resident who lived in Boston and commuted in to NYC as often as he could. He was an incredible person to have in the studio, but wasn't able to take full advantage of it like someone local could. Make sure to ask yourself: who will be able to gain the maximum value out of this program?
Come up with creative ways to work with coworking residents on projects related to your business. It felt uncomfortable to tell our studio residents that they HAD to bring on a Shopify client, or they HAD to build a Shopify theme. We decided to stay away from that. In our application, we asked them to describe a Shopify-related project they would work on while in the space. Great. But we didn't actually check in with them on this specific project, or mandate that they complete it. That meant that while some residents were working full-time on Shopify projects, some were completing other client contracts that had nothing to do with our platform and that we therefore couldn't truly help out with.
After all of these lessons learned, we're taking another kick at the can. This time around, we've rented office space from the well-loved coworking organization WeWork in four different cities: Austin, NYC, Montreal, and London. This means we can take advantage of their beautiful and inspiration-provoking office spaces, not to mention their educational and networking events.

We're calling it the Shopify Partner Accelerator, to accelerate the success of Shopify Partners trying to build their businesses providing services to Shopify merchants. And if you think it'd be a good fit, you can apply for free!
Have you learned any lessons from working in or running a coworking space? Let us know in the comments below so we can keep tweaking our concept.
Popular in the Community