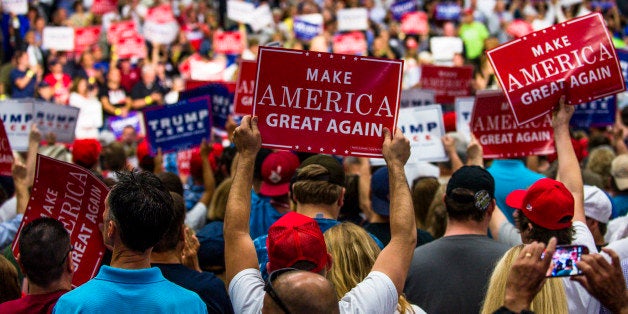 My mother was 16 years old when she was crowned Queen of the Caruthersville, Missouri American Legion Fair. The prize: escorting President Truman to the county fair. I grew up with a picture of my mother shaking President Truman's hand hanging in the hallway. With pride and awe, I paraded anyone who came to the house past that picture. My mom met the president of the United States!

When I was 18 years old, Ronald Reagan was running against incumbent president Jimmy Carter. My mother, a Democrat, and my father, a staunch Republican, each secretly tried to convince me and each of my siblings to support their candidate, knowing that they'd cancel out each other's vote at the ballot box. We have laughed many times through the years remembering the stories of "backroom deals" made in our household around election time.

Participating in democracy was in many ways simpler, and more civil, then. We conducted our lives and our politics without social media, the 24-hour news cycle, and the ceaseless yammer of pundits yelling past each other. We depended on the evening news, the newspaper, debates, and discussion with our family, friends, and community. And we emerged from the election cycle with our trust in our democracy and our government intact, even if we disagreed with the outcome.
This election cycle has been different than the ones of my younger years. It has been nasty, brutal, and seemingly never-ending. Over the past two years my kids have come home from school with questions about who would be our next president. They haven't had questions about big or small issues of the day, but about whether we were going to have the liar or the crazy person in office. My kids are six- and nine-years-old.

I can't wait for this election to end; I know I am not alone in this.

I am sickened by the hate talk and how, through two years of this campaign season, it has become the norm. I am saddened that the friction between people is palpable and the mistrust in our politics and our politicians is vividly apparent. I can't wait for this election to end; I know I am not alone in this.

I don't think our country can or should tolerate another two years of this kind of disgraceful and vicious discourse. Although we will all be leaving this election behind us in November (hallelujah), we can count on being hijacked again in two years when the next presidential campaign cycle begins in earnest. I don't want that for my kids, my community, or my country. So I've started a petition to limit the campaign season. I am hoping everyone who is sick of what we have all just been subjected to will join me and sign the petition.

Many modern democracies have a limit to the length of political campaigns, as well as restrictions on campaign spending. In the UK in 2015, political parties and candidates had 38 days to make their appeal to voters. In Canada, the last election lasted 11 weeks, which was the longest modern campaign in that country. In France, the election campaign process is generally 2 weeks and in Mexico, it is 90 days with a 60-day "pre-campaign" where candidates vie for the nomination.
The Supreme Court's interpretation of our constitutionally guaranteed freedom of speech limits the ability for our representatives in Washington, DC, to legislate a more reasonable and healthy campaign cycle. But the Democratic and Republican National Committees can and do set the rules and timelines for the presidential nominating process, which in part drives the extended timeframe for our presidential elections. I hope this petition can deliver a roundly non-partisan message to both the DNC and the RNC: as voters, parents, and citizens of this great nation we demand better from the two dominant political parties.
This petition will not change the quality of the candidates we nominate. It will not fundamentally change the challenges of money in politics or transparency in decision-making. But it's a place to start the conversation about breaking free from the never-ending campaign and the nastiness it brings.
REAL LIFE. REAL NEWS. REAL VOICES.
Help us tell more of the stories that matter from voices that too often remain unheard.