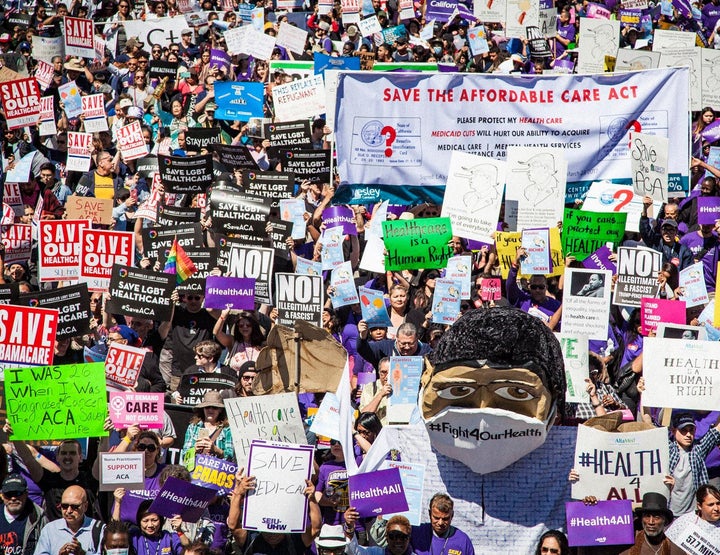 The White House tried to make the case that former FBI Director James Comey's recent firing was the result of a pre-existing condition: his involvement in the 2016 election. Regardless of the reasoning, pundits and politicos will spend the foreseeable future debating whether or not this decision was in the best interest of the health of our democracy. Meanwhile, millions of Americans suffering from actual pre-existing conditions face a more pressing issue: their health. Here at St. John's Well Child and Family Center, we saw firsthand that California's Republican representatives chose to abandon the best interests of their constituents ― and their democratic duty as representatives ― with a vote in favor of the American Health Care Act (AHCA). A decision that was absolutely not in the best interest of the health of our democracy.
Despite vocal constituent opposition, every single California Republican representative voted to pass the bill. From clinic lobbies, St. John's alone made over 500 calls to California's GOP representatives leading up to the AHCA vote. We found that our representatives' lines were often unanswered and few offices could accommodate Spanish speakers. However, one of the most disturbing responses our patients got was: "What is your zip code?" While the offices assured us they were asking to make sure the concerned callers were actual constituents of the respective representatives' offices, their concern with zip codes should be mistaken for nothing less than valuing wealth over American health. Because they certainly have had no problem accepting donations from beyond their districts' zip codes.
California Republicans' concern with zip codes does, however, shed light on the fact that life expectancy varies by up to 20 years based on where you live in the country ― a disparity which would be further exacerbated by the AHCA. In an analysis published Tuesday, Christopher Murray, the head of the Institute for Health Metrics and Evaluation at the University of Washington found that the life expectancy of U.S. residents living in "communities that are well-off and more highly educated" is about 20 years longer than those living in communities that are "poorer and less educated." So, should 911 operators begin asking for zip codes to determine where it's "worth" sending ambulances or provide life-saving services?
Stealing the fundamental right to health care from the nation's most vulnerable populations is a heartless way to give the top two percent a trillion dollar tax cut. Health care is a catalyst for social, racial, and economic justice ― and pricing people out of health care access via high-risk pools is an archaic, Darwinian euphemism for class and race-based control. In the medical world, we know that while an infection might be rooted in one specific part of the body, the symptoms are not restricted to the source of infection. In other words, a body is only as healthy as its most infected cell. Our democracy is no different. Lack of access to health care for anyone, anywhere is a symptom of an infected democracy ― one where wealth, not health decides how elected officials vote.
The weeks to come will reveal the truth about the health of our democracy. It's important to assess whether the decisions being made by our leaders are in the best interest of the American people. We cannot limit that debate to Comey's firing. We must also call on our senators to demand that they protect the fundamental human right to health. Our democracy is only as healthy as the trust we can place in our political leaders and the lives we can save from drowning in high risk pools.
Calling all HuffPost superfans!
Sign up for membership to become a founding member and help shape HuffPost's next chapter
BEFORE YOU GO