It's taken more than three decades for families like mine to be recognized. Thirty years ago, I was at an age where I was pretty certain that I was gay, but at the time, I never could have predicted that I would one day be among 3 million parents in our country who are lesbian, gay, bisexual or transgender (LGBT).
As I prepared to come out in 1983, I wanted nothing more than to be invisible. Earlier this month, as we marked National Coming Out Day, I realized how visible I had become as part of the LGBT parent community.
Some of that visibility isn't the sort I want for my family. When Barilla Pasta's chairman implied that my family has less value than so-called "traditional" families, I was angry and worried that attitudes are not changing quickly enough. But since then, there have been several signs that have assured me that our families are quickly changing attitudes and making history.
This month, the prestigious Yale University Library announced that it was teaming up with Family Equality Council and other organizations to preserve documents and photos that trace the history of the LGBT family movement. Sometimes it takes objective observers -- historians -- to remind us that we have already made history.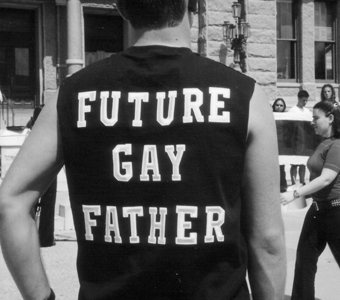 Thirty years ago, the first openly gay and lesbian parents were coming out. Some were leaving marriages to opposite-sex spouses and just worried about visitation rights with their kids. Today LGBT people are coming out earlier in life and making decisions to create families with the people they love. Increasingly, they are now able to legally marry and protect their children through those marriages. Yale's announcement that it would document that history of change is proof of how far we've come.
Also in October, we saw more evidence that our relationships and families are not only increasingly recognized but celebrated. San Francisco's Harvey Milk Photo Center opened an incredible exhibition of photos that represent LGBT families. We are not relegated to the shadows but held up as examples of the type of diversity that makes America great.
But it's not just happening in our own community. A great new video is making the rounds courtesy of the Families Project by Betty Crocker.
The folks at Betty Crocker are proud supporters of LGBT rights and organizations like Family Equality Council. After marriage equality became law in Minnesota earlier this year, Betty Crocker donated wedding cakes to the first couples to be married. Parent company General Mills also donated to the campaign to defeat an amendment banning marriage for gay and lesbian couples in Minnesota last year.
But this video was meant not just for the LGBT community but for all Americans. It showcases families like mine and affirms that we are not only visible but part of the amazing diversity of American families.
It's clear that families with parents who are LGBT have not only made history over the last 30 years but are making history today. My fervent hope is that well before another three decades have passed, we can stop making history on this front because we will have achieved full legal and social equality for our families
Popular in the Community