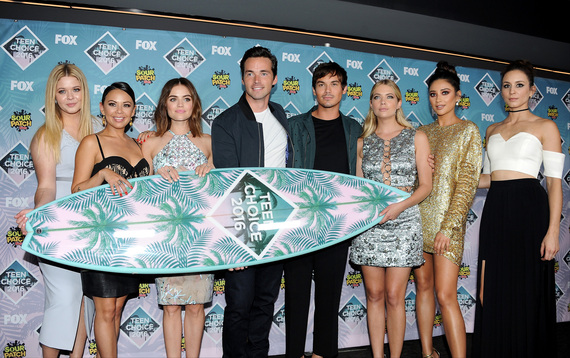 Hey, Huff Post Teen readers!
Last weekend, our friends at Celeb Secrets hit up the teal carpet at TEEN CHOICE 2016 - to say they had a blast was an understatement! Their reporters Diana and Mayra are here to give you a complete breakdown of what happened on the teal carpet and their favorite moments from the entire event - keep reading below for more!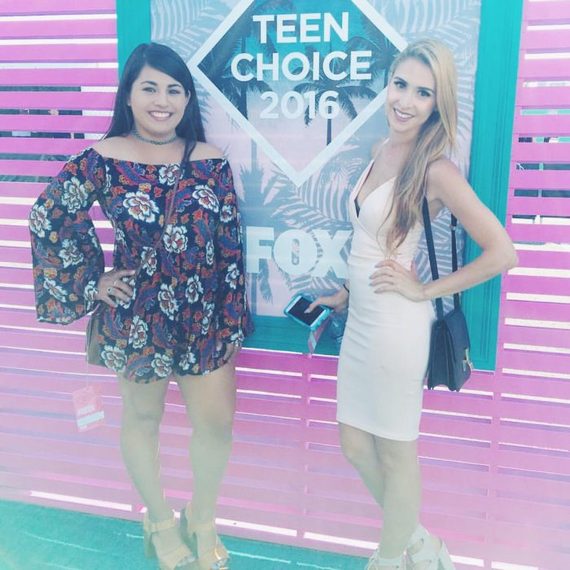 Diana just started working with the amazing people at Celeb Secrets. She met with Juliet (Editor and #Girlboss at CS) a couple of weeks ago and was told on very short notice that she was going to get the chance to do her first-ever red carpet interviews at Teen Choice 2016. Her jaw dropped; she couldn't believe it and was beyond excited!
Diana didn't know what to expect at first as the only thing she had ever seen from a red carpet was the actual interviews she was about to do herself, except this time, she would get to see them from the other side of the camera!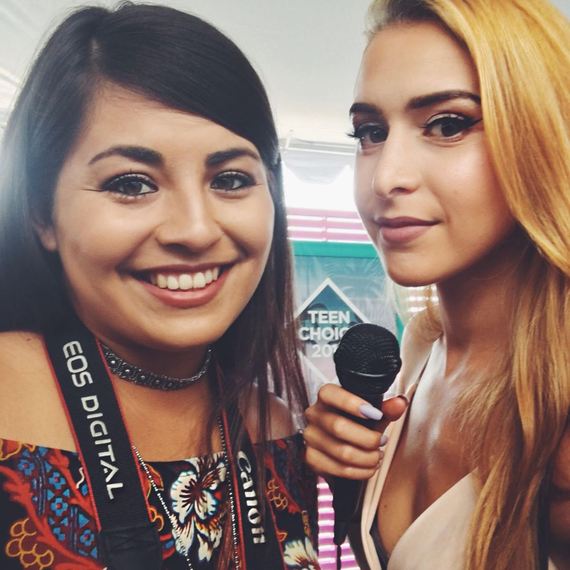 She got to the event; packed with fans, talent, press, all coming from different directions! She was accompanied by the lovely Mayra who was filming and giving her tips and pointers. She was so nice and friendly and looked adorable. It was so hot and to her surprise, the carpet wasn't red but turquoise to match the surf / summery theme, which she thought was super cute and innovative! They were actually giving out surf boards as awards later on during the event.
Celeb Secrets got to chat with so much talent, including Brynn Rumfallo, Kendall Vertes and Kalani Hilliker (Dance Moms), Eva Marie (Total Divas), Nick Fradiani (American Idol) and a bunch of YouTubers too, who were acclaimed by so many fans attending. Crazy to think that these people started their own careers filming themselves and have now grown into full blown stars! Meredith Foster for instance, was incredibly friendly and bubbly, as well as the lovely Teala Dunn, Meg DeAngelis, Jordan Dowws to name a few. Flo Rida's music was playing loudly in the background as he started his performance on the carpet, which they got to see and it added to the energy and excitement of the evening! His stage performance was absolutely amazing in company of his signed artist Macy Kate, and also performed a short duet with Bebe Rexha! Naturally, Justin Timberlake stole the show (we could tell from all the fans and especially the girls screaming)!
You can watch all of the interviews from the teal carpet below:
The show was so entertaining from beginning to end as it was hosted by the gorgeous and HILARIOUS Victoria Justice and John Cena.
We would like to thank everyone at TEEN CHOICE 2016 a million for inviting us to such an exciting event and fabulous show! Stay tuned for more on all of Celeb Secrets' socials @CelebSecrets4U (Twitter, Instagram and Snapchat) and obviously, their YouTube Channel for more behind the scenes and SECRETS!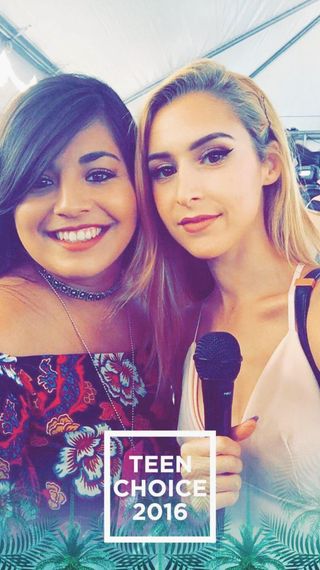 Celeb Secrets is apart of The Huffington Post's Outspeak Program. For more news on your favorite teen celebrities, make sure to visit their website at http://celebsecrets.com. Additional reporting courtesy of Diana Espir, Celeb Secrets blogger.
Calling all HuffPost superfans!
Sign up for membership to become a founding member and help shape HuffPost's next chapter