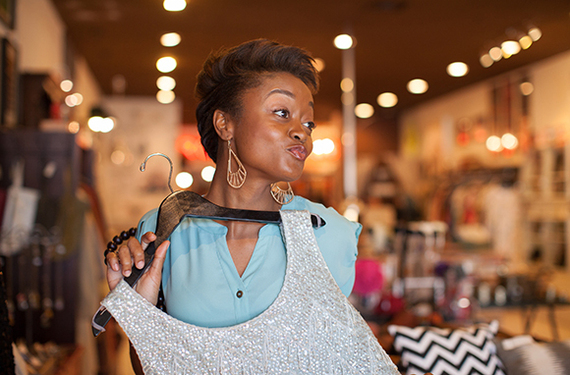 We've tested a ton of travel products here at SmarterTravel. And, like all battle-scarred explorers, we travel editors have our personal favorites--the clothes and shoes that get it done, that we bring on every trip, no matter what. Style is subjective, but wrinkle resistance, durability, and comfort aren't. So we think you'll like these top-quality travel clothes, shoes, scarves, and swimsuits just as much as we do.
What are your best-loved travel clothes? We want to know! Share your favorites in the comments.
Senior Editor Christine Sarkis swears by the Lululemon Vinyasa Scarf. The scarf is extremely soft and can be worn lots of different ways. Snaps at both ends of the scarf facilitate multiple styling possibilities. Watch Lululemon's YouTube tutorial to see all the different ways to wear this product. (It's a shirt! It's a shrug! It's a hood!) Seriously, it's awesome; check it out. Better yet, the scarf dries really fast, so it's a great candidate for sink washing. Price: $48.
L.L.Bean Gore-Tex Cresta Hiking Boots
Managing Editor Josh Roberts says, "I literally never travel without my L.L.Bean hiking boots--but then I never travel to a place where I can't hike. They are heavy and impractical to pack, though, so I usually wear them to the airport and have resigned myself to the taking-on, taking-off routine with the TSA." Price: $239.
Here's another outdoorsy pick from our resident adventurer: trekking pants that can pass muster in a decent restaurant. "My hiking pants from Kuhl are especially useful," says Roberts. "Kuhl makes a hiking pant that looks close enough to khakis that you can wear it around most places but is super comfortable and breathable for hiking." Price: $79.
"I'm always cold on planes," says Executive Editor Anne Banas. "Prana has nice sweater dresses with hoods that are perfect for getting cozy inside the cabin and looking pulled together." Pair the hooded Meryl Sweater Dress with leggings for a remarkably comfortable and warm--yet chic--airplane look. Price: $57 (currently on sale).
This one's my pick. I included the fluid, drapey J.Crew Curator Pant in my list of Travel Clothes You Can Wear Anywhere for good reason: These are my all-time favorite travel pants. They never wrinkle, they're lightweight and machine washable, and they're as comfortable as sleepwear yet as chic as a tailored trouser. Price: $128.
Copy Editor Julianne Lowell always travels with "some form of the Vans Classic Slip-On." The original canvas slip-on shoe is effortlessly stylish and well suited for easy removal in the airport-security line. The grippy rubber sole and soft, padded sides scored the hearts of skateboarders and BMX riders in the 1970s. If they're good enough for the skate park, they're good enough for hours-long walks on city streets, for sure. You can march for miles in a broken-in pair of Vans slip-ons with nary a blister. And at less than $50 per pair (depending on color and style), the price is terrific.
Features Editor Caroline Morse road tested Dry Dudz, a quick-drying, convertible swimsuit brand, and loved that she could go from the water to the beach or pool deck without feeling soggy and overexposed. "Dry Dudz are perfect for an active water-sports holiday," says Morse. Try them in water parks, on cruise ships, and at the beach, too. The suits' WikTec material dries very fast, and the bottoms are designed to be worn as shorts for when you're out of the water and on the go. Prices vary: Hybrid board shorts are $65 each, bikini tops are $25 each, and men's board shorts are $75 each.
"I'm obsessed with ASOS's jersey peg pants. They look like real pants but feel like sweatpants, since they're made from super-soft jersey. They're perfectly slouchy and stretchy for when I want to curl up in my plane seat," says Copy Editor Julianne Lowell. Choose from a bunch of different prints, including plaid and polka dot. Prices range from $22.74 to $41.69. These pants go on sale often.
J.Crew Ludlow Traveler Suit
George Hobica, founder of our sister site Airfarewatchdog, revealed his pick for the perfect travel suit. Hobica recommends the Ludlow Traveler Suit jacket and pants from J.Crew. "I have something similar from another manufacturer that I always fly with, but it's no longer made," says Hobica. "These special wools are super lightweight and they are amazingly wrinkle resistant. Wear them even on the plane, and hang them up overnight and whatever wrinkles do develop magically work themselves out overnight! It's really pretty remarkable." The Traveler Suit Jacket is $450 and the Classic Traveler Suit Pant is on sale for $149.99.