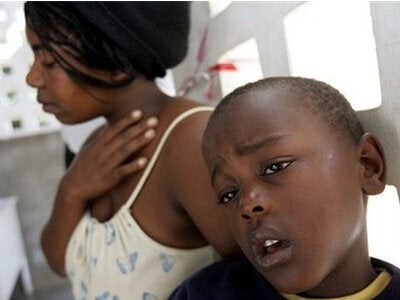 Actor Tom Cavanagh and platinum recording artist Gavin DeGraw traveled to a refugee camp in Uganda earlier this month with the United Nations Foundation's Nothing But Nets, a grassroots campaign to fight malaria. This is day one of Tom and Gavin's trip diary.
Tom Cavanagh - Nothing But Nets Champion, 'Trust Me' Actor
Day 1: Tuesday March 10, Nakivale Refugee Camp, Uganda
A child dies every thirty seconds from Malaria. That's a gut-punch stat - the showstopper. It has the rare effect, elusive to statistics, to draw you up cold, made altogether worse because it's true.
And where is it true? Well, one place is where we are today, at the Nakivale Refugee Camp, slotted into the far reaches of southwest Uganda, 87 square miles of land, much of it the proud-plained beauty of equatorial Africa. And here come the children, laughing, curious; rushing you because you look funny, you talk funny, you're tall and funny colored with a funny camera that takes funny pictures. These are your stats - here in the flesh - scrambling and giggling; engaged; hope-filled.
And then here they are, too, at the hospital ward. One in a bed. Two in a bed. Silent now, staring. And beside them, their mothers. Also silent. Waiting.
The doctor I spoke with admitted that over 70 percent of their work at the hospital is malaria-related. Did this depress him? Well, David had lived through war as a child. One of nine siblings, he had slept outside in the bush every night for six years because it was too dangerous to sleep in a hut because a hut was a target and a hut could be torched. And now this boy was a doctor. So no, he was not depressed. He was grateful - grateful for his position, grateful for the malaria nets we brought, grateful to have his malaria work lessened.
And when I told him we hoped to have that malaria work reduced altogether by the year 2015, he just smiled: "Good, good. For there are other things to work on."
We're a small group of people doing a small thing, driving down a junked up, dusty road to hand one family a malaria net. But the more nets we're able to buy, the more families we're able to save, and the more children get to grow up and tell us their stories. And pretty soon we've done something large.
Gavin DeGraw - Nothing But Nets Champion, Platinum recording artist
Day 3: March 12, Nakivale Refugee Camp, Uganda
Returning to Nakivale to meet the newly arrived Congolese refugees was the final day of our settlement visits. Only weeks ago, as many as 50,000 displaced souls seeking refuge decided to rest here, upon this landscape with heavenly beauty, speckled with the presence of white tarps; some as makeshift homes, others as makeshift schools.
It was as we ascended to the schools that you could feel the glimmer of hope in such a difficult situation. How could you not be inspired at the sounds of children singing their studies aloud joyfully as the teachers danced and led them along?! Such faces and smiles, even on those obviously crippled from polio and other debilitating issues - still they sing. There is a new beginning for these surviving victims.
Soon the classrooms were emptied and the field was filled. It was here on this patch of grass that a theatrical play was performed, with activity, singing, and most of all, deep sincerity. They play was bout the devastation of malaria and the prevention of it. Even a song was written for it. The disease is real and it is very present in these people's lives and it is making them ill and even killing them.
I had a chance to play them all a little batch of songs and sing for them. They like to giggle when you hit the high notes. I don't know if my style of singing is of a very Congolese approach. Ha!
But they were giving me the thumbs up and that was the same as a standing ovation to me on this particular day. It felt really good to interact and shake hands and just bring some fun to this place. Such a beautiful experience.
On our way out of the area we stopped along the road and decided to play some more music in a barren little area of the settlement. It was here that a great moment happened with a group of refugees who began to gather around. They decided to start singing along with me. And on this dusty road with the loom of great despair, you could see even the grown men begin to smile in celebration. It was a moment of community. A great moment.
I passed the guitar around to any hands that sought to play it. And a few were capable of it. So they took a little time and played their native music. You could see how excited it made them. I asked one man who was playing quite well: "What is this song?" and he replied "It's Congan. This is Congan music."A few began to sing. The desperation lifted for a few minutes. It reminded them of home.
To read more of Tom and Gavin's trip diaries and view additional photos, visit NothingButNets.net. And if their words and pictures inspire you, you too can send a net and save a life.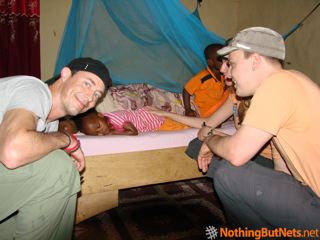 Tom and Gavin help hang nets over young refugees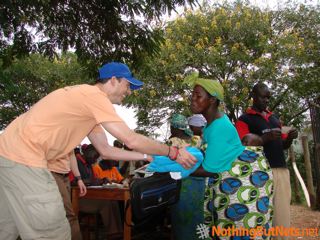 Tom Cavanagh hands out nets with the UN Refugee Agency and Nothing But Nets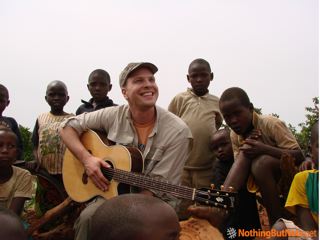 Gavin takes time on a walk to sing with refugees
Related
Popular in the Community