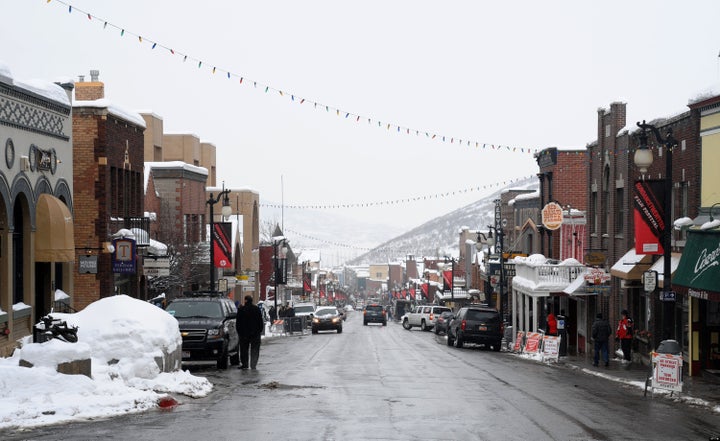 Last week we drove an Airstream trailer from Austin, Texas to Park City, Utah for Sundance. Our three-day journey left us worn out and desperately in need of a shower. This is Part Two of our road trip story.
With the Airstream unhitched from our bright red Chevy Silverado, we stay in a rental home two blocks from Main Street and a couple hundred yards from Park City Mountain's Town Lift. We can practically ski to our front door. Oh, and it has a hot tub.
The 1967 Airstream is conveniently parked down the street next to Miner's Hostpital, a historical Park City landmark that looks like it was pulled from the set of Gettysburg. For the next week Miner's Hospital will be known as "New Frontier," a featured Sundance venue home to some outrageous film-inspired art installations.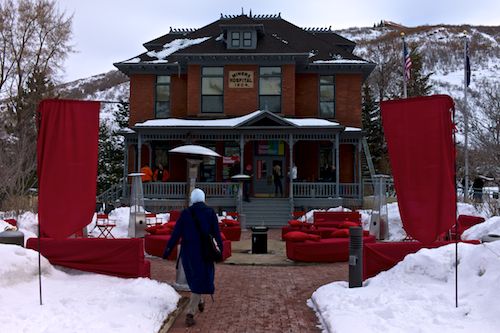 New Frontier at Miner's Hospital
Thursday, our first full day in Park City, is spent organizing scarves, hats and mittens emblazoned in Gowalla orange. The bright hue is reminiscent of '70s ski wear. We brought along 500 of each and are unsure how long they'll last once we open up shop.
Jon, Critz, Keeg and I are soon joined by a few others from the Gowalla team who have flown in from Austin. Sherry, Ashley, Andy, along with Jon's wife Jenni, my wife Rachel, and my 4-year-old daughter Eva round out the crew. It also happens that our trailer is doubling as a festival information booth. The addition of a couple Sundance volunteers makes our trailer seem very full.
On Thursday afternoon we open for business. Fortunately so does the "Chow Truck" parked across from us. They've driven up from Salt Lake City and are serving up amazing Asian-inspired tacos stuffed with lemongrass chicken and ginger pork. For a moment I wonder if I'm back in Austin again. I will certainly be coming back often during the week.
Speaking of food, my other Park City favorite is Yuki Arashi, a shockingly excellent sushi joint smack dab in the middle of Main Street. Critz and I discovered this place a couple years ago during a ski trip, and we make a return trip during our second day at Sundance. Yuki Arashi's spider roll is one of the best I've ever had, but the real gems here are The Cho (ahi tuna, avocado, tempura yam and cilantro) and Jupiter Access (tempura shrimp, albacore tuna and yellowtail). Both have a bite and will make you rethink your assumptions about inland sushi restaurants. Skipping Yuki Arashi during a trip to Sundance would be tragic.
With our appetites satisfied (for the moment), we take turns working the Airstream over the weekend as hundreds of Festival attendees use our service to keep up with festival screenings, parties and other events. While not "on duty" we should each have some time to explore the city, hit the slopes, and, if we're lucky, grab a few screenings.
Of course, we're here to work, so helping festival-goers get up and running with Gowalla is priority number one for us. After a slow-ish Friday in the Airstream we decide that our off-Main location could be hurting us. Rachel and I put Eva in ski school Saturday morning and hit the streets with Andy and Sherry, our arms full with orange Gowalla scarves and mittens.
The snow is falling quickly as we pass a crowded bus stop. It turns out that scarves are a pretty great thing to be giving away on a snow day, and a dozen warm, happy people are now using Gowalla to keep up with Sundance happenings. This is Wintertime Guerilla Marketing 101 for us. We restock on scarves and hit Main Street. Soon, downtown Park City is alive with orange scarves. Word quickly spreads about the location of our Airstream and it becomes clear that we should have brought more orange scarves. Evidently they're a hit!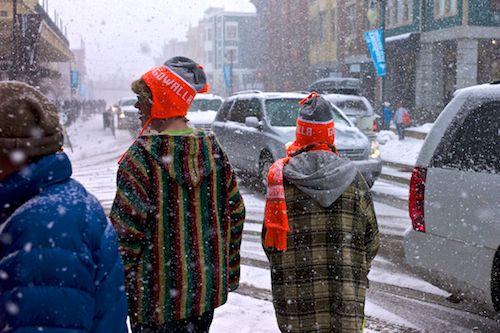 Note to self: Bring more scarves next time!
On Sunday a few of us decide to head up Town Lift to grab a few runs on Park City Mountain. With Sundance in full swing there are very few people on the slopes with us. Without a doubt this is one of the best times to ski or board Park City. There's literally something for everybody on this mountain, regardless of your skill level. Critz, Keegan, Rachel and I head to McConkey's "Mountainzone," whose namesake died tragically in an extreme-skiing accident about two years ago. He would surely be proud the bowl that bears his name. It's a playground of intermediate and expert trails and glades. I could spend days over here and not tire of the experience. In fact, we come back Monday for another dose of the fluffy stuff.
Enchanted by the gorgeous mountain conditions, we nearly forget there's a film festival going on. Several of us are determined to see the stars, but first we have to get tickets.
Since we didn't purchase advance tickets to the screenings, our only hope of seeing a film or three at Sundance is the "wait list." Here's how it works: First, you must check in a couple hours in advance at the theatre to get a number. Then you return a half-hour before the screening where tickets for the unclaimed seats are sold to those in the wait list by order of number. Of course, in a stroke of ironic brilliance, Southwest Airlines is the sponsor for this lineup of stranded filmgoers.
Critz and Keeg are the first to learn how this works the hard way when they grab their numbers for the evening premier of Cedar Rapids, a new comedy featuring John C. Reilly, Ed Helm, Anne Heche and Sigourney Weaver. While they receive decent numbers they fail to return 30 minutes in advance, and they're forced to go to the end of the queue to await their fate.
A festival volunteer soon emerges and yells "Forty!" as the first batch of wait-listers get in. A few minutes later she again appears. "Forty more!" Moments later she calls "Twenty!" as those remaining in the queue fidget nervously as the ponder their filmgoing future.
"Fifteen!" the volunteer calls out. Then "Fifteen more!"
Critz and Keeg are still a dozen or so bodies back.
Moments later the volunteer emerges one last time. "Six!" she exclaims. "The screening is now full."
A half hour later Critz and Keeg join me on our patio hot tub to recap their experience. As the snow falls down, mental notes are taken. We're determined not to make the same mistake twice.
Exhausted from a long weekend of work and play, we crash with dreams of the silver screen dancing in our heads.
Early Tuesday morning, Jon and Jenni sneak out and successfully attend a second screening of Cedar Rapids. While we're excited for them, the rest of us have still not send a film. We have three more days at Sundance. Hopefully I'll make it to something before we leave.
Photos courtesy of Josh Williams