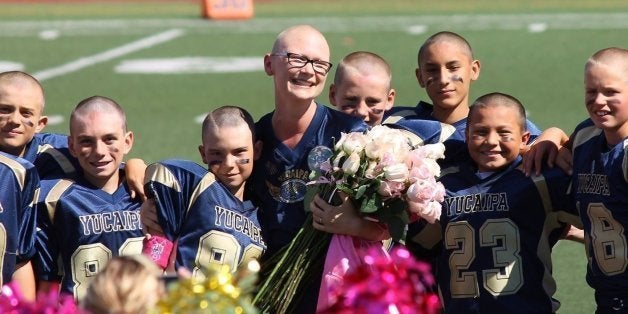 My son's football coach, Rusty Simpson, and his family asked if my son Andrew could spend the night before our home game. Reluctantly, because it was a big game, I said "yes." So, on Friday evening, I dropped off my son to "go over new plays" with the coach and his friend Gunnar.

I was very excited about this game. First, it would decide who was taking first place in our division. Second, it was the first game of "Pink October," a season rife with meaning to me, as I currently have stage IV cancer. To see all the boys out in the field in their pink socks, my son being one of them, would be such a beautiful sight. Little did I know...

I walked up to the field decorated in pink and was quickly ushered to the center as the announcer shared my story. To be honest, I can't remember exactly what he was saying, because the boys began taking off their helmets one by one, presenting me with roses, and I was so overwhelmed. These boys had shaved their hair in support of not only me, but for their football brother, "Amento." I looked into the eyes of this united team and I saw their pride, their strength and their support.
"Sarah, I did this for you!"
"She didn't have a choice in loosing her hair, Dad."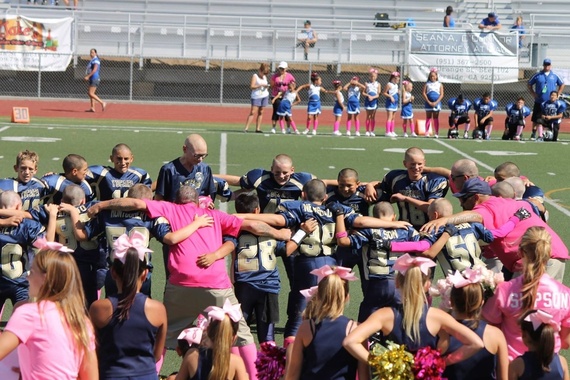 One of the young men, "Little Meeks" Kolbe, had been growing his signature long blonde hair for over six years! His father, one of our Coaches Eddie Meek, struggled with his son's decision to not only cut his long hair, but to shave his head! The sacrifice of both father and son was huge! His father told me that Kolbe said, "Dad, my hair does not define who I am." This is so true, though his hair does not define who he is, the act of shaving his hair did define who he is! He will be donating his beautiful sacrifice to help another person battling cancer.

Each of these young men showed their heart that day! I am so proud of the hearts of these young men. All the coaches shaved their hair and even some of the parents from our team. The support meant the world to our family.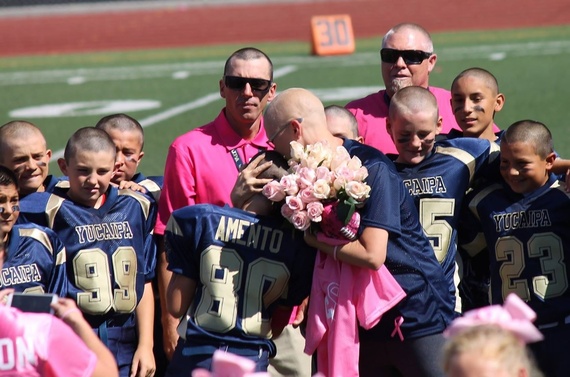 I was proud of my son. Andrew is old enough to know what we're up against. As a coping mechanism, because the thought of losing me is to overwhelming for him, Andrew is detached from the disease. With the support of his teammates, he was able to "connect." I am grateful beyond words for this team. They are so much more than a team -- we are a football family.

We won this game, making us the first place team in our division. This win will likely be forgotten, but the heart of this team will not be forgotten!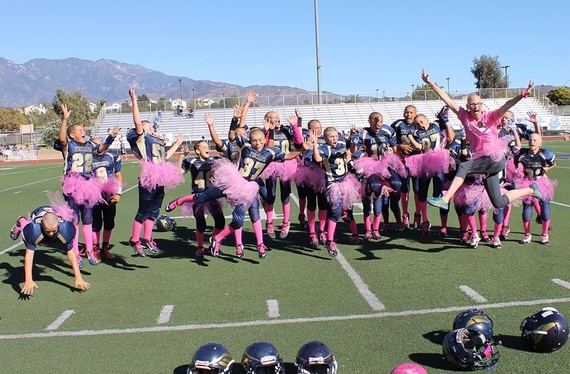 Thanks to Scott at Redefine Rentals for capturing this for us!
Video credit: Scotty Davis with Redefine Rentals
All photos courtesy of Sarah Amento