You don't come to Cuba for the food. Well, you never used to come to Cuba for the food.
Strict rationing, food shortages and far more serious issues on the collective plate for the last fifty years than fine dining led to the slow demise of culinary culture, and Cuba's reputation for serving up some of the lowliest fodder in the name of food. But last year, after Raul Castro opened up the laws on running private businesses such as paladares - home restaurants - a new generation of gastronauts emerged, and currently leading the pack are the men in white hats behind Havana's Café Laurent.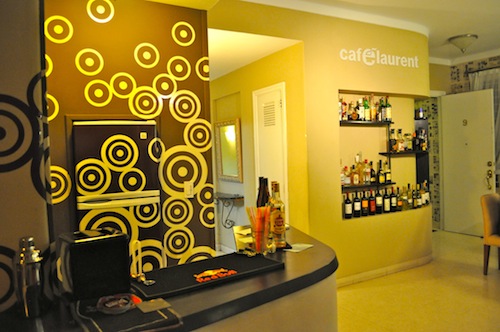 Even its physical presence is elevated. On the top floor of a Vedado apartment block, I spotted the twinkling lights long before I reached its door, though I never anticipated the problems I would have getting in. There was no visible sign street level, but a young smartly-dressed man with a clipboard asked if I was looking for Café Laurent. I nodded.
"Do you have a reservation?"
He made an apologetic face, and told me they were fully booked.
"It's only me," I said feeling disappointed and hungry. "I'm happy to sit at the bar."
We spoke for a few minutes about options, and then he recommended I try another restaurant around the corner. But Café Laurent was high on my list of tips to review for the GuidePal Havana City Guide I am working on, and I had little interest in going elsewhere. I explained the situation to him, but he wouldn't budge.
"You see, this other paladar is run by the same management. The food is just as good, so it's the same experience. Really atmospheric, authentic..."
As he spoke, he was encouraging me down the street with a persistant press in my lower back that made me instantly uncomfortable. It was that, as well as his eagerness to leave his post outside Café Laurent that made me realise what he was doing. He was clearly on commission from the other restaurant to poach Café Laurent's customers by pretending they were fully booked.
I politely declined, and walked away feeling foolish, while he returned to his perch just outside the gate. Scoping him out from the other side of the street, I was now certain he was a jinetero - a Cuban hustler - and I just needed to find a way past him to get to my dinner. Short of a run and barge tactic, I had no idea how to achieve that. Entering a restaurant doesn't normally require an exercise in subterfuge.
At that moment an elderly gentleman in uniform appeared from inside the building. He exchanged friendly words with the young man, and I wondered if I had judged him unjustly. They certainly looked like colleagues. I felt a momentary guilt for having slandered him, and nearly went to eat elsewhere, before deciding I had to trust my instincts. I approached the elderly gentleman.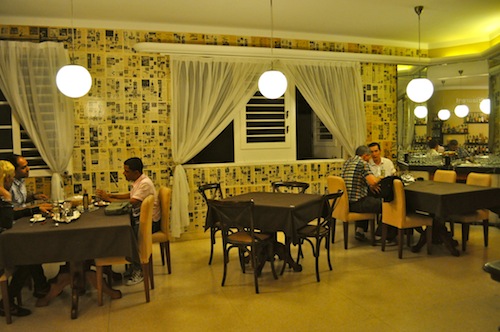 "Excuse me, your colleague told me you were fully booked. Can you check there isn't space for one more?" I asked feeling deeply uncomfortable that the young man was stood right there listening.
"Fully booked? Not at all. Come with me!"
As he spoke the young man skulked away into the shadows, and I shot him an evil glare over my shoulder while making my way inside, victorious.
"Do you know he's trying to hustle your customers?" I asked once inside the adorable antique elevator.
The old man shrugged. "What can I do? If I tell him to go, others will come. Customers will get in or they won't. It's just what happens."
I was bewildered by his nonplussed attitude. I wanted incredulous outrage. But here in Cuba jineteros are an omnipresent part of every interaction, which might possibly involve foreigners, or more precisely, foreign money. They are Havana's mosquitoes; the daily irritant that buzzes about you incessantly.
Four floors up, the doors opened, and instantly I was brought out of the fugue of contemplating the dismal downsides of life in Cuba as a foreigner, because from the jaws of a jinetero, I had escaped into the most enticing of Cuban restaurants, like nowhere I had yet seen.
You read about cozy mom-and-pop paladares with home-cooked arroz y pollo or stiff government-run restaurants with tablecloths and soggy spaghetti, but not boutique Basque bistros buzzing with beautiful people.
Café Laurent has that bohemian chic aesthetic so in vogue right now, or something close to it. The 50s furnishings and walls papered with old newspaper cuttings gave it a retro vibe, and with the corner home-style bar and casual atmosphere there was a definitive dinner party atmosphere, especially on the terrace, full of raucous group parties.
The lighting was warm and atmospheric, the music trendy yet melodic, and the service superb placing it clearing in high-end territory. But then there were red herrings, like the bathtub in the toilets - a remnant of its former guise as someone's home - and the comedy translations on the English language menu such as fish strips instead of fish cakes, which reminded you happily that this was still Cuba.
I opted for a tall stool in the bar area, which looked out over the night lights of Vedado, and ordered myself a mojito to celebrate my perseverance. The menu has a strong European influence with a leaning towards Spanish cuisine in the jamon serrano starter or pargo con almejas y gambas en salsa verde (red snapper with clams and shrimp in green salsa). It was ominously all-encompassing however, stretching from meatballs to russian salad via tuna carpaccio, which goes far beyond the remit of what is possible in Cuba. This is a country in which finding ingredients is an exercise in miracle-making. I had my doubts.
I opted for the waiter's suggestion and had cordero lechal a la tabaca - lamb slow-roasted with a garlic, cream and mint reduction. It arrived perfectly presented with swirls of green, white and red over a lamb castle with a decorative crisp protruding at a jaunty angle. It had all the elements of nouvelle cuisine, just twice the size. The lamb was perfectly tender falling away from my fork, and the flavours complemented each other deliciously without being over complex. I struggled to finish the plate, which at CUC 11 seemed like a good enough deal.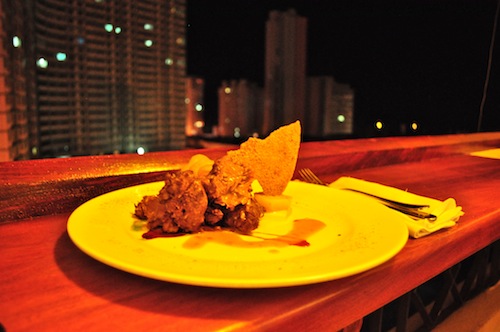 A collaboration between Lorenzo Enrique Nieto and José Figueroa, their previous management of Havana Vieja's one time star paladar El Templete fades in comparison to what they've done here, with a lot of thanks to chef Dayron Aviles Alfonso, who has worked in both San Sebastien, Spain and Buenos Aires, Argentina. Their efforts haven't gone unnoticed. Every table was full with the stylish, dining-set of Havana, and no doubt tourists will be hot on their heels. With the gastronomic trend well in motion, since Café Laurent's opening last year, dozens of other paladares have followed in their path, testimony to the culinary revolution currently sweeping the city.
Cafe Laurent, Calle M, e/ 19 y 20 # 257 Penthouse, Vedado; Daily, 12noon - 12midnight; +537 831 2090
Related