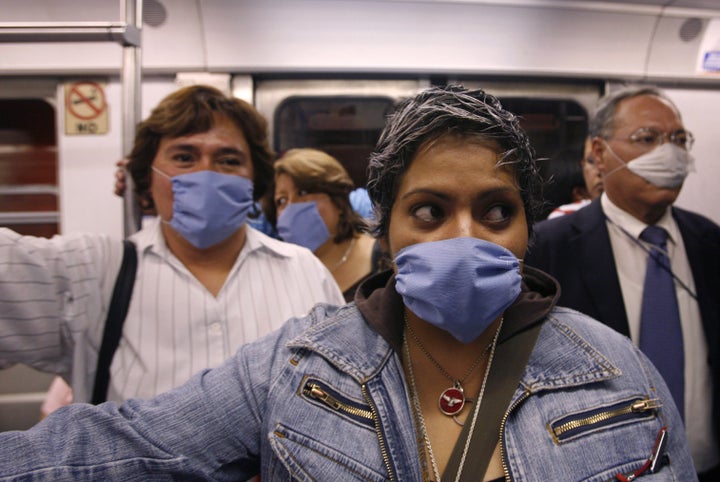 A swelling number of scientists believe swine flu has not happened by accident. No: they argue this global pandemic - and all the deaths we are about to see - is the direct result of our demand for cheap meat. So is the way we produce our food really making us sick as a pig?
At first glance, this seems wrong. All through history, viruses have mutated, and sometimes they have taken nasty forms that scythe through the human population. This is an inescapable reality we just have to live with, like earthquakes and tsunamis. But the scientific evidence increasingly suggests that we have unwittingly invented an artificial way to accelerate the evolution of these deadly viruses - and pump them out across the world. They are called factory farms. They manufacture low-cost flesh, with a side-dish of viruses to go.
To understand how this happens, you have to compare two farms. My grandparents had a pig farm in the Swiss mountains, with around twenty swine at any one time. What happened there if, in the bowels of one of their pigs, a virus mutated and took on a deadlier form? At every stage, the virus would meet stiff resistance from the pigs' immune systems. They were living in fresh air, on the diet they evolved with, and without stress - so they had a robust ability to fight back. If the virus did take hold, it would travel only as far as the sick hog could walk. So if the virus would then have around twenty other pigs to spread and mutate in - before it would hit the end of its own evolutionary path, and die off.
If it was a really lucky, plucky virus, it might make it to market - where it would come up against more healthy pigs living in small herds. It has little opportunity to fan out across a large population of pigs or evolve a strain that could be transmitted to humans.
Now compare this to what happens when a virus evolves in a modern factory farm. In most swine farms today, six thousand pigs are crammed snout-to-snout in tiny cages where they can barely move, and are fed for life on an artificial pulp, while living on top of cess-pools of their own stale faeces.
Instead of having just twenty pigs to experiment and evolve in, the virus now has a pool of thousands, constantly infecting and reinfecting each other. The virus can combine and recombine again and again. The ammonium from the waste they live above burns the pigs' respiratory tracts, making it easier yet for viruses to enter them. Better still, the pigs' immune systems are in free-fall. They are stressed, depressed, and permanently in panic, making them far easier to infect. There is no fresh air or sunlight to bolster their natural powers of resistance. They live in air thick with viral loads, and they are exposed every time they breathe in.
Many of the detailed studies of factory farms that have been emerging in the past few years reinforce this argument. Dr Ellen Silbergeld is Professor of Environmental Health Sciences at Johns Hopkins University. She tells me her detailed on-the-ground studies led her to conclude there is "very much" a link from factory farms to the new, more powerful forms of flu we are experiencing. "Instead of a virus only having one spin of the roulette wheel, it has thousands and thousands of spins, for no extra cost. It drives the evolution of new diseases."
Until yesterday, we could only speculate about the origins of the current H1N1 virus killing human beings - but now we know more. The Centre for Computational Biology at Columbia University has studied the virus and found that it is not a new emergence of a triple human-swine-bird flu virus. It is a slight variant on a virus we have seen before. We can see its family tree - and its daddy was a virus that evolved in the artificial breeding ground of a vast factory farm in North Carolina.
Did this strain evolve, too, in the same circumstances? Already, the evidence is suggestive, although far from conclusive. We know that the city where this swine flu first emerged - Perote, Mexico - contains a massive industrial pig farm, and houses 950,000 pigs. Dr Silbergeld adds: "Factory farms are not biosecure at all. People are going in and out all the time. If you stand a few miles down-wind from a factory farm, you can pick up the pathogens easily. And, like in the US, the manure from these farms isn't disposed of according to any regulations, even though we know viruses can remain alive in it for more than a month. They can just sit in cesspools. The viruses can be transmitted from there by flies."
Of course, agribusinesses is desperate to deny all this is happening: their bottom line depends on keeping this model on its shaky trotters. But once you factor in the cost of all these diseases and pandemics, cheap meat suddenly looks like an illusion.
We always knew that factory farms were a scar on humanity's conscience - but now we know they are a scar on our health. If we carry on like this, bird flu and swine flu will be just the beginning of a century of viral outbreaks. As we witness a global pandemic washing across the world, we need to shut down these virus factories - before they shut down even more human lives.
Johann Hari is a writer for the Independent newspaper. To read more of his articles, click here or here.
Calling all HuffPost superfans!
Sign up for membership to become a founding member and help shape HuffPost's next chapter