I was at a recent town park board meeting -- where a few folks brought up that maybe it's time to pull back on the gazillion trophies given out for every park league sporting event.
We kicked around how kids are being weaned to expect to bring home some "hardware" -- just for showing up.
Giving trophies out like water make them unimportant when you finally get one that you actually deserve.
I was sitting there thinking about a trophy that I'll never toss out. It's a plastic 6-inch gem I won in my summer after sophomore year in high school -- that maybe, maybe cost a quarter.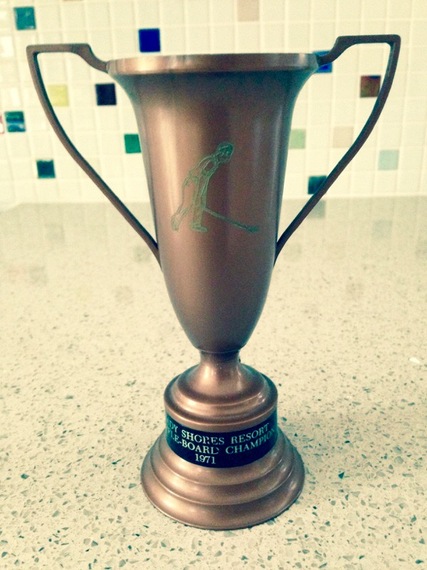 I won the 16-and-under golf tournament at Shady Shores Resort at Dewey Lake; I'm sure you've never heard of the place.
They ran out of golf trophies that year -- so I got one with a shuffleboard player on it instead. Could care less. Adds a little mystery to this relic.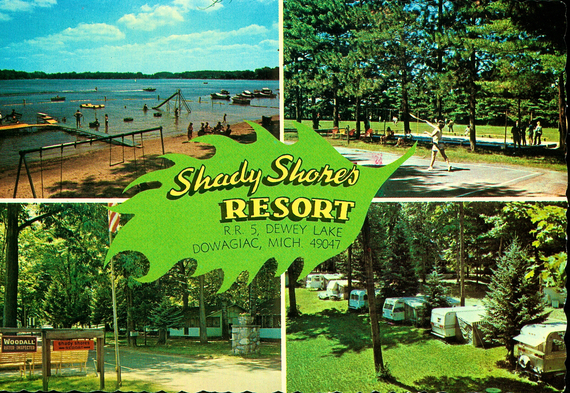 It's a brown shallow lake in the pancreas of Michigan that was so small you could swim across it (if you could stomach the god-only-knows-what was growing in that lake that rubbed against your legs as you swam).
It was the single greatest place on the planet earth.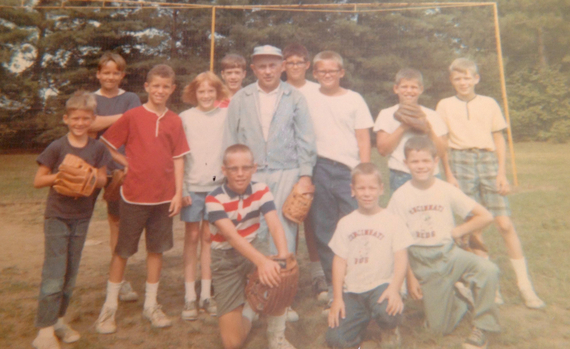 Our fantastic kids daily 12-inch softball game with Mr. Murray. I'm the good-looking one styling the snappy red shirt.
It was the last night of our two-week family vacation -- the infamous "Friday Night Bingo" and "Shady Shores Awards Ceremonies" to a jam-packed lodge-full of happy Midwestern families.
I couldn't even hear the bingo numbers being called out because all I could do was dream about how in just minutes I'd be parading up to the mic to a thunderous applause.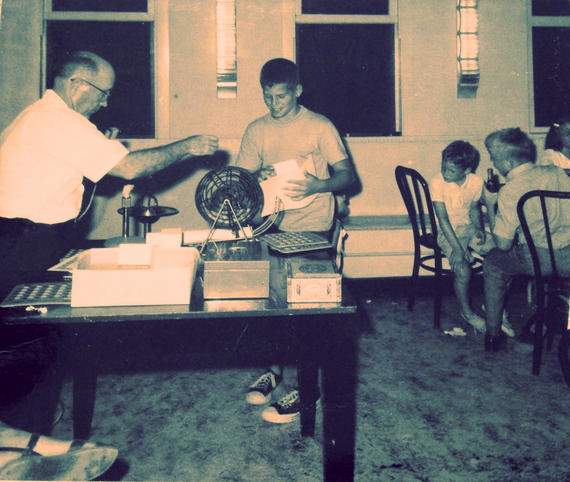 Here's my younger brother, Terry, winning a cherry soda for a strong bingo hand. You can't see the huge crowd wildly cheering, stuffed into the air-conditionless lodge. You can probably spot the post-dinosaur flies the size of grasshoppers charging in the windows for summer snacks.
And I was imagining the amazing things Resort Director Mr. Murray was going to say about me as he handed me my badge of honor in front of all my Dewey Lake pals, my family -- and Sandy Roth from Cleveland, Ohio; the hottest freshman blonde to ever, ever, ever grace Dewey Lake. She was the Princess Grace Kelly of Shady Shores Resort.
It was the moment of truth.
Mr. Murray called my name. As I proudly waved to my fans heading to the front through the crowd of families, I slammed my face into a thick pillar -- it felt like Mohammed Ali just plowed me with a right hook. I bounced back into Mrs. O'Shanahan's ample lap.
As I waddled up to Mr. Murray in a daze, blood and mojo was streaming down my face -- and a knot the size of a grenade was ticking every second on my zitted forehead. The whole place, my parents, my pals and Sandy Roth were laughing their butts off -- and Mr. Murray suddenly decided to become Dewey Lake's Don Rickles.
Maybe that's why I love that trophy.
Maybe because it's a bit of a snapshot of life at that moment.
Or maybe it's because winning that trophy kind of made up for the sting of losing in tennis a week before to a jackass, middle-aged town dad in the La Grange Tennis Tournament who hooked me on a key line call because he couldn't deal with his tennis game that had long left the suburban train station.
Or maybe I love that trophy because I remember how I was still mending from getting totally dumped by my fabulously-stacked high school girlfriend that was a football-field better looking and faster than me.
Or maybe I love that trophy because it softens the pain of knowing that my only home-town Little League baseball record that has stood the test of time is that I beaned 22 players as a pitcher in a 6-start single season.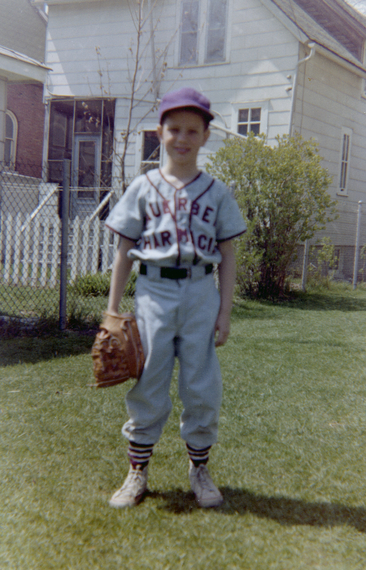 Or maybe I love that trophy because it was re-connecting me to that moment in time, that sweet moment in time of early dreams. Of hope. Of passion. Of wonder.
That trophy may look like an old plastic piece of nothing to anybody else -- but, to me, it's filled to the absolute brim with the fantastic and rich roller-coaster goop life, at its finest, is made of.
If you get a moment, dig around your attic and pull out a trophy of yours that's been tucked away in some old box.
Let it speak it to you. Let it take you there.
And see what pours out of the cup.
And then tuck it, with the most tender care -- back in its box.
Jimmy Dunne's songs have been recorded on 28,000,000 records worldwide; along with scores, songs, and themes in over 1,500 television episodes and dozens of feature films - along with many dozens of gold, platinum and multi-platinum records around the world.
www.jimmydunne.com
www.inspireentertainment.com
Soundcloud
Facebook