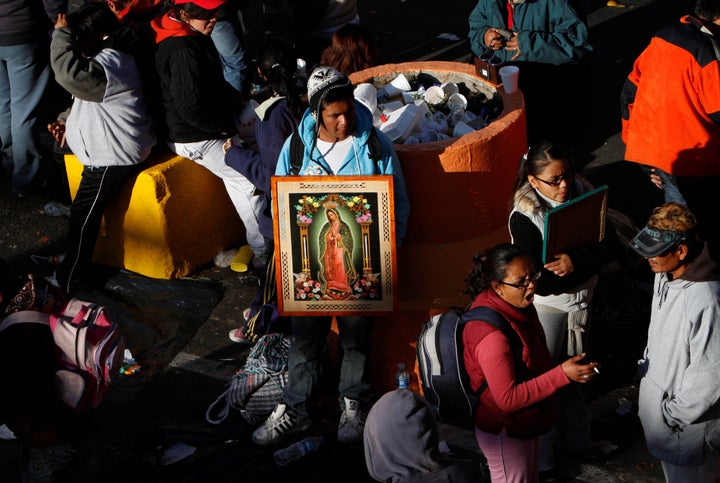 At daybreak on Sept. 16, 1810, Father Miguel Hidalgo, a Roman Catholic priest at the parish of Our Lady of Sorrows in Dolores Hidalgo, Guanajuato, led the first of several uprisings that would ultimately lead to Mexico's independence from Spain in 1821.
El dieciséis de septiembre is a momentous day in the annals of Mexican history. It is also of no small consequence for states like Texas, New Mexico, Arizona, and California which, until the mid-nineteenth century, formed part of Mexico and, before that, part of Spain.
Father Hidalgo's call to arms had been planned for the feast of the Immaculate Conception (Dec. 8) in 1810. But once thwarted by informants, it was moved up to the day after the feast of Our Lady of Sorrows (Sept. 15). It is evident from the dates that the good priest was invoking the protection and intercession of Mary the Mother of God.
Father Hidalgo extended the Marian theme of the uprising to the first flag of the independence movement -- a banner displaying the dark-skinned likeness of Mary, Our Lady of Guadalupe, whose image stands today as an emblem of the Mexican people and mexicanidad ("Mexican-ness") in general.
Prior to the independence movement, the fervor of devotion to Our Lady of Guadalupe had stemmed from her appearance to a humble Indian at Tepeyac (just outside of Mexico City) between Dec. 9 and 12, 1531. Although the most familiar account of her apparition was not fully written out until the mid-seventeenth century, it is certain that a small shrine in her honor existed at Tepeyac by the mid-1500s.
Today, after St. Peter's Basilica in Rome, the Basilica of Our Lady of Guadalupe is the second most-visited Catholic site in the world. Its central relic, which attracts as many as twenty million visitors each year, is the likeness of the Blessed Mother beautifully emblazoned on the mantle of the humble Indian to whom she appeared.
Although the appearance of the Blessed Virgin Mary in Mexico is considered a "private revelation," and is not in any way part of the Deposit of Faith in the Roman Catholic Church, the image of Our Lady of Guadalupe is nonetheless the most recognizable expression of Mexican Catholic devotion.
On Sept. 16, 1810, Our Lady of Guadalupe also became the most recognizable symbol of the quest for an independent Mexican nation. Indeed, her kitschy popularity in commercial music and art today -- not all of it very pious -- has probably grown more out of the interests spawned by Father Hidalgo's flag than the devotional aims that inspired the relic housed at the basilica.
Whatever the case may be, it should be apparent to anyone who has ever seen a tattoo, t-shirt, bumper sticker, billboard or street mural featuring Our Lady of Guadalupe that her singular role of directing hearts and minds toward her son, Jesus Christ, has been increasingly compromised and obscurred by cultural, political, and commercial interests.
In the United States, businessmen, politicians, and activists have turned to the handmaid of the Lord as a convenient shortcut to the pockets, votes, and support of Mexican Americans -- a large and flourishing demographic group. In the process, communities outside of the Roman Catholic faith -- and even some within it -- are led to believe that Catholics worship Mary, and Mexican Catholics her advocation as Our Lady of Guadalupe in particular.
In truth, Catholics do not worship Mary (or any other saint) and Mexican Catholics do not adore Our Lady of Guadalupe as a national goddess. But one can get the impression that certain businessmen, politicians, and activists (some of whom profess to be Catholic) just might. At the very least, we can venture to say that they turn to her image to see what it can do for their sales, elections, and the issues of the day.
But this was not always the case. To be sure, on el dieciséis de septiembre 1810, Father Miguel Hidalgo placed the first uprising toward independence, quite literally, under the protective mantle of Our Lady of Guadalupe. He did so, however, with the understanding that the hope for an independent Mexico ultimately lay with her son, Jesus Christ.
Captured and executed in 1811, Father Hidalgo did not live to see the successful outcome a decade later. (The cause was taken up by another priest, Father José María Morelos who did not live to see it either.) But among his legacies we can include the strong identification of Our Lady of Guadalupe with an independent Mexican identity -- a case of unintentional coding, perhaps, that has not been lost in our markedly secular, commercial culture.
"Long live Our Lady of Guadalupe!" Father Miguel Hidalgo reportedly cried those words on the very day that he struck out for Mexican independence beneath the standard bearing her likeness. And so she has. But perhaps in a different way than he, or any of his contemporaries, had imagined.
This September, as we remember Mexican Independence Day, it would be worthwhile to think about the Catholic priests who first took up a cause against a mother country that had become increasingly oppressive -- and the martyrdom they suffered for it.
It would also seem a fitting occassion to reflect soberly on Our Lady of Guadalupe. Not in the limelight that popular culture has cast upon her since the Mexican independence movement. But, rather, in her dignified role as handmaid of the living God who -- in authentic Catholic teaching -- is the only source of every freedom worth having. Laus Deo.

Related
Popular in the Community