One church bulletin is generating buzz for its inclusive, welcoming message.
"My friend attended there recently, and I got a copy of what they hand out," Acuff wrote on July 25.
SCROLL FOR A PHOTO OF THE BULLETIN
The church bulletin welcomes everyone, including the "divorced, gay, filthy rich, dirt poor," "those who are in recovery or still addicted," people who work "too hard, don't work, can't spell," and even those who are attending because "grandma is in town."
The church even invites those who "don't like 'organized religion,'" noting that they've "been there too."
Some commenters on the blog said they agree with the church's message.
"I am so glad that God wants people who sin and struggle with sin to come to church, because as Pastor, I would hate to be excluded from the church I serve in," a user by the name of "Rick" wrote.
Tom Tate, the pastor of the church, said he received reactions from people across the country.
"The ones that are upset think we are pitting atheism against Christianity," Tate told The Huffington Post in April. "We are actually pitting kindness against hatefulness."
Correction: A previous version of this article misidentified the location of the parish. The bulletin is from Our Lady of Lourdes Catholic Community in Daytona Beach, Fla.
LOOK: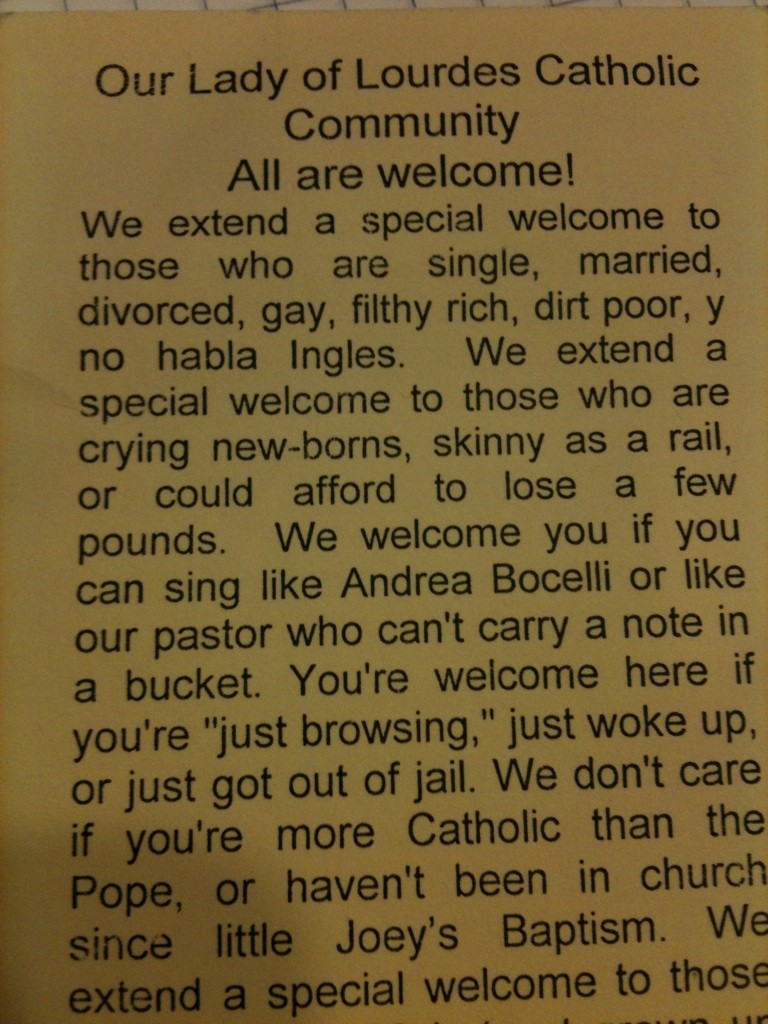 Related
Popular in the Community