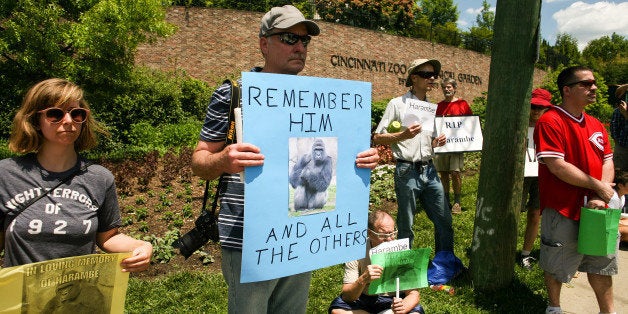 Everyone has heard the story doing the rounds on social media this week involving the boy who fell into the gorilla enclosure at Cincinnati Zoo. A great article was written, which explained why the The Cincinnati Zoo Mother Deserves Empathy.
I agree that the mother deserves empathy.

"Mistakes happen. They are sometimes preventable, sometimes not. Regardless, they are always easy to judge when it's not your mistake that took place. And again, if you have the audacity to say, "I would never let this happen," I pray you have someone to hold your hand and tell you "mistakes happen" when something terrible and preventable happens on your watch someday. When people on the outside are judging and threatening -- people who have no connection to your or your family. We are all human."

It is something I wish I never had to say, but I am one of those mothers.
My 9 month old son passed away in January of this year. He is no longer with us today because a mistake happened; my curious sweetheart was left alone for a few moments and he unfortunately suffocated. He was in ICU on life support for twenty days, but he never regained consciousness. His death was awful, and being without him every day is a kind of hell I would not wish on my worst enemy. Every single day is hard when it means living without your baby.
Strangers made comments about me online, just as strangers are making comments on the mother in this story. It is horrible hearing strangers debate your character and fitness to parent, because you are already questioning them yourself as you sit beside your child on life support.
When you just want to hug your child, but can't because he is on too many machines. When all you want is for him to open up his eyes, and he doesn't. When you want to look into his mouth to see his little teeth growing through, but you can't. When you sit next to him dreaming of what kind of life you will create for him if he wakes, but he never does. When all you want for him to do is live the life he was meant to, people you don't know are saying what a terrible mother you are without even knowing any of the facts about the situation.
The mother at the zoo was lucky; my situation could easily have been hers. Children are fast and clever little beings, who can get out of your grasp in a second. Trust me, no matter what harsh things you think you are dishing out, the mother would be delivering even harsher ones to herself on the inside. She doesn't need to hear anything more from strangers, she knows.
And while I disagree with the shooting of the unfortunate gorilla, I ask, what else could possibly have been done?
To the people who say the gorilla should not have been shot, what would you have said had the gorilla killed the child?
Would you have been enraged, saying why did the zoo not act sooner and kill the gorilla?
If I had the smallest chance of bringing back my son, I would do anything. While that is not comfortable to say, when it concerns the taking of a beautiful gorilla's life, I am glad to know that one mother in the world is with her child.
Because I know what it is like to endure a forever without my own.