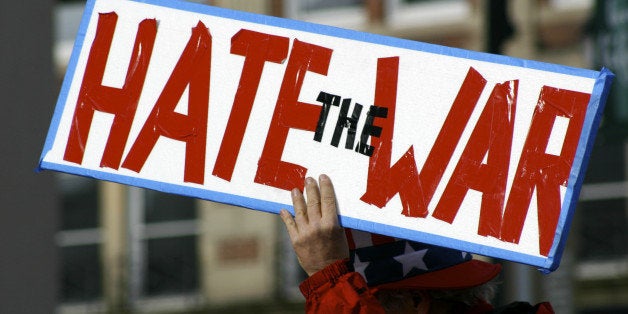 "The world suffers a lot. Not because of the violence of bad people, but because of the silence of good people."- unknown
"In the end we will remember not the words of our enemies but the silence of our friends."-Martin Luther King Jr.
In August a picture of a 5 year old Syrian boy went viral. Kate Bolduan from CNN couldn't hold back her tears as she reported on it. If you are shocked by this picture, it means you are not following the conflict in Syria because there are far more shocking and devastating images that are easily accessible on social media. Unfortunately Omran Daqneesh is just one of many thousands of children in conflict devastated regions who are suffering unimaginable horrors the human mind can't even begin to comprehend.
Maybe it's because I'm of Middle Eastern descent and have a personal connection to the devastation that has been inflicted on innocent children and civilians in the region. For many months a silent depression consumed me. How can the world go about its business and ignore the most horrific human suffering that is existing in the present moments? The depression was a mix of hopelessness and fear that maybe there really is nothing that can be done if you are an average person.
As far as I know, where we are born is purely luck and if we are born where we can observe these catastrophes from the comfort of an air conditioned home with Internet access, we have a moral obligation to bear witness to the human suffering that easily could have been us had our luck been a little different. Yes, it may be inconvenient, uncomfortable or deeply depressing to look at human suffering but imagine how inconvenient, uncomfortable or deeply depressing it is for those who are actually living under the most deplorable, traumatic situations every day of their lives? Imagine how it might feel to be ignored by the world, no one coming to help you, defenseless and trapped?
When we turn away from suffering that exists outside our personal realm, we stop making informed decisions and we disconnect from humanity. Of course it makes sense to block these images and stories out- many of us do so because it's too depressing, we feel hopeless and if there is nothing we feel like we can do then we may as well pretend it doesn't exist. There are times where we all need a break from the consistent bad news that is churned out in the media on a 24/7 cycle and it is important that we take a mental health break if we are feeling too anxious and it is permeating our lives. Constant exposure to troubling things that we have little control over is not good for our mental health and we should compartmentalize when necessary. There is also plenty of good news in the world that we should relish in and pay attention to.
However, we shouldn't close out disturbing things entirely and we should make a concerted effort to not completely shut ourselves off from human suffering, even if it is uncomfortable or inconvenient for us to do so. All over the world, people need to know what our governments and leaders are doing and what they are supporting. Part of this responsibility lies with the media but we also live in the world of social media where all information is accessible to us if we know how to look for it and parse it out. Knowledge informs all our voting decisions and how we might hold our world leaders accountable, such as peaceful protesting, donating money to humanitarian efforts, writing and calling political representatives and helping to make important social media petitions viral just to name a few. As Howard Zinn says, "what matters most is not who is sitting in the White House, but who is sitting in - and who is marching outside the White House, pushing for change." Major movements in history were almost always started by the people who organized and pushed the lawmakers to change.
More importantly, even if the small gestures we make don't seem to make a meaningful difference, the act of bearing witness to those who are suffering has more power than one might think. As I listened to stories from the doctors of Syria who have testified to the suffering there, it is clear that people feel like they are screaming and no one is listening. Scott Paul, a Senior Humanitarian Policy Advisor at Oxfam America has spent time in Yemen speaking to the Yemeni people and he says the Yemenis feel dismissed by the international community: "Wherever I went, Yemenis thanked me for visiting- they said that the very presence of foreigners made them feel safer and less forgotten by a world that has largely turned its back."
I thought of how awful that would feel- that the world has turned its back on you- and how the only possible comfort in the absence of action would be knowing that people hear you and care about what you are going through. We have to think about how we would feel if we were in someone else's shoes and do what we can, even if it is small. The small gestures are what ripple out into the world that eventually, collectively make change. As Martin Luther King Jr. has rightly said, "our lives begin to end the day we become silent about things that matter."
Finally, there is something to be said about how helping others makes us feel better. I started to come out of my depression, ironically, by bearing witness to the suffering people of the world which sometimes meant watching videos or looking at pictures that I won't even write about because they are too disturbing. I haven't become desensitized but I feel better because I am not ignoring these people or turning my back on them. I am listening to their stories, hearing and feeling their pain, I am giving a voice to the voices of the erased.