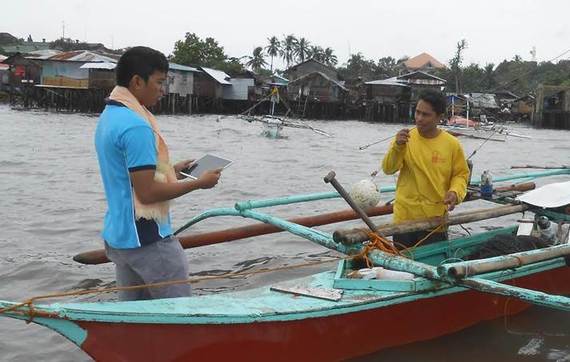 "Being a card-carrying fisher entitles us to fish and participate in work programs," says Jomar Brusa, a fisherman registered with USAID's FishR program in the Philippines. (Photo credit: Gil Maraguinot, ECOFISH Project)
Our ocean impacts all of us--what we eat, drink, and breathe is all connected to this water that washes over more than 70 percent of our blue planet. A healthy ocean is central to human wellbeing--it creates millions of jobs, feeds billions of people, and generates trillions of dollars in the global economy. Twelve percent of the world's population--more than 870 million people--rely on fisheries and aquaculture alone to support their livelihoods. More than three billion depend on our ocean as a significant source of animal protein.
As vast as our ocean and its resources are, they are not infinite. Without a healthy ocean, billions of people would be unable to live with the health, wellbeing, and dignity that our American values and ethos dictate they deserve. Our U.S. foreign assistance is fueling the State Department and U.S. Agency for International Development (USAID) efforts to reverse this trend and to help keep our ocean healthy and productive. By investing in programs that protect the lifeblood of our planet, we invest in ourselves and the future of our global community.
Illegal, unreported, and unregulated (IUU) fishing poses a critical threat to our ocean and our foreign policy goals and objectives by destabilizing the food and livelihood security of coastal communities. At this year's Our Ocean Conference, Secretary of State John Kerry announced the Safe Ocean Network initiative, which, supported by our U.S. foreign assistance, builds a global community of dozens of nations, including the United States and private partners, to combat IUU fishing. Our new foreign assistance commitment of $2.0 million will give support, using satellite data to identify boats suspected of IUU fishing, strengthening partnerships with Pacific Island Nations through ship-riding programs with the U.S. Coast Guard, and providing technical assistance to countries as they sign up to the Port State Measures Agreement--a global framework for stopping IUU fishing. By integrating existing and emerging technologies, expanding the use of internet-based tools, and enhancing coordination and information sharing, this Network will strengthen efforts to detect, deter, and eliminate IUU fishing around the world.
USAID's work to address IUU fishing is also essential to U.S. efforts to protect our ocean. In the Philippines, USAID partners with the country's Bureau of Fisheries and Aquatic Resources to deter IUU fishing. With USAID support, in 2013 a first nationwide Municipal Fisheries Registration Program (FishR) was established for purposes of determining fishing allocation priorities, limiting entry into municipal water, and monitoring fishing activities. More than 1.5 million of the estimated 1.7 million municipal fishers have registered with FishR to date. These dynamic initiatives are just two examples of how the United States works with our partner countries to address complex challenges that threaten our global community.
Ocean Acidification--the ongoing decrease in the pH of our ocean--is another threat that our foreign assistance works to mitigate. Ocean Acidification is dangerous for many reasons, but its potential to harm fisheries is perhaps the most critical--it threatens food and trade sources for people around the world. Our planned investment of $500,000 in our Ocean Acidification program will allow the U.S. to enhance capacity for ocean acidification monitoring in areas including the Pacific Islands, Latin America and the Caribbean, and Africa. Our U.S. foreign assistance will also support initiatives that mitigate climate-related impacts on coastal ecosystems.
Our foreign assistance will also provide an additional $1.5 million to support Marine Protected Area (MPA) projects in developing countries in Latin America and the Caribbean, the Pacific Islands, and East Africa. Our support will build capacity to strengthen technical, legal, and policy capabilities in order to establish and effectively manage and enforce MPAs. MPAs are critical to sustainable development--they protect our ocean's coral reefs, maintain fish populations, preserve habitats, and bolster economies by enhancing industries such as fishing and tourism. From reducing IUU fishing and ocean acidification to creating MPAs, our U.S. foreign assistance works worldwide to ensure that our ocean remains healthy.
These are just a few examples of how State Department and USAID foreign assistance drives unique and dynamic solutions to the complex issues that threaten our ocean. The United States is committed to protecting our ocean, and to all aspects of development, and in 2015 we joined our global community in setting ambitious, common priorities for the decades ahead: the Sustainable Development Goals (Global Goals). Water flows through each of these 17 Global Goals, which include ending poverty, promoting gender equality, combating climate change, and more.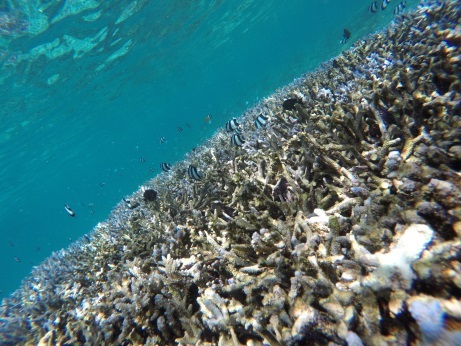 Coral bleaching is dangerous because it threatens the ecosystem that provides a habitat and food for marine organisms. (Photo Credit: Bryan Young)
U.S. foreign assistance, with a price tag of just one percent of the total federal budget, fuels the Global Goals and provides a tremendous return on investment for the American taxpayer. Our foreign assistance demonstrates our commitment to our core American values, like the right to live a dignified life, and freedom and equality for all. It also bolsters our national security goals and objectives--we invest in the countries that are developing today, so that they can become even bigger and better partners tomorrow, ensuring a safer world and a healthy, sustainable planet for all of us.
Our U.S. foreign assistance works on behalf of the American taxpayer to support our ocean, address global health challenges, counter violent extremism, combat climate change, and more. All of these efforts fortify our global community, and our neighbors around the world--from our own hemisphere to Asia--are becoming stronger. We will have more opportunities than ever before to engage, to learn from each other, and to grow trade and job markets. Our global community will rely on our ocean more than ever before, too--we will need more food, more water, and cleaner air. Our investment in our ocean today, in our foreign assistance programs that nourish and protect our blue planet, is critical for our tomorrow.
This post is part of a series produced by The Huffington Post in partnership with Secretary of State John Kerry's Our Oceanconference and Ocean Unite, an initiative to unite and activate powerful voices for ocean-conservation action. The series is being produced to coincide with the Our Ocean Conference (September 15th, 16th) as part of HuffPost's "What's Working" initiative, putting a spotlight on initiatives around the world that are solutions oriented. To read all the posts in the series, read here. The State Department does not endorse the content of this blog. Follow the conversation on Twitter with the hashtag #OurOcean #MakeASplash.
REAL LIFE. REAL NEWS. REAL VOICES.
Help us tell more of the stories that matter from voices that too often remain unheard.