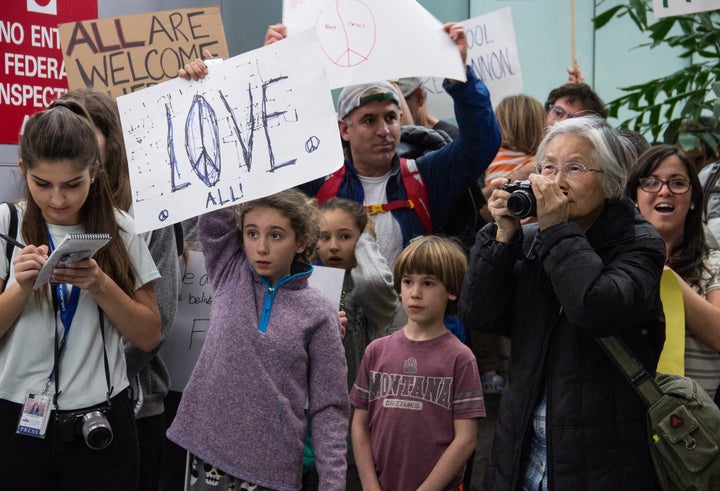 True to his campaign promises, President Donald Trump has made draconian changes in U.S. immigration and refugee law a cornerstone of his initial policy agenda.
According to Fox News, Immigration and Customs Enforcement (ICE) recently arrested nearly 700 undocumented immigrants from across the nation as part of a series of raids tied to Trump's executive order to find and deport 11 million people living in the United States illegally.
White House officials have suggested they are only seeking to flush out undocumented individuals with criminal records. But of the individuals apprehended in Trump's initial sweep, 170 (that is, fully one quarter of all those detained) were said to have had no criminal record.
Moreover, immigrant and refugee rights advocates have argued that the deportation raids are grossly overreaching, often including permanent legal residents and even citizens whose rights are being denied in the process.
Indeed, the Los Angeles Times reported that Trump officials have crafted federal deportation directives in such a way that they have effectively subjected more than 8 million noncitizens presently residing and working in the U.S. to immediate deportation.
To be fair, the Obama Administration was roundly criticized by immigrant advocates for deporting more than 2 million undocumented individuals following the former president's inauguration in 2008, the most significant deportation total of any presidential administration ever.
However, Obama's policy was overwhelmingly focused on returning undocumented criminals carrying multiple (and mainly dangerous) offenses to their countries of origin.
The net effect of Trump's policy has been to make virtually all undocumented individuals residing in the U.S. subject to removal, an approach that could cost billions of additional tax dollars and produce tremendous community upheaval across the nation, if pursued.
Such a stance jeopardizes America's longstanding global leadership position as a welcoming nation of immigrants—one that is profoundly strengthened by the many diverse talents and abilities of its foreign-born inhabitants.
Another impact of Trump's approach has been to terrorize whole communities across the nation whose composition is largely informed by new immigrant and refugee populations.
Many who make up these communities are contributing mightily to the nation's economy as workers and business owners. Indeed over 8 million of the more than 11 million undocumented individuals currently estimated to be residing in the U.S. are gainfully employed in key sectors of our national economy in areas ranging from home care and construction to hospitality and food service. The rest are largely children and elders.
The Trump Administration's approach to these issues seems to flow from a misplaced sense of xenophobia and a desire to direct blame for America's recent economic woes to relatively "easy" targets of criticism—people and communities whose very status prevents them from fully defending themselves.
But reality is far more complex than Trump and his followers are willing to admit. In fact, even noncitizens have rights under the U.S. Constitution, and, given our rich history as a nation of immigrants, it is in the national interest that we remain an open society and a nation of laws.
Their rich exchange provided insight into key strategies and tactics immigrant and refugee community champions and their allies can and must now pursue to preserve the rights and opportunities of noncitizens facing persecution and illegal action across our nation.
Perhaps no issue more than this one symbolizes what is at stake with Donald Trump in the White House. Our very character and morality as a nation hangs in the balance.
Our once mighty nation of immigrants is suddenly facing a dangerous reversal of course relative to what has made us great over America's now two and a half centuries of existence.
It is the civic duty of all of us to question and challenge policies that are fundamentally un-American. And, plainly stated, the current policies we see coming out of the White House are just that.
__________________________________
REAL LIFE. REAL NEWS. REAL VOICES.
Help us tell more of the stories that matter from voices that too often remain unheard.