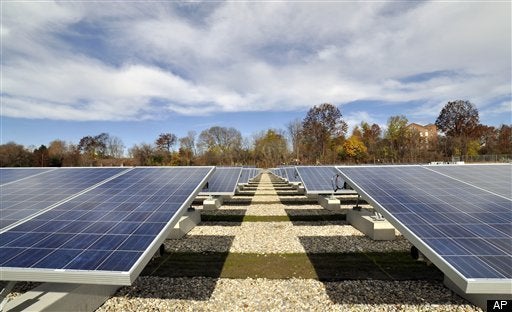 In this State of the Union address, much of the President's attention was rightly focused on economic growth. It's imperative that we continue adopting policies to revive our economy and create new jobs. That's why the President was correct to call specifically for investment in clean energy -- including the clean energy industries that are vital to our future. As the President said, this will "strengthen our security, protect our planet, and create countless new jobs for our people."
Those who see a conflict between clean energy and economic growth have been wrong before, and they are wrong today. It is well documented that investments in clean, renewable energy can create millions of American jobs -- three times as many jobs as equivalent investments in fossil fuels. And improved energy efficiency means serious cost savings for both homes and businesses.
Nevertheless, I am disappointed that the President did not directly address the climate crisis -- the defining challenge of our time. This is particularly urgent after we learned that 2010 was tied for the warmest year on record. The President should work with Congress on bipartisan policies to invest in clean energy and fight climate change. We still need bold legislation that will reduce global warming pollution and reduce our dependence on fossil fuels. And the President must vigorously defend the clean air laws that have reduced air pollution for the past 40 years.
When we look outside of Washington, we can see America already making a transition to a clean energy future. More than half the states now have renewable energy standards, which will spur business investment and job growth nationwide. Texas now obtains nearly 8% of its electricity from wind. Several new large solar plants could soon quadruple the amount of solar power in the United States.
At Repower America, we recently asked our members to share clean energy success stories from their own communities. We have received a flood of inspiring stories, including one from Jeff Ehlers, President of Renewegy LLC in Wisconsin, who wrote: "My partners and I started a wind turbine manufacturing company in Oshkosh, Wisconsin in 2008 ... We are growing and creating jobs right here in America. Our turbine is built here in Oshkosh using American made parts. We have installed 25 turbines to date within the USA at schools, businesses, and farms... We are proud of our efforts and are excited about doing our part to help the United States kick its habit of burning carbon. It won't be easy to give it up and it will take decades; however, we are doing what we can up here in Oshkosh."
Another clean energy success story comes from Lanny Sinkin, Executive Director of Solar San Antonio: "Three years ago, CPS Energy, the municipally-owned utility in San Antonio, set a goal of building one megawatt of solar because solar was 'experimental.' Three years later, the solar picture in San Antonio is transformed... San Antonio now leads Texas cities in total installed renewables, including solar and wind."
Success stories like these are happening all across the country. And that's why the President and Congress must renew their commitment to clean energy in America. It's not just our economy and our leadership in the world that's at stake -- it's the future of our planet.
Calling all HuffPost superfans!
Sign up for membership to become a founding member and help shape HuffPost's next chapter