How would you spend $800?
Would you buy yourself some new clothes or put it towards your rent or mortgage?
Would it even make a dent in your monthly overhead? Personally we didn't realize how much of an impact $800 can make. If like us, you think $800 these days isn't a lot of money or doesn't go a long way, think again.
It was in Spring 2010 that PROUDgirls on the MOVE hosted two sporting events at their high school to raise money for an orphanage in Haiti. They raised $800 and sent the money to H.O.P.E., a missionary-style orphanage for girls. The girls at H.O.P.E. decided to use the money to help LESS fortunate families than themselves and used our $800 to make a difference in their community.
The outcome is remarkable. Read the letter from the director of the orphanage to see how PROUDgirls saved lives. Next time, think twice before blowing $800 on the next best gadget.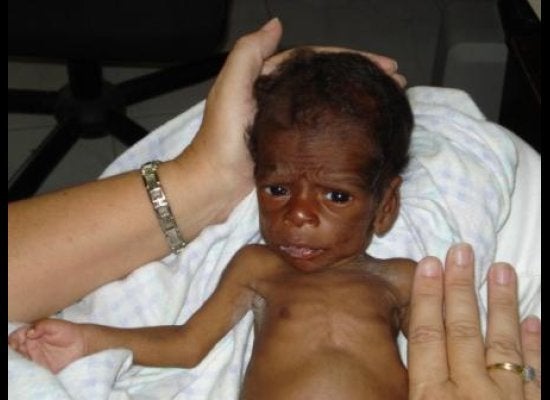 PROUDgirls Save Lives in Haiti
Diane and Carla,

I just had a chance to go back over an old "To Do" list and saw that I had not gotten around to sending you pictures of what we used the money the PROUDgirls raised to get. We used most of it to buy wood for the school to build benches for their classrooms. Before the benches, the children had to stand or sit on the gravel that you see around the benches. We were able to get wood for the school to build enough benches for 100 children to sit at (they do sit quite a bit closer here than we are used to). The benches were designed and built by the schoolteachers and parents and are still in use.

We used some of the funds to provide some oral rehydration powder to a church and orphanage a couple hours from us that had been affected by the cholera outbreak.

We also used some to help a mom in the tent city. During the EQ, she was pregnant with twins and the house collapsed. She and her three-year-old daughter were buried and her husband was killed. Two of her other children escaped the building. She and her daughter were dug out after several hours. She ended up in the tent city up the street (where the school is). She had some problems with her pregnancy and went to a hospital. They did a C-section on her and sent her home to her tent with twins born one month prematurely and three other children the next day. The leaders at the tent city approached us about 5 weeks after the birth of the twins. The twins were both under 3 pounds and doing very poorly. The mom asked us to care for them. The one little boy died less than 2 hours after we brought him to our place. Rudens was his name. The other twin, Rubens, stayed with us for several weeks. Mom came everyday to nurse him and brought her other children. We fed them, cared for them, played with them and kept Rubens during the night. He gained weight and did very well and was able to go home. He and his mom come every week and we give them food for the family and do a checkup on Rubens. He is a tough little fellow and is doing so well now (you can really see it in the before and after pictures).

So your girls know, they made a difference in a school with 250 children, helped a community of several hundred (literally saved lives by providing the oral rehydration powder) and are helping a family that had nowhere else to turn for help. They have a lot to be PROUD of.

Toby Banks
Director

Popular in the Community