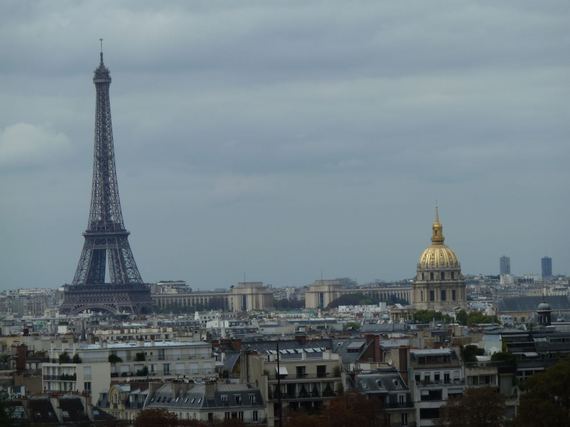 In spring 1986 my husband and I were scheduled for a great trip: 10 days in Paris partially paid for by a business connection. My parents agreed to care for our toddlers, so we were free to go.
My best friends from graduate school, a married American couple, lived in Paris and I looked forward to old-fashioned, intimate evenings with them. These were the folks who could also tell me what to do in Paris and how to do it.
They had already taught me never to enter a shop without saying "bonjour" to the proprietor, to center my wine glass behind my dinner plate, instead of placing it on the right, and not to stare at people on public transportation, although I never managed to stop.
My many years of studying French (11 counting high school) made me respectably fluent, and I looked forward to practicing for the first time in years.
Above all, I was a young parent about to escape housework and childcare for 10 days.
Then, in February, bombings began in Paris, none on the scale we witnessed last Friday, but they were destructive.
In one week, explosive devices injured eight people in a shopping arcade on the Champs-Elysées, four at a bookstore in the Latin Quarter, and nine in a discount book and record shop near the Georges Pompidou cultural center. A bomb found at the Eiffel Tower was defused.
Police described the perpetrators as Middle East extremists, and the New York Times wrote, "Parisians had cause to wonder which big store or tourist attraction would be next."
Bob and I began to talk about canceling our trip. What were the chances that something would happen to us? Even if chances were small, should we take the risk? Paris felt scary to me, especially as a parent leaving her children at home for the first time.
Our friends in Paris didn't see it that way. They were shocked when we told them we might cancel and tried to persuade us otherwise. "The chances are miniscule," they said, "that you'll be near a bomb. We're staying. We don't feel in danger. It would be the same for you."
I felt embarrassed about my fear, but I didn't change my mind. We went to Hong Kong instead, and my friends' disappointment in our choice cooled things between us for a while.
Today I sit at my desk with my flight reservation to Paris on the screen in front of me.
My husband and I are scheduled to go soon and to stay for a week. We plan to visit those same friends from 30 years ago. Before last week's tragic attack, we were happily writing to restaurants and making reservations. We are scheduled to attend a ballet as well, at a venue that will draw a crowd.
I've heard from several friends who know about our plans.
"Please tell me you're not going," wrote one. "I'm worried about you," said another.
But those views are not the only ones I've heard. Many people think that the best response to terrorism is to continue normal life, a gutsy choice that sends a message to the evildoers that we won't be cowed.
"You'll be fine," said one friend. "The next target is probably in the U.S."
"It's safer after an attack than before one," adds my husband. "Everyone is on high alert."
To me, besides the fact that I'm no longer parenting young children, the most important data is statistical. The chances of being a victim or even knowing a victim are small, as demonstrated by the fact that although I'm from New York, I knew no one who lost their life on 9-11, nor did my friends.
I also believe now -- as I didn't in 1986 -- that no matter where I am, I'm at risk. We don't know from where the next schoolyard shooter or political fanatic will come. You can't avoid violence by staying away, because you don't know what to stay away from.
On the other hand, what kind of vacation is it when you see a heavy police presence and you think about death?
Part of our trip to Paris will be somber, but I hope it will expand my knowledge and experience, the main reason I travel in the first place.
Ten days ago, before the attack, I wrote to two Parisian restaurants asking for reservations. After the attack, I wrote again expressing concern and caring, but saying we still plan to come and eat.
Monsieur and Madame Martin of the Restaurant Mariette Paris responded with an exclamation point filled message which I translate as, "People have taken a courageous position in response to what we lived through. The view of most people is that we should continue to live!!!"
My grad school friends haven't asked me yet if we're coming. They probably think we might cancel again.
But I know more about terrorism now, and I understand that it's meant to make us change our plans and cower in our homes. I've learned that a defiant response feels pretty good, at least to some people, maybe even to me.
Marion Franck is a writer living in Davis, California. This piece first appeared in the Davis Enterprise.