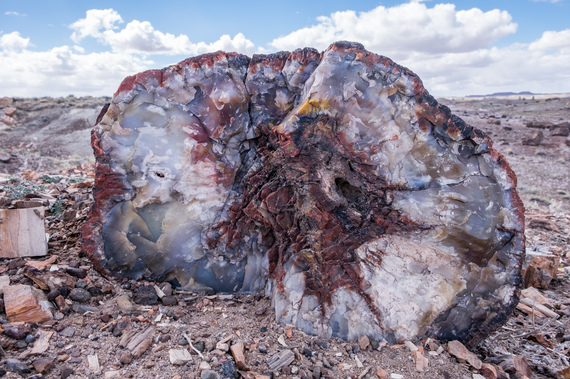 A 'typical' piece of stunning petrified wood lays in its hndreds-of-millions-of-years-old resting place. Photo credit: Jonathan Irish
I'm not going to lie and say that either of us had ever heard of Petrified Forest National Park in Arizona until we started this project and plotted it out on our route. Yet we find ourselves mentioning it over and over again when asked which sleeper parks have mesmerized us so far this year. With about 645K visitors annually, it is on the quieter side in terms of visitation (and why I refer to it as a "sleeper park") whereas Death Valley, for example, welcomes more than one million visitors per year.
It isn't the colorful landscapes, the winding trails, the fresh air, or even the wide open spaces that makes the petrified forest so interesting -- though it offers all of those things. Petrified Forest is home to the world's largest collection of petrified wood. Its lifecycle began 225 million years ago when an ancient forest was buried beneath a river system where it laid dormant for millennia. Fast forward to 60 million years ago -- that is when the Colorado Plateau began uplifting to expose the trees to oxygen, fracturing it into large pieces that lay upon Earth today for us all to go and see. It's amazing to look at. The exterior appears just like any wooden tree bark does, but when you touch it, it is the smoothest, hardest material you've ever felt. Flip it over and you'll see a vibrantly colored, ornately designed interior made of quartz that glints with brilliance in every shift of the light. Perhaps most remarkably is that anyone can pick up a piece and examine the effects of wood exposed to the forces of nature spanning millennia. Wrap your head around that for a moment -- you can hold in your hand a piece of Earth that is 225 million years old. That alone is incredible.
But the wonder doesn't stop there.
There are larger areas in the park to observe that serve as a landscape for the petrified wood to lay upon. The north side of the park is home to colorful badlands at the Painted Desert (stretching all the way to the Grand Canyon); and Blue Mesa, where we were the most enchanted. Why the blue, purple, and ivory sculpted hills with toppled pieces of quartz lying in the sprawls of them is not one of the most storied natural places on the planet is beyond us. There are both petroglyphs and ancient ruins in several areas of the park that tell the story of primitive cultures and peoples. And there is wind -- amazing wind that continues to erode Earth, exposing more wood and continuing to shape what is already there. Like all of the parks, once we dug in and learned more about the reason the park was protected in the first place, we wanted to stay much, much longer.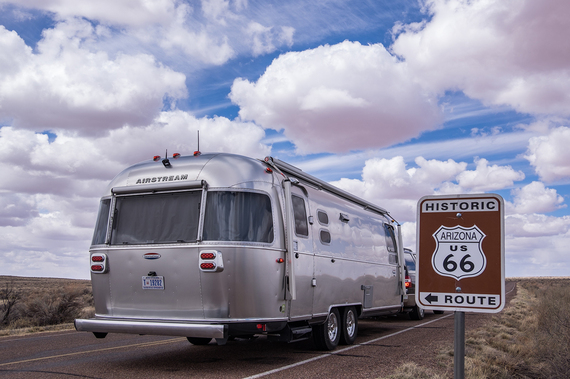 Wally the AIrstream makes way to the Mother Road.
Petrified Forest in Arizona is the only national park where you can plant your feet on America's famed historic Route 66. Photo credit: Stefanie Payne
If history and science isn't your thing, there is another unique draw here -- this is where you can get the best of American kitsch while stepping foot onto the Mother Road: America's historic Route 66. Route 66 in its original form is no longer in existence, but at Petrified Forest, you can visit the only section of it existing inside of a national park. Nearby in the town of Holbrook, Joe & Aggies café serves up great Tex-Mex food and classic on the road pics that satisfy the photographic needs of any road tripper. Just around the bend from Joe & Aggies lives the classic Wigwam Motel -- on the National Register of Historic Places -- providing a glimpse into the mid-20th century golden age of travel. For those looking for a true and classic American road trip experience, a drive beyond Flagstaff to this area is a must.
Route 66 is a classic destination that all should want to visit at least once in their lives. But the Mother Road won't transport your minds eye to a place and time where ancient birds flew before dinosaurs roamed the planet hundreds of millions of years ago... for that experience, you'll want to visit Petrified Forest National Park. This is one of those places where time and age is your companion. One breath in and one look out and you can sense -- you can really feel -- the tale of prehistoric life on Earth. It is our prehistoric national park. Amazing!