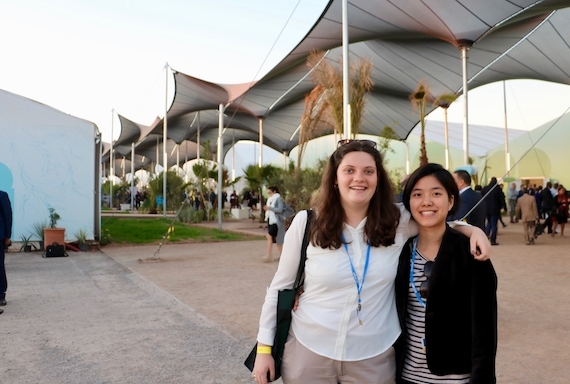 Global Kids students and youth climate activists Kate Scherer and Mai Nguyễn in Morocco at the United Nations Climate Change Conference (COP22)
The early morning moments of November 9, 2016 was the definition of bittersweet. As we headed towards John F. Kennedy Airport, Mai and I, along with tens of millions of others around the world, felt the shock of the US election results. At the same moment, as the sun rose up over the airport, we felt that nervous excitement mixture swirling around inside ourselves as we embarked on our journey to Morocco for the United Nations Climate Change Conference (COP22). When we met up with the rest of our group (fellow Global Kids students, Karoline and Courtney and Global Kids educator, David), the combination of our astonishment at the election mixed with our twinges of hope grew into questioning of what our roles as American youth would be at this climate change summit.
It was a strange feeling because for many years I (Kate) have felt empowered as a young person. During the last three years of high school, I've been a youth climate activist at Global Kids, a nonprofit educational organization dedicated to youth empowerment. Since my sophomore year I have been a part of the Human Rights Activist Project (HRAP) at Global Kids, a climate justice and youth activism program. Week in and week out, I collaborated with Global Kids staff and my peers to lobby for a NYC Council resolution calling for climate change education in all New York State public schools. Finally, last April, after my HRAP peers and I testified before the New York City Council's Education Committee, the resolution passed and we are one step closer to getting comprehensive climate education in New York State.
I brought my journey of growing into a youth leader to the airport terminal that morning. This journey led me to attending the COP22 in Morocco with Global Kids, where my group's aim was to share our perspectives, learn from others, and bring forth critical youth voices that far too often are left out of the conversation.
We both feel that COP22 was an amazing opportunity for all people, from youth to non-governmental organizations to elected officials from around the world, to come together with one aim: combatting climate change. I (Mai) joined Global Kids two years ago when I returned to the United States from Vietnam to finish my high school studies. I am proud to represent the youth of the United States but also my homeland of Vietnam, where I'm from. Global Kids has always supported youth bringing the unique lived experiences to the dialogue. Being in Morocco for COP22 I had the opportunity to express my feelings about environmental justice from both a US and non-US perspective.
While we did not have access to the actual UN negotiations and often felt left out because of our age, we found other ways to learn, grow and make our voices heard. Our group had the opportunity to explore both the "Green" and "Blue" zones of the summit. The Green Zone events were easier to attend because the general public was granted access. It was powerful to see the enormous variety of environmental and climate activists presenting their work and their views on climate change⎯ everything from recycled art work to inventive scientific solutions to virtual reality as a means for climate change education. We connected with a collection of youth organizations, as each meeting opened our eyes wider to the global community of climate activism and policy.
Unfortunately, the "Blue Zone" was only open to youth for two out of the 14 days of the conference. It was the space where each country presents its own work as well as negotiating the terms of the newly signed Paris Treaty at COP21. We firmly believe that placing such heavy restrictions on youth participating in the "Blue Zone" does not make sense. It is important for the youth to witness that the resolutions are adopted and to be at the front lines of understanding the biggest threat facing the world.
Our mission over our 10 days in Morocco was not to simply sit on the sidelines. We devoted time to exploring the media tent examining who and how the event was being covered. We had the opportunity to introduce ourselves to Amy Goodman from Democracy Now and discovered which US media companies were and were not covering the event. We also met activists from all over the world. We stayed at a hostel sponsored by Camp Climate, a safe space dedicated to young people (mostly ages 18-30) for coordinated advocacy action, capacity building and networking during COP22. At the camp located in the old city of Marrakesh, we stayed up late talking with climate activists from Nigeria to New Zealand. We met engineers and writers who were all dedicating themselves to this cause and looking for sustainable long term solutions. We were amazed at the diversity and the different ways people were able to contribute to the climate movement.
We saw this diversity first hand when we attended a rare political rally in Morocco. Thousands of people from almost every nation in the world advocating for climate justice attended a massive climate march organized by 350.org. We met youth activists from a Brazilian human rights organization who told us about destruction done to the rain forest and the extreme weather events that are making daily life more difficult. Speaking with fellow marchers we were able to gain a far wider, global perspective on climate change. We were also able to share our mission and learn strategies from other activists on climate change based in the US, particularly in the aftermath of the presidential elections.
As youth, we are the ones that will be most impacted by the dramatic effects of climate change. It is our future at stake and we must be vocal in this fight. At home in New York, we will continue to work to involve youth from many different backgrounds and to empower them to use their varied perspectives to take collective action. However, we cannot be the only ones taking action. We need to bridge the gap between youth and the established NGOs, and even the climate skeptic community in education and debate. As we boarded the plane to return back home to a new political reality, there are many question marks, but there are also many new questions we are ready to ask. We cannot wait.
⎯ Kate Scherer, Global Kids Leader and Notre Dame School senior and Mai Nguyễn, Global Kids Leader and William Cullen Bryant High School senior
Popular in the Community