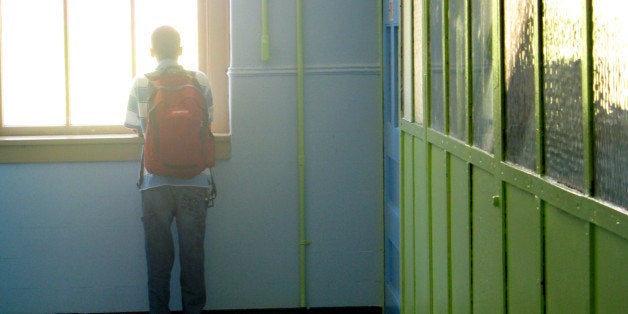 This morning was miraculous. My 10-year-old rose and asked me to take him to breakfast. I immediately threw down the cereal box. Please don't let him change his mind, I thought as I scurried out the door to warm-up the car. The sky looked bluer than any I'd seen in months. Ten minutes later we sat at a neighborhood cafe, and I listened to my boy spout praise for bacon and potatoes while I managed the size of my smile. He looked taller, older, and a bit more ragged than the last time we'd eaten in a restaurant together. I was grateful for every messy piece of him.
For the last four months, my son has been severely depressed, buried in a down comforter desiring only to attach to a computer or snuggle with a pillow. I've feared losing him. He's rarely been willing to leave the house or often his room. Daily, his mind floats about like a balloon with my husband or I trailing after. He replays name-calling and demeaning statements from teachers and students of the past. He's convinced that he doesn't fit anywhere and is deaf to our rebuttals.
"Would you like to play Monopoly? Throw the football? Visit the pool? Meet friends? Mountain bike? Disneyworld?" We entice him with his forgotten interests. If we push too hard, he tantrums or retreats further into his comforter. Depression doesn't give a rip about ballgames and magical wonderlands.
Depression is depressing.
His illness became severe when a private special needs school accepted him in September before deciding in October that his needs were too-- well needy. His social anxiety and impulsivity were too much, they explained. Our child had been ecstatic about his new school, working hard to "fit." The school's abandonment, and the loss of his new friends, crushed him.
Since birth, he's struggled. First with open-heart surgery and an arrhythmia, then with years of sensory challenges and ADHD symptoms, causing difficulties in school and social activities.
As we drove home after his last day he said, "I give up on people, Mom. They hurt me. I only want my animals now...and my family."
The private school didn't apologize for the harm done, nor have they ever called to check on him.
I wrote about the experience, eliciting comments from a couple of teachers proclaiming that, with my son's hyperactive behavior, he shouldn't have been allowed in any school, ever. Aside from FAPE laws, perhaps they were right. Maybe he'd be healthy without years of negative feedback from teachers and peers.
Four months prior, we'd visited the public school for help. Since they didn't have a plan for him in September, we'd independently placed him in the private school that failed. The public school then spent three additional months developing a plan. Meanwhile, our son sank deeper into depression. Just before Christmas, the public school recommended a residential boarding school placement. While this accommodation appeared generous, abandoning a severely depressed fourth grader (who feels rejected by everyone besides his parents) at a boarding school 90 minutes away was beyond inappropriate. His psychiatrist and therapist agreed. After all, our son claimed that the only things that mattered were his family, his room, Minecraft, and his geckos.
In these last months, as I've lived in a silent home with my child, I've figured out that there's little support for childhood depression, particularly not for the child unresponsive to medications and therapy. No local "wraparound" educational programs exist for in-home needs, and there's no school to serve this fragile profile. It seems that people don't talk about depression and mental health much at all.
Yet, there's been a dramatic increase in childhood depression and suicide of epidemic proportions. Could schools and communities overlook depressed and anxious children because there's (still) shame around mental health? Could such denial be killing children?
Starting in preschool, I've witnessed kids jammed in to academic programs and environments that often don't work. We underpay, undertrain and understaff teachers. We miss bullying on crowded playgrounds while we focus on academic achievement over social needs. We pile on homework, reduce playtime and isolate or reject children with behavior challenges. We fail to create individualized educational plans that work. Finally, we leave children and their parents alone to deal with resulting anxiety and depression.
Perhaps our culture sees mental illness as something parents can control. Our son has been in therapy since he was 18 months old. We've sought help for his sensory challenges (speculated to be trauma-based, caused by hospitalizations) from the start. We've tried medications. We've made dietary changes, used vitamins, implemented behavior plans, and encouraged exercise. Specialists have treated him at home helping us avoid more hospitalizations. We've learned that child psychiatric hospitals are limited and further traumatize a child unless he or she is in immediate danger to himself or others.
We've prayed. We've invited friends and pastors to visit. We've cared for ourselves with regular exercise, date nights, family therapy, and adventures with our "typical" kids as often as possible.
Fight. Stand up for the mental health of our children. Demand government funding for mental health education, treatment protocols, and appropriate social and academic education for every type of child.
Collaborate. Work with public, private schools, and therapists to create small, wraparound programs with qualified specialists who respond compassionately to the needs of children battling mental illness. Allow no child to suffer without help-- like our son has.
Speak up. Depression is a serious illness, not to be hidden. Sharing experiences encourages others to share. When schools and communities fail to discuss mental health; when administrations overlook or abandon challenging and suffering kids, then communities suffer serious consequences.
Change. Let's approach mental illness as we do all other illness-- with humility, compassion, research, responsiveness and support for those suffering.
Be thankful. Appreciate every trip out into the world, under the sky with our children; love every meal and smile we're blessed to share.