The silence that surrounds infertility, pregnancy and infant loss is a double-edged sword.
One side is sharpened by our society and culture; the side that keeps us silent due to mis-education, misunderstanding, blame and sympathy.
The other side is sharpened by our own grief and shame; the side that keeps us silent due to our broken hearts and our mistaken sense of being utterly alone in it.
I've been told I talk too much. My story has not only been shut down but even completely denied by even some of my closest loved ones. My infertility losses and my childfull motherhood are hardly ever publicly acknowledged. My bright shining light of Ever Upward scares many.
And yet, I still speak. And, I will shout until all of us speak more.
My heart literally aches when I read vague social media posts of the pain that mothers who have lost post. The mothers who I know are suffering, who have lost, but yet are not telling anyone. My heart aches, but I also get frustrated.
It is unrealistic for those of us in the infertility and loss community to expect people to give us what we need in our suffering and healing when we refuse to speak our stories out loud. This does not mean you must write a book or publish the very public blog or even put out the post on your social media walls before you are ready.
Because if you stay silent, I can pretty much guarantee it will be difficult to find the support and love you will so need in this lifelong journey of loss and recovery.
You can also completely lose yourself to that silence.
Our loved ones, and especially the public, will never be educated unless we educate them. Our loved ones, and especially the public, will never have the words we need to hear unless we give them those words. Our loved ones, and especially the public, will never be able to give us the compassion we need to heal unless we use our words and ask for what we want and need.
This does require us to be brave and to break the taboo of our shamed silence; to make our loved ones and society uncomfortable, to make them acknowledge and talk about painful things, to see and to understand our losses. But more than that, this requires us to simply live our truths, to be the parents we know we are.

Like my friend Julie, whose daughter Josie was born still. Julie posts Josie's beautiful picture on her social media wall every year for her birthday. Now some may say this is courageous, and it is, but I say it is my friend simply living her truth; being a mother, Josie's mother, always.
And the fact that her post may not be acknowledged with likes and shares by even some of her closest loved ones or the fact that my infertility posts or Ever Upward posts are not shared or liked with even a fraction of the shares and likes of your baby post will not shut us up.
Because I will swing this sword of silence until the taboos are shattered and we are all seen. I will swing it until we are all sharing our stories. Because this is the only way the conversations will change and the only way we will continue to heal.
It is only through our spoken stories that we are all seen and can rise ever upward.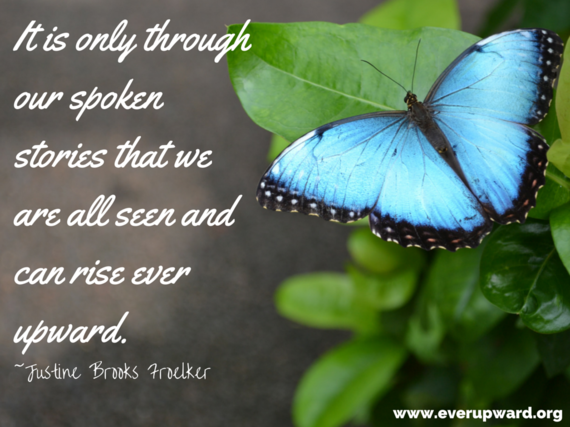 Related