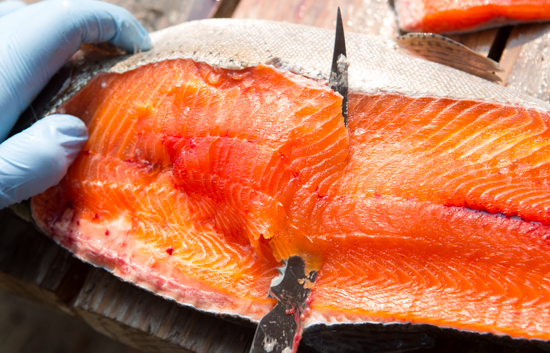 Pink fleshed Rainbow trout from McFarland Springs Trout Farm in Susanville, California. Photography by Julie Ann Fineman.
Coauthored by Saralynn White
Our ecology is being dismembered for the sake of having fish on our plates. Yes, planet Earth is running out of fish simply because we've been taking them out of water faster than nature can put them back. Commercial fishing, which is excessive to say the least, is exploiting the earth's aquaculture - and that directly impacts our food system, ecology, and marketplace. Thanks to people like Bill Foss and Kenny Belov, though, fish doesn't have to be wholly off the menu. The duo is responding to threats to our aquaculture with a vengeance.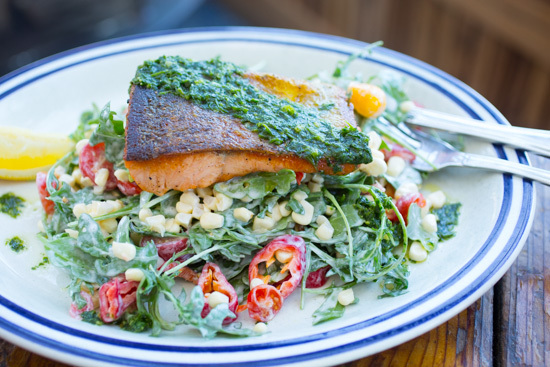 FISH restaurant summertime special: Grilled McFarland Springs Trout over a corn and arugula salad with pickled Jimmy Nardello peppers and basil pesto. Photography by Julie Ann Fineman.
It all began with their restaurant, FISH, in Sausalito, California. The co-owners were frustrated with the product they were getting at the restaurant, so Bill and Kenny began a sustainable seafood operation in San Francisco called Two X Sea. From there, they began collaboration with McFarland Springs Trout in Susanville, California as a sustainable alternative to salmon (traditional salmon farms are overcrowded and that presents serious health repercussions for both the surrounding waters and the salmon themselves). McFarland Springs Trout is the world's first deliberate collaboration to farm sustainable fish - and the only trout that is raised on an algae-based feed pellet. Bill and Kenny are now also working with a second trout farm in Oregon; and just a few months ago they opened an experimental Black Soldier fly farm in Petaluma, California that's focused on creating a sustainably rich protein source for organic fish feed.
We interviewed Bill and Kenny in August to write about Two X Sea. The duo wooed us with stories about the amazing taste of McFarland Springs Trout, so we met up again at FISH where the kitchen prepared a seasonal tasting menu of sustainable delights, including (of course) THE trout. It was incredible! There's typically a line out the door of FISH and this day was no exception. The place was so packed we had to move to the back of the house to learn more about their end-to-end sustainability efforts.
Which brings us to our latest adventure. When we learned more about the McFarland Springs Trout farm we had to take a road trip to Susanville to see the operation in action.
What do you think of when you envision a trout farm? To our surprise, we were met with a simply gorgeous tract of wilderness. A natural ecology habit surrounds the "race tract" that mimics the natural flow of a stream. The farm's water supply comes from the natural spring headwaters of the Susan River in Northern California, and there's a natural reed field below. The pristine waters are free of the pesticides and contaminates often found in water sources. The same waters are used to generate hydroelectric power that supplies all of the farm's electricity - an operation that reflects their mission to solve sourcing from ecologically sound enterprises right down to the feed. "Raising our trout locally we are lowering our carbon footprint and further promoting regional cuisine. The fish are hand harvested and processed instead of machine processed, as is customary in most farming operations," Bill says.
The McFarland Springs Trout feed consists of micro-algae, marine-algae, pistachio oil, pistachio meal, flax, flax seed oil and a hearty 'vitamin-pack'. "David McFarland [their McFarland Springs Trout collaborator] says it's the best feed he's ever seen," Kenny points out. This advanced vegetarian diet is truly groundbreaking with results you can taste. Not only does it produce higher levels of Omega-3 fatty acids, it offers the savory flavor to that of wild seafood. Kenny is optimistic, "It's not that we want to fix something that's broken (the feed that is), what's broken is the food waste problem." And they believe they have a full-circle solution. As innovators, they see an opportunity in using waste from eateries and specialty food purveyors as a protein-rich source for fly feed.
Black Soldier flies are one of the most promising ingredients for fish feed. Referred to "one of nature's best recyclers," Black Soldier flies are a miracle worker for bioconversion. Because they don't spread harmful bacteria, Black Soldier flies are also one of the rare insects that are categorized as "non-pests." During their early larvae stage, they feast on organic waste until they emerge as full-grown winged adults. That waste that restaurants would normally discard can now be integrated as a valuable protein source in the diet of the larvae. Waste grain typically disposed by local breweries is also now being implemented into the eating regimen of the flies. The concept is interesting and still experimental, but Black Soldier larvae could become the primary protein for fish feed.
If all this talk of flies triggered your "ick" factor, rest assured: it makes McFarland Spring Trout is ridiculously great tasting for us humans. It's also ridiculously good for you: Omega-3 levels are higher than that of wild salmon. Demand for sustainable seafood is also on the rise worldwide, and Corporate America is starting to respond. One company that has taken note of Bill and Kenny's work just happens to be a major motion picture studio and entertainment empire. The company wants to put sustainable McFarland Springs Trout on their menus. In fact, the company is debuting the duo's prized trout on several menus soon. Kenny thinks it's a great opportunity for employees and customers to learn more about how the fish they're eating was caught or raised. They'll also discover the impact on the planet and their own health. "To have a company like them not only see what we're doing and embrace it - but demand it - is a phenomenal leap," Kenny says.
Sustainability requires a food waste solution. The amount of waste here in America is staggering - over 40% of food is tossed in the trash. Kenny says they approach the idea with "an intelligent practice that has a purpose." The fish we eat, for instance. Kenny believes the proper use of organic waste in fish feed could resolve America's massive waste issue. "What if we take all that waste that restaurants generate and create this amazing protein source that could be used as a super valuable protein into fish feed?"
In April, a new bill in California (AB-1826) goes into effect that requires business owners to dispose of their waste responsibly. Kenny and Bill feel that organic waste could be incorporated into their process. Speaking of waste, a new study has found that there's also a staggering pharmacopeia of contaminants in our fish, including antidepressants. The study looked for 150 contaminants in the Puget Sound ecosystem and found that 92 of them (61%) were present in wastewater effluent, estuary waters, or the fish. Stay tuned for more. In the meantime, we invite you to watch the following video and take a journey to the McFarland Springs Trout Farm.
REAL LIFE. REAL NEWS. REAL VOICES.
Help us tell more of the stories that matter from voices that too often remain unheard.