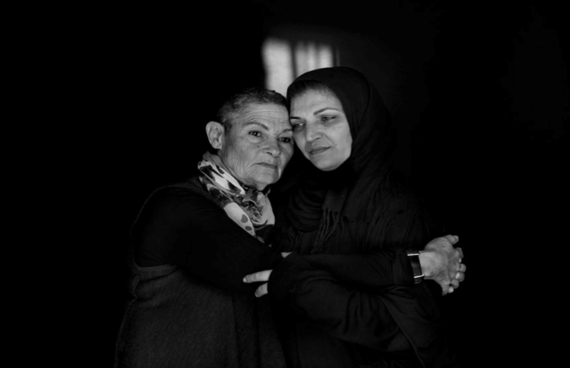 What makes you think that the tears on a bereaved, Palestinian mother's pillow are a different color than those of a grieving Israeli mother? What makes you think that there cannot be any mother whose suffering is greater than an Israeli mother's?
All mothers who have lost their beloved children share the same pain and no matter what image or label the media, politicians or the powers that be assign, their lives will never be the same. It is as if someone ripped out a piece of your heart and it can never be replaced. Perhaps we think that we know how a Palestinian mother feels. Or that her culture is different, or that she does not value the life of her child. I have spent the past 13 years, since my beloved David was killed by a Palestinian sniper, discovering that we share a pain so intense that it changes our very being forever. I can understand the dreadful longing of a mother who does not know the fate of her child. I can understand the mother who has no grave to mourn her loss and no garden on the grave to tend. This, after all, is an extension of our motherhood. She must be thinking that maybe, just maybe, her child did not die. How dreadful is that uncertainty and how dreadful the pain of never knowing.
Why would a Palestinian mother not want to have her child returned to her to be buried? Why would she be any different from an Israeli mother and not want to be able to mourn her loss in dignity? This is not a question of the person lost; this is a question of the mother's loss. No matter what the crime, there is a need for some sort of completion and that cannot happen without knowing there is a place where your child is buried and you can go every day as some mothers do, or on an anniversary and whisper to your child how much you love him and how much you miss him and wish even for one more minute to hold him again and express your love.
Punishment born out of revenge will only create more hatred and desire for more revenge. Instead of the never-ending cycle of violence, perhaps there is another way. We seem to repeat the same patterns of behavior on both sides which only lead to more death and destruction of families. All the mothers of the 600 Palestinian and Israeli bereaved families of the Parents Circle who I have come to know intimately will tell you what it's like when they wake up in the morning and think for a moment that it was only a dream only to be hit with the reality of loss. Ask Nasra from Nablus who lost two sons and spends her life worrying about the rest of her family. Ask Bushra who lost her son. Ask Tamara who lost a son. Ask Iris who also lost a son and ask me, and we will tell you that we are united in grief and will never give up hope for a better future for our children and grandchildren.
Photo credit: Rina Castelnuovo
Related
Popular in the Community