For much of the past decade, the public conversation about the LGBTQ movement has focused on the hotly debated topic of marriage equality. Meanwhile, many LGBTQ people have quietly struggled with the impact of the national economic downturn. While a common stereotype of LGBTQ people in popular media portrays the community as affluent, in a national conversation of LGBTQ Americans many cited financial insecurity as a major challenge in their lives.
More than 140 LGBTQ organizations came together to create the Our Tomorrow campaign, which engaged LGBTQ people from all walks of life in a conversation about the future of their community and the movement. Individuals from all 50 states shared their hopes, fears and ideas about the future of the LGBTQ community, either at grassroots events in more than 40 U.S. locations or online at ShareOurTomorrow.org.
With nearly 15,000 responses, the campaign produced one of the broadest and most diverse datasets ever assembled about the concerns of LGBTQ Americans. The final report, What's on the Minds of LGBTQ People?, explores key findings from the conversation.
Of the 52 topics touched up on in the conversation, one of the most prominent themes was a call for greater focus on the reality of financial insecurity in the community. As one Our Tomorrow participant from New York said, "We need to educate our communities to mobilize around issues concerning economic justice. There isn't enough dialogue or knowledge around these topics."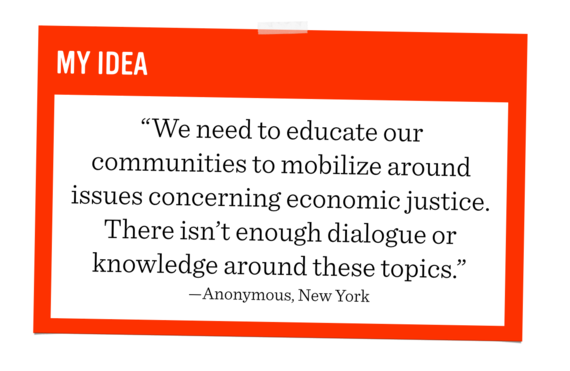 Linguistic analysis of the conversation showed that financial and employment issues were mentioned nearly 5,200 times. Of the participants who addressed financial issues, 38 percent said they earn less than $25,000 a year. Financial concerns covered a range of topics, but most often focused on the lack of affordable health care, affordable education and housing, as well as homelessness.
Some called on the movement to create a culture of supporting community members in need. For example, one participant from Minneapolis said they would "love to see our movement raise more funds to address the immediate needs for food, clothes, education, health care and employment for trans people of color."
In the graphic below, the list of words shows the number of times these terms were used to express hopes, fears and ideas about finances. Analysts then grouped these words according to type: communities of concern, relevant financial issues and how participants described the benefits of addressing financial issues.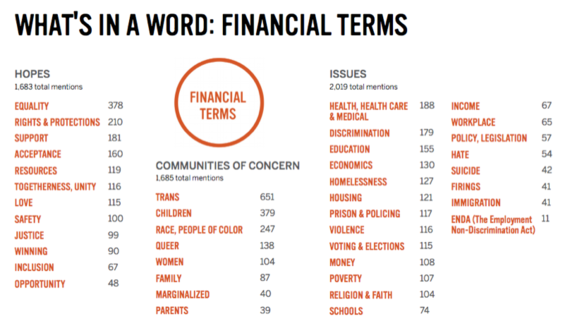 Linguistic analysis revealed the multiple meanings behind mentions of finances and income in the conversation.
As shown in the chart above, financial concerns were often mentioned as disproportionately affecting trans and queer people, people of color, women and children.
Financial insecurities affect LGBTQ people in nearly every aspect of life. In fact, research shows that almost 1 in 3 LGBTQ adults have not had enough money for food at some point in their lives. And only 29 percent of LGBTQ adults are considered to be "thriving" financially, compared to 39 percent of non-LGBTQ adults, according to the Williams Institute, a think tank at UCLA Law dedicated to conducting research on sexual orientation and gender identity law and public policy.
The realities of financial insecurity in the LGBTQ community paint a clear picture that the fight for LGBTQ equality and human dignity is far from over. As a participant in Washington said: "I hope that LGBTQ people work in solidarity with working and poor people to address wage inequality and dramatically reduce the number of people living in poverty."
Alex Orton is a digital associate at Hattaway Communications, which coordinated the Our Tomorrow campaign on behalf of more than 140 LGBTQ foundations and nonprofit organizations across the country.
REAL LIFE. REAL NEWS. REAL VOICES.
Help us tell more of the stories that matter from voices that too often remain unheard.