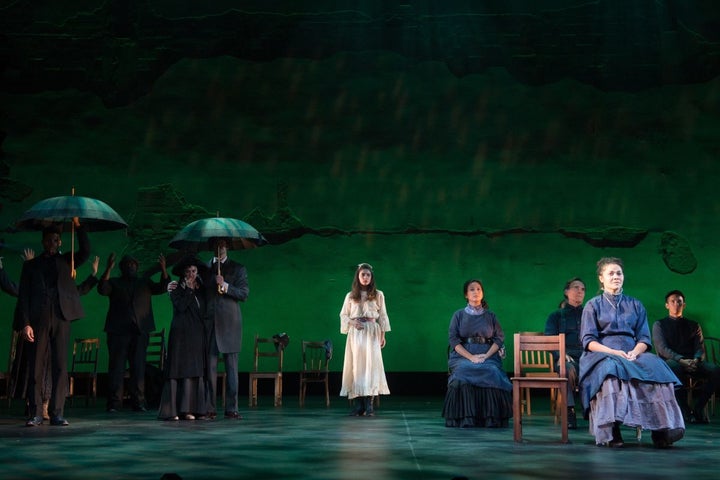 The Pasadena Playhouse opened its season – the first under the leadership of Producing Artistic Director Danny Feldman – with a truly memorable staging of Thornton Wilder's iconic play. Considered by many to be the greatest American play, Our Town presents a daunting challenge for theaters and theater artists. It is a play of tremendous ambition, combining universal, even metaphysical, themes with a uniquely American folksiness and plain-speaking simplicity.
Wilder's revolutionary approach to theatricality, using the bare-minimum of sets, interspersing of roles and the use of a narrator to break the so-called "fourth wall," continues to demand that both actors and audiences stretch their imaginations to encompass not only the four walls of the theater, and the little town of Grovers Corners, but also the universe of time and space.
This production, in partnership with Deaf West Theatre, not only admirably meets the challenges of Wilder's play, it adds another dimension by using deaf actors in many of the roles and presenting the play in both spoken and sign language. Director Sheryl Kaller deftly handles the obstacles presented by the two languages, and provides a window into the play for both hearing and non-hearing audiences. In fact, the mingling of the two audiences itself provides for a unique theater-going experience.
The performances are uniformly fine. Jane Kaczmarek provides a warmth and intimacy to the role of the Stage Manager that envelops the audience in the community of the play. Her interactions with her signing co-stage managers, Troy Kotsur, Alexandria Wailes and Russell Harvard, adds a delightful and humorous note to the proceedings.
Sandra Mae Frank is an engaging and endearing Emily Webb, and Deric Augustine is a standout as George Gibbs. Both have an earthiness and vulnerability that brings their roles to vivid life. Jud Williford and Annika Marks are also impressive as Dr. Gibbs and Mrs. Webb. Special credit goes to Sharon Pierre-Louis, Leonard Kelly-Young and the other actors who provide spoken words for the deaf actors, matching with nearly impossible precision not only the words but the emotions of their counterparts.
Sets by David Meyer – always a special challenge at the Playhouse – are exceptional, blending the starkness of Wilder's vision with a feeling of soaring spirituality. The is a fine and promising debut for the season at the Playhouse.
Related
Popular in the Community