Varanasi, otherwise known as Benaras or Banaras, is like no other city in the world, I'm sure of it. According to legend, it was founded by the Hindu deity Lord Shiva 5,000 years ago, though modern scholars view it to be around 3,000 years old. Either way, it is one of the oldest cities in the world. Situated on the west bank of the River Ganges, it is believed to have the power of washing away all of one's sins simply because in the Hindu mythology, water is the source of life and creation. It is the most popular pilgrimage point for the Hindus as those who die and are cremated here get an instant gateway to liberation from the cycle of births and re-births. The city has been a symbol of spiritualism, philosophy and mysticism for thousands of years and has produced great saints and personalities including the one and only, Guatama Buddha. Yes, Buddha. The actual person who started Buddhism. Not like Santa Claus who doesn't exist, Buddha did exist.
In 1896, Mark Twain put it perfectly when he said "Banaras is older than history, older than tradition, older even than legend and looks twice as old as all of them put together".
We arrived in Varanasi on a Monday around 2:30pm from Delhi. It was a super easy, smooth flight which was very much appreciated as I heard traveling throughout India can be a headache in itself. Our homestay arranged for a car to pick us up at the airport which relieved any stress of finding a cab, negotiating a price, trying to communicate where we are going, etc. It cost us around 800 rupees with tip, or about $12, for a 40 minute drive and was worth every penny. We were staying at a place called Granny's Inn, which is run by two Indian Granny's. The nightly rate was 3,000 Rupees, or around $44.
And just as an FYI, you will see a swastika like symbol in a lot of these photos (temples, buses, taxis, buildings, books, etc.) but please know it does not have the same negative meaning that we are used to. For the Hindus and Buddhists in India and other Asian countries, it is an ancient symbol meaning good fortune, good luck and well-being, deriving from the Sanskrit word svasktika. It is disheartening that a symbol of life and eternity that was considered sacred for thousands of years in some parts of the world has become a symbol of such hatred in other parts of the world.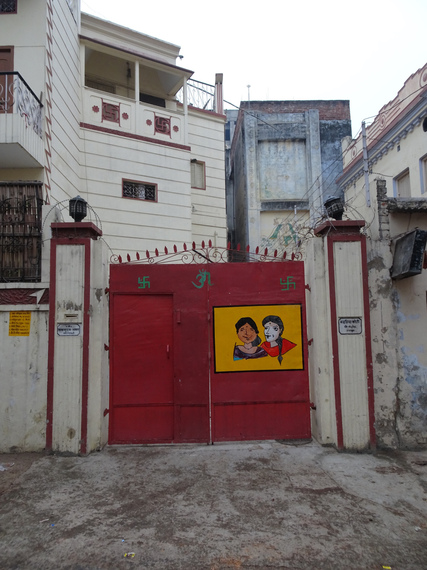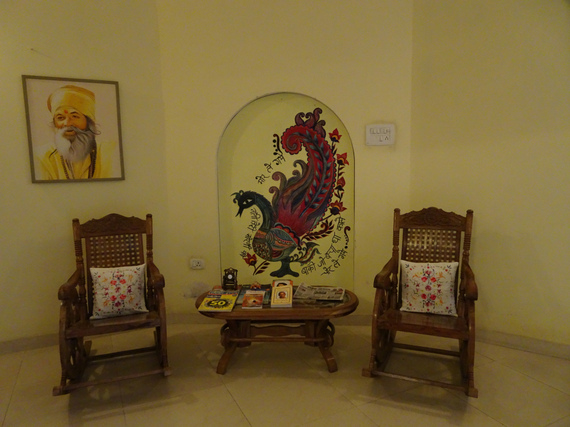 Mayur, the homestay's host, greeted us at the door. Such a lovely young man who speaks very good English. He checked us in, showed us to our room, brought us Masala tea and gave us a handful of recommendations to do throughout the city. So very helpful and insightful.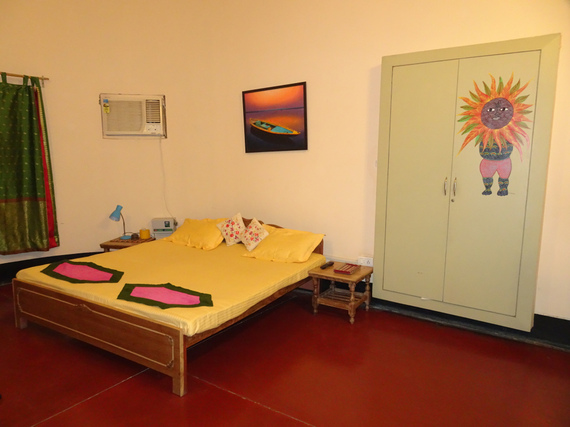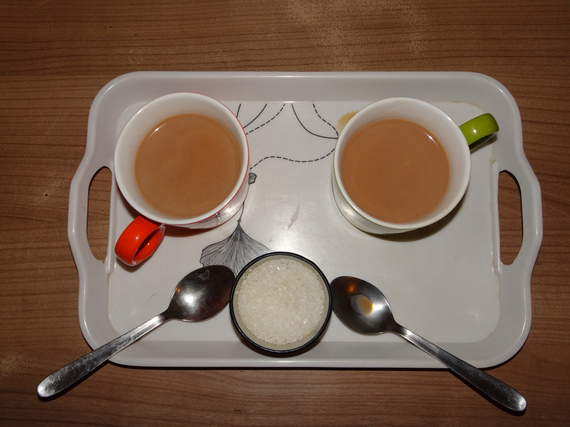 It was starting to rain a little, which was unfortunate since it's predominately a walking city. Oh well, sunshine and rainbows can't follow us everywhere I guess (wahhhhhh). After about 5 minutes of settling into our new room for the next four nights, our lights went out. We figured the bulbs needed to be changed so we asked Mayur if he had any spares. He said the bulbs didn't go out but when it rains, the city shuts down the power. Want to know why? Wait for it, wait for it. They shut down the power so the monkeys that jump from building to building don't get electrocuted. Yes, you heard that right. We are in a city that is being controlled by monkeys? Where are we? I asked when we could expect power again and his response was "This is Varanasi, there are no answers to anything". I took a deep breath and reminded myself, this is all part of the experience. Enjoy it, laugh with it, appreciate it, reflect on it.
Later, we saw the monkeys for ourselves...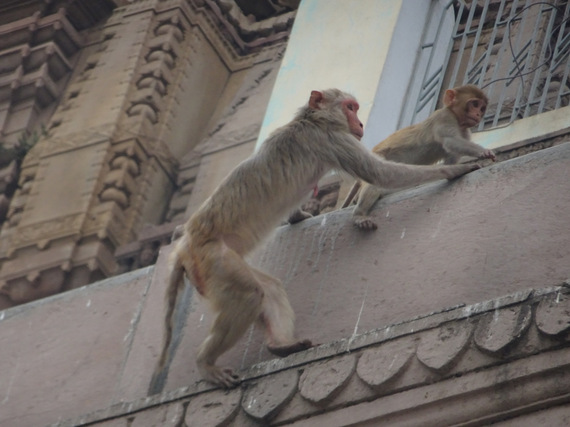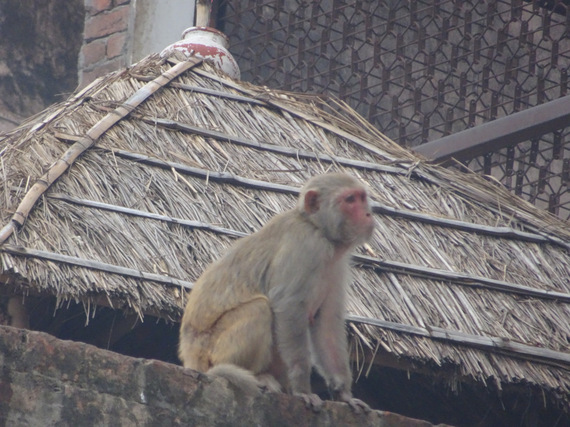 After about 20 minutes, the power went back on and we decided to take a stroll around town. Keep in mind this isn't like strolling the streets of Paris or Rome or even New York. This in India, this is Varanasi. Not peaceful, not clean, not beautiful - yet absolutely incredible in its own way. Right when we walked outside, we saw a baby cow literally getting milk straight from its mom's utters. Doesn't get any fresher than that. "I've got nipples Focker, can you milk me?" - Meet The Parents.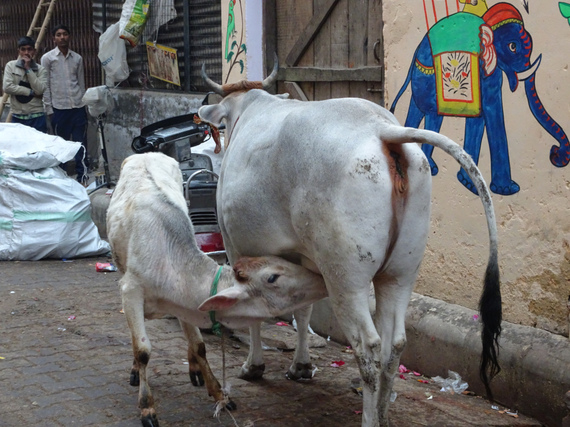 And a Mamma dog with her pups...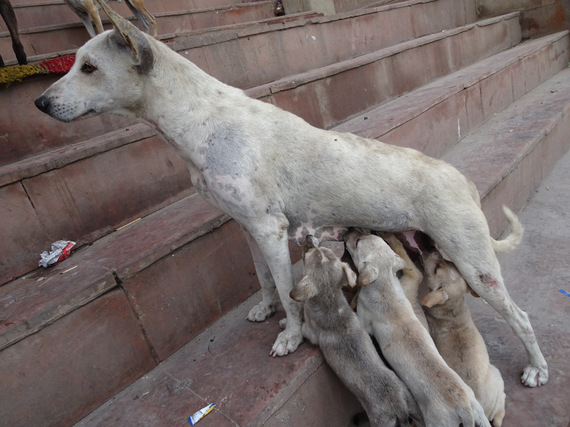 It was starting to get dark since its was close to 5pm and drizzling so we really only wanted to be out for a little. As we continuously looked around, we couldn't help but think we were on the backlot of Sony Pictures or Universal Studios. Everything about this place seems fake but it's obviously not (duh, Kim). There are 2 lanes only and cars are having to swerve around cows that decided to take a nap in the middle of the road or trying to eat whatever vegetables might have fallen from someones cart. It's all just so surreal.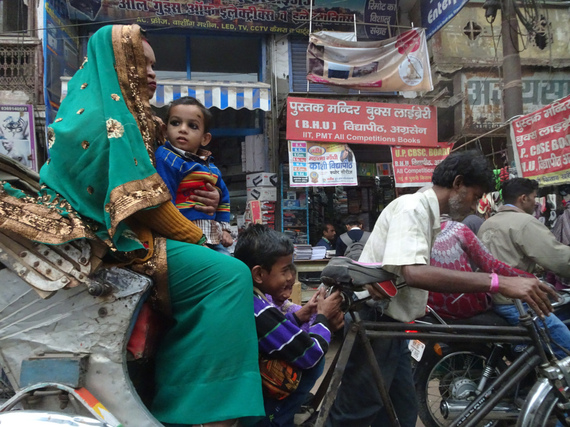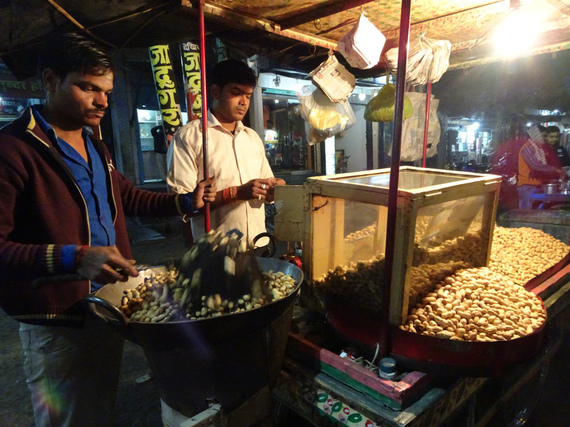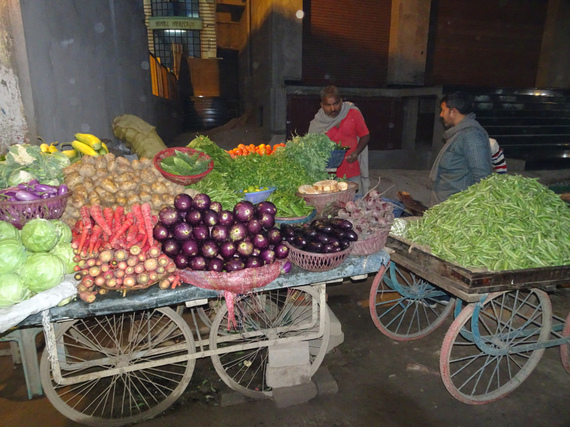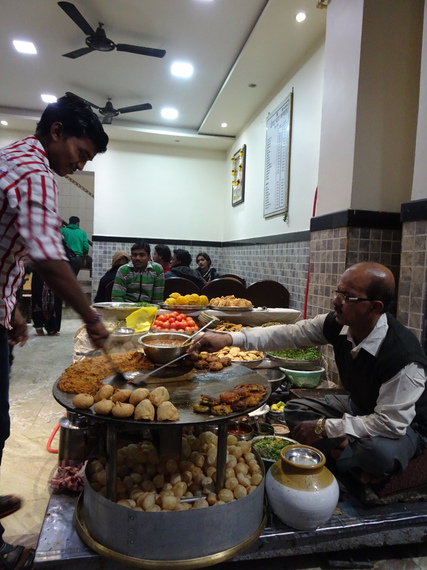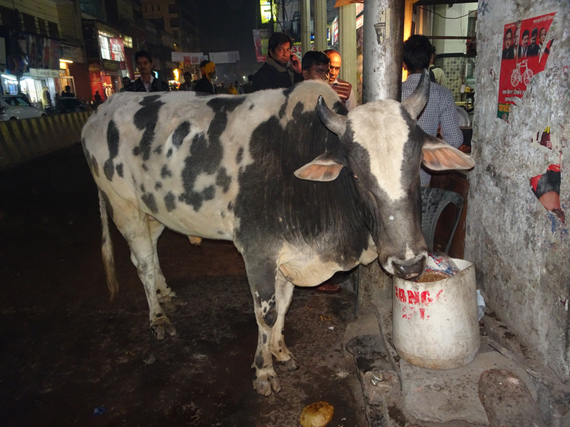 Our homestay offers a home cooked dinner for 200 rupees each, which equals to about $3 per person (yes please!). We definitely took them up on that offer and the food was delicious. Kashi is the cook and he sure knows how to add spice and flavor to every dish. My taste buds were dancing as if it was an Indian wedding inside my mouth. While at the dinner table, we were able to meet a wonderful young couple from Russia (Alex and Maria) and a jolly woman from Ireland (Jackie). Both were lovely. One of the greatest things about traveling is meeting people from all over the world. Luckily for us, English is always the common language so communicating makes it easy. I couldn't imagine being from China or Germany or Argentina and not being able to understand the words around me.
It's a bit noisy in our room (horns honking, cows mooing, people chanting, rain falling) and it's around 11:30pm so let's hope we can get some sleep tonight. Good night!