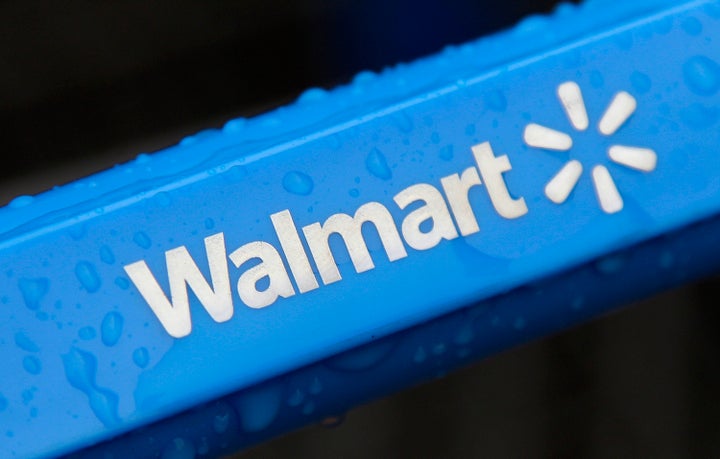 LOS ANGELES -- In his struggle to organize Walmart's workers, Philip Meza spends a lot of his time in chain restaurants. On a recent morning on the outskirts of this city, the soft-spoken 41-year-old was drinking a Diet Coke at a Carl's Jr. with a 22-year-old Walmart worker named William Fletcher, a new recruit to OUR Walmart, a labor organization conceived by Meza's union, United Food and Commercial Workers.
Meza wanted to check up on Fletcher: Had he had any run-ins with management recently? Could he recommend any potential recruits? Fletcher, who wears his hair in a low ponytail, has a thin red mustache and proudly wears a green OUR Walmart bracelet around his wrist, said he'd been trying to sign up fellow employees for months with little success.
"You try to talk to them, and it's like talking to a teenager about joining the army and going to war," he said.
Meza nodded, reminded of a conversation he'd had with a Walmart employee at the Los Angeles County Fair. "This woman almost signed," he said. "Her son was with her and he said, 'Workers need to do this!' But she was worried they'd fire her if they found out. Her hands were shaking."
For the organized labor movement, Walmart has long been seen as the holy grail, the one company large enough to alter the dynamic between American workers and management, if only the workforce could be unionized.
But in a nation starved for jobs -- particularly in California, where the state unemployment rate sits just below 12 percent -- union organizers like Meza are finding considerable wariness among those they are courting. Increasingly any job is seen as a good job, and Walmart is often the only game in town. With 2.1 million "associates" worldwide, the company is the third-largest employer on the planet, behind only the U.S Department of Defense and the People's Liberation Army of China.
Walmart has long been a mass-employer, but during the recession, when other employment giants faltered and shed thousands of workers, it continued to expand. Likewise, the retail sector has rebounded while industries like construction and manufacturing -- once stalwarts of middle-class wages and organized labor -- remain far below their pre-recession employment levels. In November, more than a third of the new jobs created were in retail, according to the most recent report from the Labor Department. The retail sector is the present, and the future, of the American economy, experts say, and the wages are low.
Against this backdrop, the UFCW and OUR Walmart are striving to create better conditions and pay for the retail workers who are increasingly becoming the driving force of the American economy. Their efforts so far have reaped few gains. Meanwhile, the Occupy movement and its resonant antibank anger has captured the nation's attention. The struggles of working people like Meza and Fletcher at times seem far removed from the crowds gathering in urban downtowns.
In Los Angeles, many view Walmart's retail jobs positively. "Walmart has been a godsend," said Bernard C. Parks, a city councilman in the low-income Crenshaw neighborhood, who praised the company as a source of paychecks and donations for community projects. When Walmart first opened in Crenshaw, it filled a vacant store space in the mall, Parks pointed out. "I go to that store routinely," he said. "I've never seen an employee with a ball and chain around their ankle. All this supposed controversy stems from one thing: the unions, trying to save themselves."
Parks is correct in at least one regard, a new Walmart in town means more jobs. However, a body of research suggests Walmart depresses wages and benefits for local retail workers. One paper, published by researchers at the University of California, Berkeley in 2007, concluded that when Walmart entered a state, health coverage eroded and average earnings for retail workers fell: a single store dropped average retail wages in the state by 0.2 percent, 10 stores by 2 percent and 50 stores by 10 percent.
Walmart, through a spokesperson, disputes the study's findings, and argues that it offers competitive wages -- $12.61 an hour for full-time hourly workers in California, according to the company website. But in the course of dozens of interviews with California-based Walmart associates, not one said they earned that much. Most workers reported wages that are in line with the nationwide findings of an independent market research organization, IBISWorld: $8.81 for sales associates and $11.22 for department managers.
Walmart argues that it has remained free of unions for the simple reason that its workers see no reason for them.
"Looking at all we offer, our associates just don't seem to feel union membership would be a better deal," said Steven V. Restivo, the company's senior director of community affairs. "We offer competitive pay and benefits, have a culture of promoting from within and our ongoing growth enables us to offer almost unprecedented opportunity for advancement."
Meza, the labor organizer, makes considerably more than typical Walmart workers, nearly $20 an hour working as a clerk at a unionized Albertsons grocery store in Ontario, about 30 miles east of Los Angeles. Along with his wife's retail salary, his wages have paid for private school for his two sons now ages 22 and 14, family vacations to Hawaii, a house.
Meza's middle-class lifestyle is out of reach for Walmart retail clerks like Fletcher, who works at the Walmart in Duarte, on LA's outskirts. His brother Greg, 28, and Greg's wife Charlene also work there for about $10 an hour.
The couple finally managed to move out of Greg's parents' house to their own place just nine months ago, taking their two young boys and setting up house in a tiny one-bedroom rental near Walmart. And they are struggling. After paying the bills, they have a little over $200 left to stretch over two weeks into gas, diapers for a newborn, and food. They are leaning on credit cards and sliding into debt. And while they hate to admit it, they often shop at Walmart.
Many days, Greg skips lunch to save the money, he said. "That's simply what being an employee at Walmart is like," he explained one day over beef and broccoli with Meza at a Panda Express -- Meza's treat. "We work for a company that makes almost half a billion in profits a year, and employees can't afford lunch." (Profits are actually much higher; $3.34 billion in the third quarter of 2011, Walmart reported).
Meza leaned forward, as he does sometimes during these meetings, and spoke up. "Isn't that just a slap in the face?"
WHO'S THAT KNOCKING AT YOUR DOOR?
Short for Organization United for Respect at Walmart, OUR Walmart was conceived by Meza's union, United Food and Commercial Workers, which funnels money to the group. Group -- not union. The UFCW, which recruited Meza to his post, portrays OUR Walmart as something short of a union because it does not seek to secure collective bargaining rights or a contract. OUR Walmart's goal is better pay and working conditions, as well as respect in the workplace, the group said. Walmart officials don't buy that. They describe the organization as a Trojan horse for the UFCW. Both sides accuse the other of deception and foul play.
The first time an OUR Walmart organizer knocked on William Fletcher's door, he was hurting from a recent on-the-job knee injury. A doctor had instructed him to limit how much weight he lifted. But Walmart threatened to fire him if he didn't keep handling as many boxes as required, he said, so he carried on as normal, ignoring the increasing pain in his knee. (Walmart confirmed the doctor's note, but declined to comment further on Fletcher's situation.)
As the pain built, so did anger, making Fletcher curious to hear the pitch when an organizer -- one of Meza's predecessors -- showed up on his doorstep. But Fletcher was also nervous, he said. Walmart had unleashed a well-orchestrated campaign specifically warning associates to look-out for labor organizers.
Newly hired associates are traditionally required to view an anti-union video that inveighs against labor movements, asserting that unions will take their money and give workers nothing in return. Last summer, after OUR Walmart formally launched, the company began displaying a new Powerpoint slideshow in some stores, one tailored to this fresh development.
"OURWal-Mart [sic] is a union which trains people on: -- how to get into your house -- not taking no for an answer -- giving misleading answers to your questions--how to get your money," read slides reviewed by The Huffington Post. Another asks, "Who's knocking at your Door?" and then offers an answer aimed at instilling distrust: "It's not Walmart." The accompanying picture depicts a man in a suit holding a sheet of paper with a dollar sign on it. "OUR Walmart is UFCW" reads the text.
With the organizer holding a bundle of pamphlets on his doorstep, Fletcher wondered if he could take him at face value. "My first thought, really, was that maybe Walmart had sent someone over as a spy," Fletcher said. "I know they had an anti-union campaign." The organizer told him that he'd been talking to other workers who thought Fletcher might be interested in a group trying to improve conditions at Walmart.
Fletcher lives with his parents, and they rely on his income, making him initially wary about getting involved.
"My parents were worried about it for a long time," he said. "But my dad was in the Chicago riots when he was 16. He believes in unions." he said. The 1968 riots were sparked by Martin Luther King's assassination in Memphis, where he travelled to address striking sanitation workers.
Fletcher first accepted his position at Walmart in 2008 because it was the only work he could find. He earns $9.80 an hour unloading boxes of electronics equipment, weighing upwards of 50 pounds, often in 100 degree heat with few breaks. He has been looking for work elsewhere for years, with no success.
Walmart management preys on this desperation for work, he said, recalling a conversation in which he complained about a manager pushing employees -- "associates" in the company's corporate parlance -- to move more quickly.
"The manager said to me, 'you should just be happy you have a job,' " Fletcher relayed, with bitterness in his voice. "I am happy to have a job, because it's really hopeless out there. But that's sort of the point -- we've got to make Walmart better because there really aren't any other options."
When he talked to his brother and sister-in-law about joining OUR Walmart, they also felt conflicted. They didn't know much about the group, they concluded, and they weren't sure if they could trust the union organizer, but they knew what it was like to work at Walmart. They signed on.
Fletcher's brother, Greg, had left Walmart in 2006. He was tired of lifting heavy boxes for low pay, he said. He enrolled in studies toward an associate degree in electrical engineering while he worked part-time at a carpet cleaner, earning nearly $20 an hour.
But when the recession hit, business dried up and Greg lost his job. He was unable to find work with his degree. By 2009, Greg, then 26, was back on Walmart's receiving dock, lifting boxes.
Greg, too, sustained injuries on the job. When he tore the muscle tissue in the back of his neck and presented a doctor's note that limited his lifting capacity, Walmart tried to dock his hours and pay, he said. When he threatened to involve a lawyer, the company relented, he said, but the sense of grievance remains. Walmart confirmed the doctor's note, but has declined to comment further on Greg Fletcher's case.
On a scalding hot morning in late September in Los Angeles, OUR Walmart's first -- and only -- mass recruitment effort began at a Krispy Kreme donut shop just across the street from the Crenshaw Walmart, which opened in early 2003. Across the U.S., similar groups of union organizers, community activists, store employees and religious leaders, were preparing to enter 1,000 Walmart stores to distribute fliers and talk to workers.
Dozens of OUR Walmart members and their allies mingled inside the Krispy Kreme. The spot was the ideal meeting place, many in the group said, because the Baldwin Hills Crenshaw Plaza, sitting in the center of the low-income mostly black and Latino neighborhood, was the first inner-city spot in Southern California to host a Walmart. Walmart's allies lauded it as an example of what Walmart can bring to poor urban centers: discount shopping and quality jobs. Those sipping coffee and eating crullers inside the Krispy Kreme disagreed on the second point.
Meza was there, but it was another organizer, a former Walmart associate from the Crenshaw store named Sam Myers -- a slight 35 year old wearing a colorful woolen hat who more than once referred to himself as "Walmart's Erin Brockovich" -- that took the spotlight.
As they prepared to fan out across the city, the crowd formed a semi-circle under the beating sun in the parking lot. Myers moved to the center, drawing cheers from the crowd.
Less than a month earlier, Myers was handcuffed and escorted out of the Crenshaw Walmart by the LA Police Department. "I'm a leader," Myers told the crowd, drawing cheers. "Walmart doesn't like that."
Walmart accused him of stealing money, Myers told the crowd, but his real crime was his audacity to affiliate himself with OUR Walmart. He had been employed at the store for three years without incident, he said. But three months after he joined the group, sporting a green OUR Walmart bracelet at work, the company had him arrested. The termination, the company said, was over his involvement with an improper refund. They declined to comment on the arrest. After five days in jail, his case was rejected due to insufficient evidence, according to the Los Angeles City Attorney's Office.
The group dispersed to stores around Los Angeles. At the Crenshaw Walmart, a UFCW organizer and a community organizer from the Los Angeles Alliance for a New Economy walked briskly up and down the aisles, distributing pamphlets, along with a petition calling for Myers' re-employment at the store. Less than five minutes after they entered the store, three store managers and a security guard confronted them.
"Excuse me ma'am, you can't distribute literature in here," a tall man with a manager's nametag pinned to his shirt said gruffly to the woman holding pamphlets. "I'm sure you know that."
The pair went back out to the parking lot, where OUR Walmart members, already expelled from the store, stood in clusters trying to speak with employees on their way to or from work as mall security and two store managers looked on.
"People are interested in supporting [us], I think," said a young woman, an out-of-town organizer with the UFCW. She had two petitions filled out supporting Myers, and had distributed a bunch of pamphlets about the group.
The woman standing next to her, Angela Redd, a six-year veteran and former assistant manager of the Crenshaw store, laughed. "Not in front of them," she said, gesturing at the security guards. Redd, who is 41, was fired from the store last May, Walmart said. "We were taught to keep employees away from the union," she said as the group made their way back across the street to the Krispy Kreme.
In the afternoon, the UFCW members debated sending groups back for another round of visits. They decided against it because, according to the reports from the field, managers were calling the police and sending associates to the break rooms until the organizers departed.
"Calling the cops is corrosive, but their presence can cut both ways," said Alan Hanson, a seasoned organizer sitting in a Krispy Kreme booth, coordinating the day's events in front of his laptop, cell phone ringing. "It's intimidating, but for associates that are just starting to engage, it can also be an incredibly, for lack of a better word, liberating experience. It can activate them."
Myers nodded. Since his dismissal, he said, he has been devoting nearly all of his time to working with the labor organization. "Walmart should be worried," he said.
OUR Walmart would not disclose numbers measuring the day's success; but at the Crenshaw store, at least, the day's results appeared mixed. Nationally, the events did not appear much in the news.
Two months after the day of action, Myers was feeling less sure of his future with OUR Walmart and the UFCW. His small savings are dwindling and he has not found new work. He is having difficulty sleeping, he said, as his anxiety grows. He wants to pursue legal action but has not yet found a lawyer.
"I'm starting to feel like I have to accept defeat when I didn't do anything wrong," he said. "I don't want to say anything bad about this organization, but right about now, opt me out. Because I'm just that tired."
AN UNBROKEN STRING OF DEFEAT
Despite the irresistible potential of penetrating Walmart, organized labor has effectively given up hopes of fully unionizing the behemoth company.
"The labor movement now knows that trying to form a union at Walmart is a losing strategy," said Nelson Lichtenstein, a labor historian at the University of California, Santa Barbara and the author of "The Retail Revolution: How Wal-Mart Created a Brave New World of Business." "So the question is, what kind of organizational forms can be created which are not unions but which will have the effect of moving companies in the direction that labor unions want?"
OUR Walmart represents organized labor's answer to that question. Walmart portrays it as more of the same. Restivo, the company spokesman, rattled off the names of similar organizations seen in past efforts to organize the company's workers. "Wake Up Wal-Mart, Walmart Watch, OUR Walmart," he said. "The strategy and the tactics are exactly the same."
Past attempts at unionizing American Walmart workers have resulted in an unbroken string of defeat. In the last decade, meat cutters in Texas voted to unionize; Walmart subsequently outsourced meat cutting. In Quebec, after one store's employees voted in favor of representation, Walmart shut the store down.
In 2007 Human Rights Watch published a 210-page report, "Wal-Mart's violation of US Workers' Right to Freedom of Association," which claimed that the company "stands out for the sheer magnitude and aggressiveness of its anti-union apparatus and actions."
"It's clear that when it comes to unions and collective bargaining, there is nothing that Walmart is unwilling to do," said Dorian Warren, a political science professor at Columbia University, who is writing a book about the anti-Walmart movement.
Despite the challenges, area observers say OUR Walmart presents the most promising attempt yet to force change. Since launching last June, OUR Walmart claims to have doubled in size, boasting thousands of members in hundreds of stores across the United States, though it declines to disclose firm numbers.
For both sides, the stakes are considerable. Walmart's American sales have slumped in recent years, and an energized labor movement threatens its traditional recipe for success -- steady expansion and low employee compensation. Meanwhile if the UFCW fails to bore its way into the retail Goliath, the union risks a slide into irrelevance -- as they lose market share to Walmart, and other non-unionized grocery chains, they lose bargaining power as well.
"It would be a very slow, yet painful decline," said Warren. "Short term, they have to come up with a strategy to help them protect the standard of living for their current members. The long term game is absolutely a unionized Walmart. But I think that's a 20-year game."
OUR Walmart's day of action took place just days after Occupy Wall Street camps began to spring up around the country. While membership is not expanding at anything like the rate see at New York's Zuccotti Park, or generating the same media interest, the campaign is making small moves.
And they have visited Occupy camps around the country to hold "teach-ins" about the company's practices. There is a natural affinity between the movements, OUR Walmart members say. Who is more "one percent" than Walmart founder Sam Walton's heirs -- the richest family in America, according to Forbes 2009 ranking, with more than double the wealth of the second wealthiest family at that time. Mike Duke, the company's Chief Executive Officer received a pay package in 2010 worth $18.7 million.
On a brisk October day, before New York's protest camp was cleared, one OUR Walmart member named Sandy Carpenter, a former associate at a store in Maryland who's now a full-time organizer, addressed a small group gathered at the top of Zuccotti park.
"I'm asking you all to reach out to the corporate people at Walmart and ask them to sit down with their associates," Carpenter said to the group of roughly 40 protesters and onlookers. "Let them know that change starts at Walmart!" Members of the crowd shouted "right on" and began to disperse.
Carpenter nodded briskly and swung her arms, trying to stay warm. She had been anticipating visiting the camp for weeks, she said, but she wasn't prepared for the plunging temperature. As she wound up her talk, the sun had sunk behind the skyscrapers; she wore no jacket, just five shirts layered on top of each other.
"It's amazing. Here, people are so willing to come out," she said, shaking her head as she observed the sea of signs -- "we are the 99 percent," "free the wage slaves" -- that filled the park. "Walmart instills such fear in people. They really believe that someone is down the street watching their house. Here, it's different."
REAL LIFE. REAL NEWS. REAL VOICES.
Help us tell more of the stories that matter from voices that too often remain unheard.