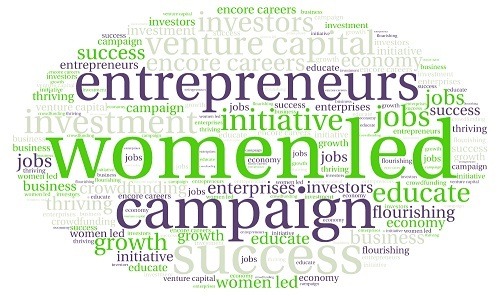 At age 52, recently divorced, depressed and deeply in debt, Carol Gardner received advice from her attorney to "get a therapist or get a dog." Choosing the latter, she leveraged her background as an advertising creative director and started a greeting card company in her living room with her new English bulldog, Zelda. Carol's entrepreneurial spirit, along with Zelda's good looks, helped her create what is now an international, multimillion-dollar licensing business, Zelda Wisdom, Inc., that includes calendars, books, greeting cards and more.
Gardner's story represents a growing trend: "accelerating female entrepreneurship could have the same positive effect on the U.S. economy that the large-scale entry of women into the labor force had during the 20th century." In particular, encore entrepreneurs may just be the key to American economic growth.
• Between 1997 and 2014, the number of women-owned firms grew at 1½ times the national average, and that revenue and employment growth among women-owned firms tops that of all other firms -- except the largest, publicly traded corporations?
•People over 55 are almost twice as likely to found successful companies as those between ages 20-34?
•Having high-ranking women on the team increases the likelihood of success?
•Venture capitalists who back women do better than those who don't?
With statistics like these, you would think venture capitalists would be tripping over themselves to invest in women-led enterprises.
Unfortunately, it's much more difficult for women to score venture capital (VC) funding than their proven success would make it seem. What people are also starting to recognize- the obstacles are often structural and gender-biased. This is a shift; until recently, we would have been much more likely to read articles focused on why it's women's fault, for their failure to be assertive, or to propose good ideas. Consider these sobering statistics:
•Women's enterprises received only seven percent of venture capital funds in 2013.
•Women account for only 4.2 percent of the 542 partner-level positions at the 92 largest VC firms.
•Research has confirmed that this is not because of the lack of women-led enterprises but instead so-called 'pattern recognition,' a term still embraced by many in the VC community.
•A recent Harvard Business School study found that regular people and experienced angel investors were more likely to be swayed by a man's business pitch, especially an attractive man's, compared with the exact same pitch delivered by a woman.
The good news is that people are beginning to acknowledge that this is a very real problem, and that it's costing all of us a lot of money. The National Venture Capital Association has established a diversity task force, and there are a number of writers and entrepreneurs who speak out about the irrational biases driving poor business decisions. It is noteworthy that much of the coverage is taking place on the pages of business publications like Forbes, Fortune and Entrepreneur Magazine. They have seen the reports, like one from the Economist, concluding that, if women entrepreneurs were financed at the same rate as their male counterparts, they could create 6 million jobs in 5 years. Reports like the recent one from the Kauffman Foundation argue that "the future of American growth is in the hands of women."
OWL- The Voice of Women 40+ is tackling this critical issue through a new initiative, Our Women Mean Business: Encore Careers After 40. One aspect of the initiative is a campaign to increase women's access to venture capital. The goal is to raise the level of venture capital investment in women from seven percent to 20 percent by 2020.
Barbara Corcoran, who sits on a panel of successful venture capitalists hearing pitches from aspiring entrepreneurs on ABC's Shark Tank, was asked by Senator Cardin during her testimony for a hearing on women in entrepreneurship whether capital or technical assistance was more important. The cunning entrepreneur answered, "Capital. Entrepreneurs are just hard-headed enough to figure the rest out on their own."
It is high time we break down the barriers inhibiting female entrepreneurs from accessing capital, so that women are equipped to succeed in their business ventures, and revolutionize the U.S. economy in the process.
Support HuffPost
The Stakes Have Never Been Higher
Related
Popular in the Community