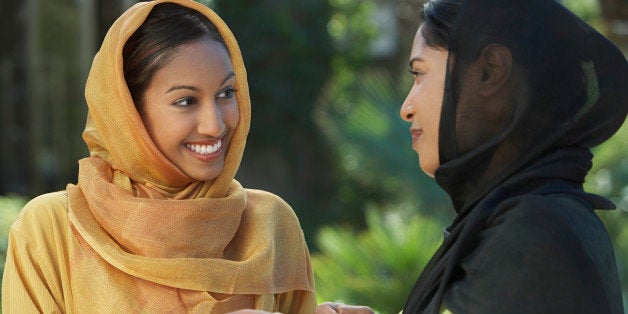 One of my core beliefs centers on choice. Women around the world must reserve the right to choose how they dress. It seems like an obvious statement for 2016. Yet the fact of the matter is that more and more this remains a challenge when extremist ideologies both religious and secular continue to come back to the notion that women's bodies and dress is something that should be controlled.
I invite you to join as well.
Last month, a Muslim woman enjoying the beach in France was forced by armed police to remove her shirt.
As women of faith struggling for freedom, this incident is deeply disturbing. It embodies a sad reality of rising fear, hate, and discrimination towards Muslims who are living their lives in peace. We believe in freedom of choice for all, especially the choice to express religious and cultural identity. Laws targeting one religious or ethnic group are a dangerous step rooted in irrational hate, ignorance, and inequality. No authority should keep us out of the public sphere in the name of security.

Women shouldn't have to choose between liberty and safety -- we should have both unconditionally.

This is part of an escalating pattern marginalizing Muslim women, regardless of the fact that thousands of Muslim women have been killed in terrorist attacks and almost none have perpetrated them. If we were there on the beach, would we have intervened? Or would we have watched silently, scared of what might happen?
Women shouldn't have to choose between liberty and safety -- we should have both unconditionally.
Hateful and violent incidents towards Muslims are happening every day across the United States and Europe, but are often ignored by mainstream media. Peaceful Muslim women are harassed, isolated, attacked, and killed doing the most normal tasks in their daily routine. Just take a look at the recent incidents that have had a profound impact on women as they simply:
We are group of determined Muslim, Jewish, Christian, and secular women who refuse to accept this terrifying status quo. Our new solidarity campaign, #OurChoiceNotYours, stands for women's freedom of choice across the world. Over the next weeks and months, we will be mobilizing diverse women to change the conversation and increase freedom of expression.
What exactly is the #OurChoiceNotYours Campaign?
1. Peaceful Solidarity Demonstrations
We will organize diverse women in peaceful demonstrations of solidarity in public spaces. We will travel to the beaches of France to directly challenge the bigotry of the burkini ban. This social action will be replicated in cities across the world in collaboration with social and professional networks to support women of faith having the choice to dress how they choose.
We will circulate campaigns, petitions, and letters that build our voices against the isolation and mistreatment of Muslim women or women of any faith. We will write op eds and engage media around strengthening civil rights, public safety for all, and changing legislation. Together, we have power to change our laws to practice the freedom that we preach.
We will not let history repeat itself by staying silent. We will educate about core values and traditions of Islam. We will educate on statistics and trends of violence committed against Muslims (a daily occurrence). We connect communities to increase comfort and familiarity with different faiths and cultures. We will remember that it wasn't long ago when Jews in Germany over the hot summer were prohibited from going to the beach, then came the park, then school, then owning businesses and we all know the rest of what happened. We will come together to tell the world what happens when hate, distrust, and violence targets one group.
We will not be silent. We are speaking out and sharing our stories! There are numerous untold stories of women being harassed and targeted for who they are, what they look like, and we want to hear them. Share yours and become part of the campaign!
E-mail us or post under the hashtag #OurChoiceNotYours.
A special digital episode of #CrossReLines hosted by Manal Omar will profile several of our women leaders about their experiences and what inspires them to act.
We will act with our mouth, arms and feet. No matter what nation we are living in and what we believe, women should be free to make their own decisions. Laws like the burkini ban exist across the world in all societies, but violence and hate does not start or end with legislation.
Oppression is normalized by how we treat each other. It is hateful to some of us, but impacts all of us. When one of us is hurt, we are all hurt. That is why we are coming together in unity as women of faith to declare our commitment to freedom of choice.
Again, we encourage you to share your story by e-mailing us or by posting your experience with the #OurChoiceNotYours campaign.
REAL LIFE. REAL NEWS. REAL VOICES.
Help us tell more of the stories that matter from voices that too often remain unheard.