From the ongoing "Don't Ask, Don't Tell" debate to a disturbing rash of teen suicides, the gay population finds its usual glitter shrouded in a frenzy of societal and political strife as of late. Ironically, awareness of such dire concerns made festivities at the 16th annual "Out 100" party -- Out Magazine's end-of-year celebration of influential gay men, lesbians and LGBT community allies -- all the more euphoric.
Diversity within that community seemed an implicit goal of the event's organizers, as evidenced by the manifold list of attending stars, many of whom just dodged Thursday night's downpour to stroll the red carpet inside the lobby of Frank Gehry's IAC Building in New York's Chelsea neighborhood. Honoring "100 influential men and women who inspired, shaped, and changed our world in 2010," the "Out 100" party has the distinction of being one of the few events where political hopefuls chat up pop artists, and reality TV stars are greeted with the same enthusiasm as porn actors as well as one notoriously disgruntled flight attendant.
As luminaries mingled amidst a remixed set of Motown classics and aptly named "Think Pink" and "Spice is Right" bespoke cocktails, courtesy of sponsors Belvedere Vodka, there was little mention of politics. Instead, many of the night's honorees preferred to show strength in subtlety. "To be the first openly gay man with a syndicated talk show is a responsibility that I take extremely seriously," said "Stylemaker of the Year" Nate Berkus, who recently launched his own show after completing a whopping 127 home makeovers during his Oprah Winfrey Show tenure. "I don't intend to use my status to serve any specific political agenda, but...my whole show is about living well. How can we live well if we don't have civil rights?" Named "Diva of the Year," U.S. Olympic figure skater Johnny Weir agreed. "For me, it was important to look at my life in terms of what I wanted to make of it," he noted. "Create something to be proud of. Be your own army!"
Others, such as discharged Iraq veteran Lt. Dan Choi, said they hoped to parlay that recent fame into a more tangible form of personal and professional success. "For people who are new to the public role, it's just a beginning, and a way to hopefully branch out into other things," he said. "No one would ever have expected me to become a gay activist." Currently at work on a new book he says will show the flip side of the airline industry, former JetBlue flight attendant and newly-crowned folk hero Steven Slater added, "I'm happy to have been part of a new dialogue... I'm optimistic."
Of course, any event whose attendees comprise a high number of drag queens can be expected to feature cutthroat-edgy fashion. Known as much for his flamboyant antics on the ice as his catwalk-inspired glam get-ups, Weir kept it cool in a grey suit by Thom Browne, the only flash of that well-known panache being a Carrie Bradshaw-esque flower pinned to his chest and fire-engine-red loafers by Christian Louboutin. Meanwhile, Food Network star (and girlfriend of New York governor-elect Andrew Cuomo) Sandra Lee shimmered in a silver Badgley Mischka gown. For others such as the impeccably-coiffed Berkus, who opted for a casual black blazer paired with jeans, fashion took a back seat to other concerns, such as the upcoming holidays. And what is he most looking forward to? "Eating stuffing," he quipped.
Notably missed this year were Ricky Martin, named "Entertainer of the Year" and featured most prominently on the magazine's cover, as well as The Kids Are All Right star Julianne Moore and young Glee actor Chris Colfer, whose portrayal of theatrically tortured teen Kurt Hummel provides much of the hit show's dramatic heft. Though Weir says he texted the pop star in the days leading up to the event in hopes his pal might make an appearance, Martin "just wanted to hang with his kids." And to those who continue to criticize the community as what Choi describes as "a group seeking superior rights, rather than equal rights," Martin might just have chosen the most stinging response of all -- a night of peaceful domesticity.
See photos of the "Out 100" attendees here: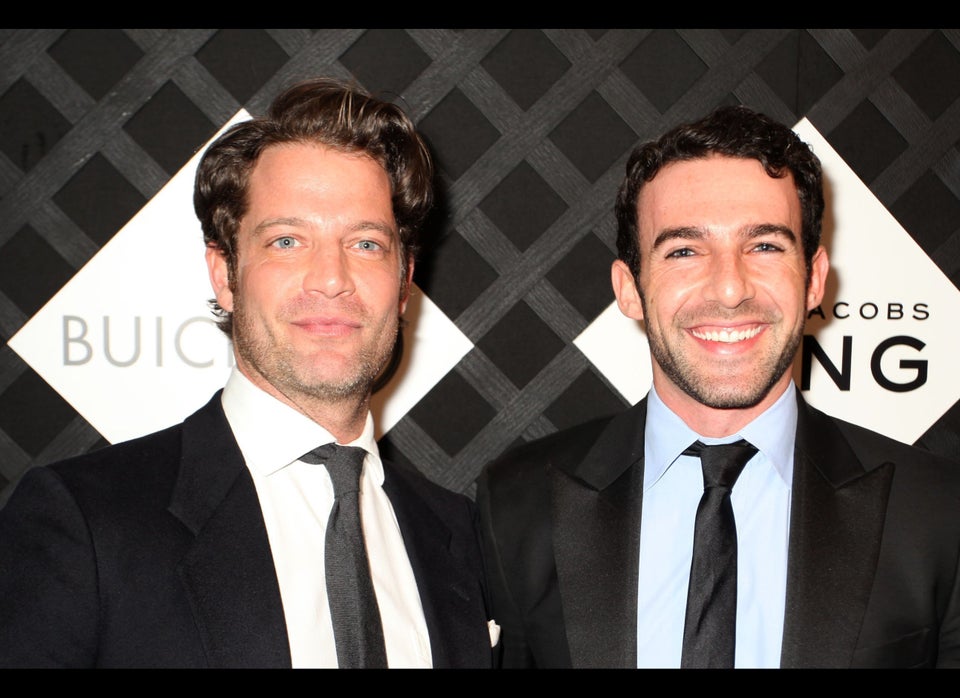 Out Magazine 'Out 100' Party