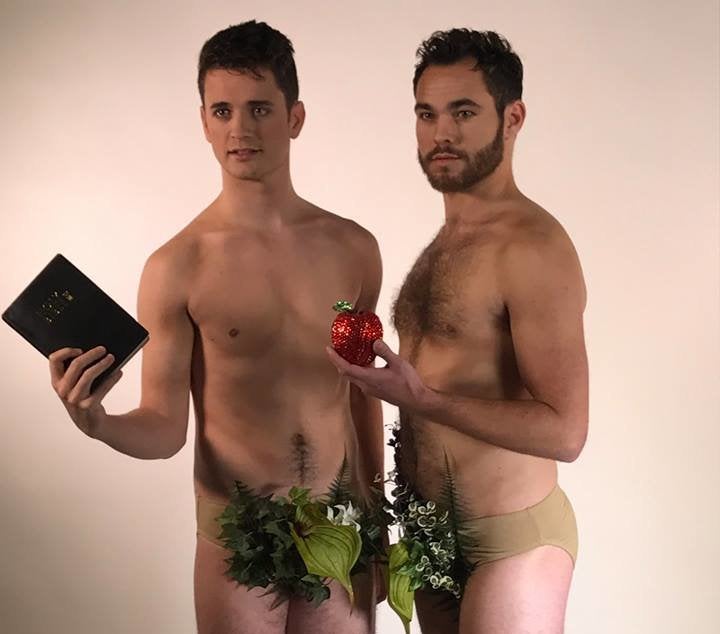 An Atlanta-based theater company has been hit with a barrage of criticism for staging a play that re-imagines biblical figures as queer.
The Out Front Theatre Company's production of "The Most Fabulous Story Ever Told" doesn't officially open until April 27, but has already deemed "blasphemous" by America Needs Fatima. Paul Rudnick's 1998 comedy follows Adam and Steve, a gay couple who navigate the centuries with Jane and Mabel, who are lesbians. Along the way, they encounter Noah's ark, the first Christmas and other well-known Bible stories before traveling to present day New York.
America Needs Fatima members, however, took specific issue with the play's portrayal of the Virgin Mary as a lesbian. The conservative Catholic group, which is based in Pennsylvania, launched an online petition asking Out Front Theatre's Artistic Director Paul Conroy to cancel the production, The New York Times reported Monday.
"I vehemently protest your showing the blasphemous play 'The Most Fabulous Story Ever Told,' which, among other blasphemies, refers to the Virgin Mary as a lesbian," the petition, which had over 42,000 signatures as of Tuesday afternoon, reads. "The Holy Mother of God is most pure and holy. To refer to her as a lesbian, or even to insinuate it, is an unspeakable blasphemy, which I reject with all my soul. I fear God's wrath will fall upon us if reparation is not made." The group then threatens to oppose the play "loudly, peacefully, and legally in as large a protest as we can help make possible" if Conroy chooses to stage the play.
Even though the theater company had been planning to mount "The Most Fabulous Story Ever Told" for over a year, Conroy told The New York Times that the pushback didn't begin until March 27, possibly in response to America Needs Fatima's petition. Since then, he said he and his team have been inundated with letters, emails, phone calls and Facebook messages condemning the production. Still, he vowed not to bow down to the criticism.
"I think everyone has their individual beliefs and they are entitled to that," Conroy told Georgia radio station WABE. "If that's what they believe, they don't have to come and see our production, but to disrupt a production is where I don't think it's okay."
In a Tuesday Facebook post, he thanked the theater's patrons for their support, but acknowledged that the controversy had "taken its toll" on the play's cast and creative team. "To put it blunty, our creative expression is under attack," he wrote. "People who have never seen or read 'The Most Fabulous Story Ever Told' are telling us what is wrong with the show, and people who have never met us are telling us what they think is wrong with us... I can promise that you will laugh, cry and think ― all the things theatre should do."
Meanwhile, the Out Front Theatre Company cited a statement it had received from Rudnick himself on its official Facebook page. The playwright, who is best known for 1993's "Jeffrey," praised the theater, which is dedicated to telling "stories of the LGBTQIA experience and community," for its decision to move forward with his show in spite of the complaints it had thus far received.
"The play has always attracted a certain amount of controversy, mostly from people who haven't read or seen the play, like the Fatima organization," Rudnick wrote. "Blessedly, all sorts of people, gay and straight, and everyone from atheists to the most devout, most often end up truly enjoying themselves once they're in the audience."
Popular in the Community