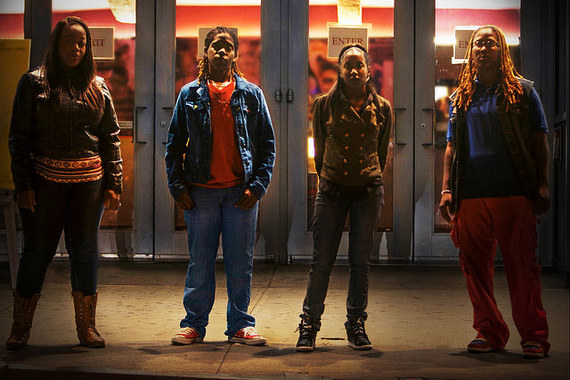 The NJ4: Venice Brown, Terrain Dandridge, Patreese Johnson and Renata Hill
The initial overwhelmingly positive reaction to "newborn" Caitlyn Jenner was a worldwide watershed moment to be sure.

But Out in the Night, a POV documentary airing June 22nd on PBS, reminds us that countless others in the LGBTQ/gender non-conforming communities still face discrimination daily.
The documentary opens with a police radio call describing "officers fighting with gangs...with Bloods and Crips."
The assailants are identified as "five female blacks" who, according to an "anonymous unverified" account may have stabbed a male victim. Subsequent media sound bites allege said victim was stabbed by a "pack of lesbians," who attacked him "just because he was a straight man."

The four alleged "assailants" tell a very different story in the film.
According to Renata Hill, she and friends Terrain Dandridge, Patreese Johnson and Venice Brown headed for New York to "to have fun, look at girls, be gay."

"We thought we wouldn't have any problems," she adds. "We could be ourselves."
Their night on the town took a dangerous turn when a young man, Dwayne Buckle, took a liking to one of the four. In his court testimony, read by an actor in the film, Buckle said, "They looked feminine. One was slightly pretty. So I said, 'Hi' to her."
But Johnson remembers him saying, "Lemme get some o' that," a statement she took as a playful request for a sip of soda.
"He said, 'I don't want that,'" Johnson recalls. "He pointed at my lower area and said, 'I want that.'"
When Johnson laughed and told him, "Mister, I'm gay," she alleges that the man spat and threw his cigarette, yelling, "Dyke bitches! You lesbian bitches! I'll f--k you straight!"
Hill says she and her friends began to walk away, backwards, realizing, "He was coming for us. That was clear as day."
Surveillance camera video proves that he came for them with a vengeance, ripping a handful of dreads from Brown's scalp and even pinning Hill down on the ground with his arm. A group of male bystanders finally intervened, wrestling Buckle roughly to the ground and berating him for fighting with women.

Despite that damning video evidence, the four women were arrested and charged with criminal possession of a weapon in the 4th degree with intent to use, assault in the 1st, 2nd and 3rd degree, gang assault in the 1st and 2nd degree, and attempted murder.
And the media went into a feeding frenzy.
Fox News said the attack was part of a crime wave instigated by lesbian gangs called "Gays Taking Over" and "Dykes Taking Over" who were attacking and raping young girls in Philadelphia and Tennessee. On camera, New York Post reporter Laura Italiano proudly declares she still stands by her description of the women as a "seething, Sapphic, septet from Newark, New Jersey."
"I don't think it was a stretch to say they were out for blood," Italiano insists.
The jury agreed. All four women were convicted. Three were sentenced to 8 years in prison. Johnson received 11 years for stabbing Buckle with a small knife. The wound was not life threatening.
Director/producer blair dorosh-walther--she prefers lowercase--believes the "NJ4" case is yet another example of prejudice and discrimination in the American legal and law enforcement systems.
"There is so much that still needs to happen," she explained in an email exchange. "Unfortunately, I don't think it is just a matter of changing a few laws or fixing particular parts of the criminal legal system or putting cameras on police. I think the entire system of law enforcement and the legal system need to be destroyed and reconstructed. The system is just too rooted in prejudices with no oversight. I think it is unwise to try and crawl out of a racist system inch by inch."
dorosh-walther also had harsh words for the media.

"I believe the media vilified them because of their intersectional identities," she said. "When I spoke with Laura Italiano, the New York Post journalist who is interviewed in Out in the Night, she repeatedly referred to the women as 'tough.' What makes these women 'tough?' That they are Black? Because they look like Black men? Because they physically fought back? Because they do not dress like you? What is it exactly that makes them 'tough?'"
And though this story unfolded in 2006, dorosh-walther isn't so sure our attitudes toward racial "minorities" and those who identify as LGBTQ or non-gender conforming have changed as much as we like to think.
"It is great that Caitlyn Jenner has received such a warm welcome," she said. "Likewise Laverne Cox, who is also an activist and fights for trans civil rights constantly. My fear in lionizing individual people or even a law is that people who are not directly affected think the fight for equality or civil rights are over."
As for the four women whose stories inspired Out in the Night, dorosh-walther hopes viewers will, "honor their unapologetic defense of who they are."
"They were a pocket of resistance, both that night and in the courtroom when they plead [sic] not guilty," she asserted. "They were facing 25 years, so a not-guilty plea was incredibly difficult and holds the courts accountable. They should be honored for the resistance, resilience and perseverance."

Photo credit: Images of dorosh-walther and the "NJ4", Lyric Cabral. New York Post headline, author screenshot.
REAL LIFE. REAL NEWS. REAL VOICES.
Help us tell more of the stories that matter from voices that too often remain unheard.