Four years ago, as stories about the alarming rates of anti-gay bullying and youth suicide were beginning to receive national attention, we were crisscrossing America with Out in the Silence, our PBS documentary about the brutal bullying of a gay teen, to raise awareness about the issues and help communities develop local solutions.
While our campaign revealed that tremendous challenges remain for lesbian, gay, bisexual and transgender people across the country, it also introduced us to the vibrant, new, youth-led movement that was emerging to push for justice and equality for all.
Inspired by these bold efforts, we launched a new national Award for Youth Activism to honor creative and courageous young people and their work to end bullying, harassment and discrimination and to promote safe schools and inclusive communities for all.
The program has exceeded all expectations, with nominations for inspiring individuals and organizations pouring in from across the country throughout the year.
After long and agonizing deliberations, we are thrilled to announce that the winner of the 2013 Out in the Silence Award for Youth Activism is: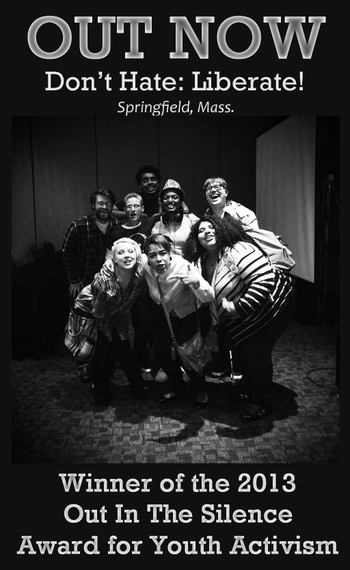 Out Now was founded nearly 20 years ago as a support group for LGBT youth, holding weekly meetings in a donated church basement. Since then, it has blossomed into a powerful community-empowerment organization and an important voice for peace and justice in Springfield, Mass., and far, far beyond.
Out Now offers an incredible array of engaging, challenging, healing, and inspiring programs for young people, including a drop-in safe space, harm-reduction education, art and performance workshops, and youth leadership training.
But what most impresses us is Out Now's commitment to not just serving young people but helping them understand that LGBT liberation (what is now called "LGBT equality") should be seen as an all-inclusive movement that's intrinsically bound to other social justice movements, and that there could be no justice for LGBT people without justice for people of color, women, workers, those in other nations, etc., because we are one and the same.
In addition to its ongoing programs, Out Now is an active member of the Community Coalition for Justice, calling for police accountability and an end to racial profiling and the profiling and imprisonment of poor people, queer people, immigrants, youth, and other oppressed communities.
And Out Now was among the founders of the Stop the Hate and Homophobia Coalition, a powerful response to the notorious anti-gay extremist Scott Lively, who moved to Springfield in 2008 to "re-Christianize" the city and establish Abiding Truth Ministries, the launching pad for his international anti-gay campaigns in Africa and Eastern Europe.
Out Now and the Coalition have become important bases of grassroots support behind the groundbreaking legal case brought against Lively in federal court by the Center for Constitutional Rights and Sexual Minorities Uganda alleging that Lively's actions, in collaboration with key Ugandan government officials and religious leaders, are responsible for depriving LGBTI Ugandans of their fundamental human rights based solely on their identity, which is the definition of persecution under international law and is deemed a crime against humanity.
As the case proceeds, Out Now is sure to play an important role in community education and grassroots pressure, and to continue serving and empowering local youth as they develop into the leaders we need, not just for tomorrow but for today.
On this Human Rights Day, we couldn't agree more with the Out Now motto: "Don't Hate: Liberate!" And we couldn't be prouder than we already are to say that Out Now is the winner of this year's Out in the Silence Award for Youth Activism!
Related
Popular in the Community