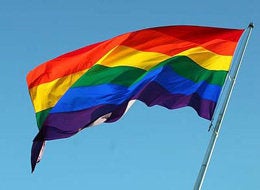 Last Tuesday night I attended a screening of the film Out in the Silenceat a local library in Stratford, PA. It was a very moving and transformational evening. The movie was very powerful in its message as was the question and answer discussion afterward.
The documentary by Joe Wilson and Dean Hamer chronicles the journey of Joe to his boyhood home of Oil City, a small town in western Pennsylvania, after declaring his wedding to Dean, his gay partner, in his hometown paper. Wilson shares the written reactions he received, mostly negative from the hometown crowd. But one letter particularly caught his attention.
It was from Kathy Springer who asked him for help in dealing with the abuse, physical and emotional, that her openly gay sixteen year old son, CJ, was receiving from his classmates at Joe's old high school.
Joe and Dean decide to travel to Oil City and document the experience. What was produced is a provocative film shining a light on small town America and the harassments that openly gay teens and citizens have to endure.
Besides exposing some unpleasant prejudices, it is also a documentary that is filled with hope for a transformative future. The friendly relationship that develops between Joe and a previously borderline homophobic Pastor Nickos and his wife, Diana is uplifting. It shows that it is possible to open the hearts and minds of those who have been influenced by evangelical thinking.
Also inspiring is the story of Roxanne and Linda, two lesbians who live in the house right next to where Joe grew up. As community activists who began neighborhood "clean up days," they gained the respect and support of many in the town. When they bought an old theater with dreams of renovating it, they experienced some opposition from Diane, the Head of the PA Chapter of the American Family Association who ran a radio campaign against them. The amazing thing is that many neighbors came to their support and helped out with the renovations. It was a joyous occasion when they opened the new theater to a sell out crowd. Linda was so moved she could hardly speak.
As for CJ and his mother, after receiving the cold shoulder from the local school board, they presented their story to local representatives and were encouraged to go to the ACLU (American Civil Liberties Union). Eventually, they won a court settlement against the school officials and board.
What struck me in this film is CJ's appealing personality. He is a typical teenager who likes sports and cars who did not deserve the abuse he had to endure.
At the screening, we were introduced to another local teen activist, Joey Kemmerling and his mom, Joyce Mundy, who shared some of his difficult experiences about being openly gay in high school.
I stood up and thanked him for coming out and shared that when I was in high school "gay" was a word that was never spoken. It took me until I was 29 to accept that I am a lesbian and I regret those years that I wasted living a lie in the closet. We have come a long way since then and I am so appreciative of the courage that Joey and CJ have displayed.
I was also moved by the support shown by the large number of straight people in the audience. Many were from PFLAG (Parents and Friends of Lesbians and Gays). I never fully realized until that evening how important group support is. Having heterosexual allies for gays today is similar to white activists backing blacks during the turbulent civil rights struggles of the 1960s. It is powerful to feel that support and be recognized as a human being and reminded that we are all one.
All in all, it was an encouraging event and a film I highly recommend seeing. It shows that no matter how far we have come in our human rights campaign, we have more work to do. And if we approach others with an open mind, inner strength and humility we can change the world, one soul at a time. This movie has a "happy beginning."

Popular in the Community