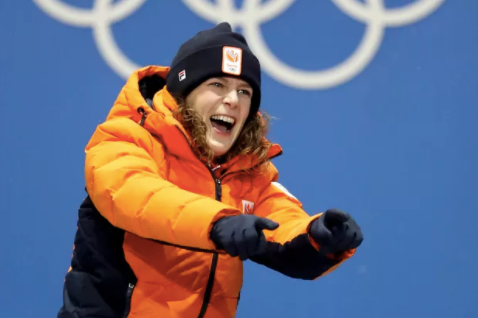 There are a record 15 out LGBTQ athletes at the 2018 Olympics in Pyeongchang. With less than a week to go, four athletes have won a combined seven medals.
Team LGBTQ has won two golds (Eric Radford and Ireen Wüst); two silver (Wüst) and three bronze (Radford, Brittany Bowe and Adam Rippon).
2018 OLYMPICS TEAM LGBTQ RESULTS
Emilia Andersson Ramboldt (Sweden, ice hockey): Andersson Ramboldt and the Swedish team lost in the quarterfinals and will play Korea for seventh place.
Belle Brockhoff (Australia, snowboarding): Brockhoff finished 11th in the snowboard cross.
Brittany Bowe (U.S., speedskating): Bowe won a bronze medal with her U.S. teammates in team pursuit. She came close to medaling in other races, finishing 4th in the 1,000 meters, 5th in the 1,500 meters and 5th in the 500 meters.
Jorik Hendrickx (Belgium, figure skating): Hendrickx finished 14th in the men's individual event.
Daniela Iraschko-Stolz (Austria, ski jumping): Iraschko-Stoltz finished 6th out of 30 jumpers in the normal hill.
Barbara Jezeršek (Australia, cross country skiing): Jezeršek finished 33rd in the 10 meters free and 39th in the 7.5 meters + 7.5 meters skiathon.
Gus Kenworthy (U.S., slopestyle free skiing): Kenworthy battled a broken thumb and injured hip and finished 12th in the slopestyle final.
Cheryl Maas (Netherlands, snowboarding): Maas finished 20th in the big air and 23rd in slopestyle.
Simona Meiler (Switzerland, snowboarding): Meiler finished 22nd in snowboard cross.
Kim Meylemans (Belgium, skeleton): Meylemans finished 14th in skeleton.
Sarka Pancochova (Czech Republic, snowboarding): Pancochova finished 16th in slopestyle and 19th in big air.
Eric Radford (Canada, pairs figure skating): Radford and skating partner Meagan Duhamel won a bronze in pairs and helped Canada win a gold in the team event.
Adam Rippon (U.S., figure skating): Rippon finished 10th in the single skate and helped the U.S. win a bronze in the team event.
Sophie Vercruyssen (Belgium, bobsled): Vercruyssen's team is in 15th place — with An Vannieuwenhuyse — after the first two runs in the two-woman bobsled that will end Wednesday morning U.S. time.
Ireen Wüst (Netherlands, speed skating): Wüst won gold in the 1,500 meters, a silver in the 3,000 and team pursuit and finished ninth in the 1,000.
For more from OutSports, check out these stories:
Popular in the Community