My mother used to cart my sister, brother and me to visit our Great-Uncle Pete and Aunt Sophie. The first memory I have of visiting them, I was 5, my brother was 3 and my sister was 7. Pete handed my sister and me each a drugstore pack of barrettes. He gave my brother a GI Joe Action figure, and a toy Tonka pick-up truck. I dropped my dime store hair clips into my sister's lap and stood up screaming, "I want that! I want that!"

"Now, now, Sweetie, those are boys toys," my Aunt Sophie said.

You might think the fact that I could not lift my heart out of my stomach for the rest of the visit might teach Pete and Sophie a lesson, but without fail, every time we visited, it was the same thing.

My sister and I would get a dime-store pack of ponytail bands. My brother would get a Fire Engine and a Davey Crocket rifle.

"I don't want to go anymore!" I announced.

"He's an old man. He doesn't understand that not all girls are the same."

By the time I became a teenager I found a way to channel my tomboy ways into my very own style; hard rock meets punk rock meets badass. A pair of Levi's, a Sex Pistols T-shirt and Frye square tip cowboy boots became my uniform. The yellow dress with polka dots on it that my mom had bought me at JCPenney sat on the bottom of my closet under my red Converse basketball sneakers.

I started to date boys, well, men really. I had no interest in the pimply-faced kids that asked me out. The young men with long hair and beards who drove Mustangs or rode Harleys were more my style. That's exactly what they were actually: my style. I wanted to be them, not date them.

One day after school, my best pal Sarah told me a secret.

"I'm bisexual!"
"I mean I like sex with boys and girls dumb ass."

I went home that day, head spinning. I would have to end the friendship with her. It was just too threatening. By the next day, I'd decided to keep the friendship but cancel the sleepovers.

I joined a community theatre group. Theatre was a whole new animal. They were gay, straight, bisexual and everything in between. They celebrated being whatever or whoever they were.

"Your look fabumond!" announced Mag, a woman who stood 7 feet tall in heels and liked to pretend she was a drag queen. "Always keep them guessing, dear!"

I met a woman named Cindy with crayon red hair who played bass guitar in a punk band. She was 23; I was 15. I told my mother I was going to the Jewish Community Center, and Cindy and I went to a bar called Toad Hall for punk rock night. In the bathroom she put her tongue in my mouth. I was never the same.

Cindy and I had a full-blown affair in the back seat of my parents Volare. I guess it wasn't glamorous, but all the fireworks of a thousand Fourth of Julys were going off in that car. I don't know how it didn't catch fire.

I grimaced my way though a series of crappy courtships with men, but mostly to save face. I wasn't ready to say what I knew was the truth.

The last time I dated a man, I was 18 years old. I was seeing a guy from work named Andy whom I'd let move in with me. I was so bored that I fell fast asleep and was snoring while we were having sex. When I woke up Andy was packing his bags.
"You're gay!" he yelled as he walked out the door.

That year, 1982, my friend Rodney, a flamboyant fun-loving young man, took me to my first gay pride parade. When we climbed out of the subway and into Sheridan Square, I felt like I'd stepped into the part of "The Wizard of Oz" when it goes from black and white to color. There were balloons everywhere. Screaming drag queens, thousands and thousands of gay people cheering and singing and laughing. A woman walked by with a T-shirt on which she had scrawled with a marker, "OUT LOUD and PROUD!"

I pulled Rodney over and whispered in his ear, "Rodney I think I'm gay."

"Girl! Are you for real? You're the biggest dyke I know! Shout it out!"

"I'm gay," I said barely audibly.

"Louder! So the whole wide world can hear you!"

"I'm gay!!!!!!!!"

I didn't realize that I'd been carrying a hundred pound bag of lies on my back, but after I was done breaking Rodney's eardrums; I dropped that bag on the ground with the confetti.

I felt as though I could float on air.

I'm not saying it's been all sunshine and margaritas since that wonderful day.

I have been gay bashed more than once. I have lost business for being out. I know what it feels like to live in neighborhoods where you would be literally risking your life to hold your lover's hand. But all of this has been a small price to pay for the glory of living an authentic life.

I see gay couples holding hands as they walk by me all the time now. They are young and fearless and beautiful. They have come out in a different world than the one I outed myself into in 1982 and certainly the one of our pioneers at Stonewall.

Gay marriage is no longer a dream but a reality all across this country. Some days, it really does seem that maybe, just maybe, folks are ready to accept that LOVE IS LOVE.

Then Orlando happened.

I don't have words for the senseless massacre on June 12th.

But I do have a resolve; to seal the blood of those innocent victims with love. To cherish their memory by trying to change the world.

To once again, cheer, pray and dream that LOVE IS LOVE.
Shout it. LOVE IS LOVE!

Look for me at the New York City gay pride parade, but you might want to bring your ear plugs.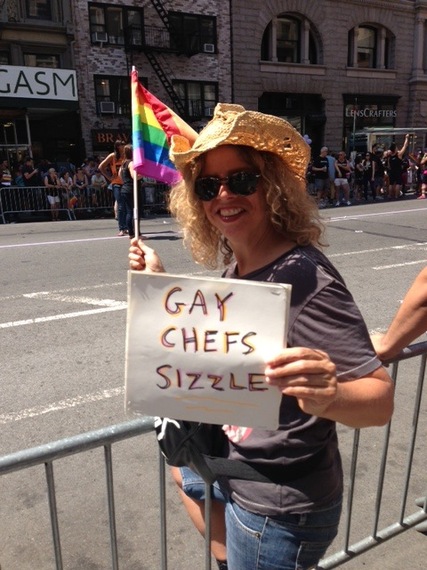 Calling all HuffPost superfans!
Sign up for membership to become a founding member and help shape HuffPost's next chapter