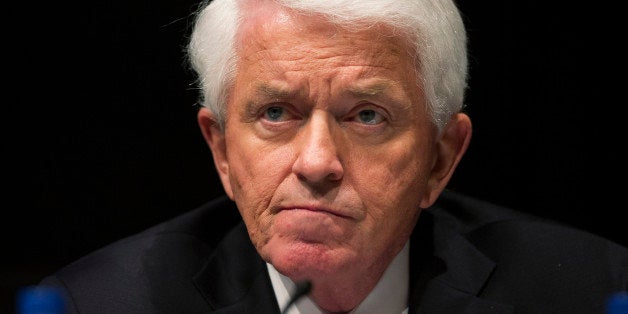 Co-authored with Jonathan Stone
The U.S. Chamber of Commerce is, as they boast on its website, the world's largest business organization, as well as the nation's largest corporate lobbying group. It is also a recipient of some of the largest amounts of so-called "dark" money in the country, refusing to disclose to the public its donors or even the amounts it receives. Lisa Gilbert, Director of Public Citizen's Congress Watch and U.S. Chamber Watch, was certainly on point when she said that "...the American people deserve to know more about who's behind this powerful force in politics."
Public Citizen recently released an eye-popping report titled "The Gilded Chamber," written by Sam Jewler, which provides plenty of information on the Chamber's relatively small number of donors and the scandalous amounts of money they give -- it is a worthwhile, if scary, read. The Chamber, along with other business leagues, local chambers of commerce, boards of trade, real estate boards and, yes, even the NFL, are all considered "non-profit" 501(c)6 organizations in the eyes of the I.R.S., which grants such organizations virtually unlimited access to money that they use to lobby Congress and its committees. The Chamber cannot engage in any activity considered to be "for profit," so instead it must support itself through donations and membership dues, with its stated goal being the bettering of business conditions for a particular trade or community. Of course, with the bulk of its donations coming from the 1 percent, one has to wonder just how much of the Chamber's efforts are being devoted to the representation of those small mom-and-pop businesses it supposedly champions.
Clearly, though, those donations are coming in by the bushelful these days, since the CEO of the Chamber, Thomas "Tom" J. Donohue, was paid $4.7 million himself in 2010, as reported by The Huffington Post's own Amanda Terkel. We can certainly assume that his pay package has risen significantly since then as he continues to turn the Chamber into a worldwide political behemoth. His travels are also no doubt made easier with his chauffeur-driven limo and leased jet, as well as the 17 vice presidents of the Chamber, who are also surely well-compensated, which raises the question -- just who is not profiting in this supposed non-profit? Certainly its corporate donors and their investors are also doing very well these days, along with the CEOs of those companies.
In the upcoming 2014 elections, Mr. Donohue has "vowed to work to 'expand a pro-business majority in the House and advance our position in the Senate,' and indicated the Chamber could challenge lawmakers the group feels has gone against business interests." One can hope that this means they will also oppose some tea party candidates, but let's be real: This is a Conservative organization that openly supports the G.O.P. and opposes Democrats, so the chances of them picking a Dem over any Republican are next to nil. In the 2012 election cycle, the Chamber became even bolder in advancing their agenda, sponsoring ads for the first time - through so-called "independent expenditures" -- urging people to vote for or against candidates. In the 2010 cycle, the Chamber spent $33 million on electioneering communications, becoming the largest-spending organization among all those that were not national party committees.
The Chamber claims to represent over three million businesses, but Public Citizen's remarkable study raises serious questions about just who and how many the Chamber really does represent, and how much small businesses interest they are actually addressing. Arguably, very little, as clearly a small business cannot donate on the level of the fat-cat donors that keep the Chamber humming. Public Citizen's study analyzed the 2012 tax returns of the Chamber and its affiliate, The Institute for Legal Reform - which works to limit consumers' legal rights -- and found that only 1,523 businesses and other entities combined to donate $169.4 million to the Chamber that year, while 96 businesses and entities gave $43.6 million to The Institute for Legal Reform. Just 64 donors contributed more than half of the itemized revenue of the Chamber in 2012. All of these contributions were of $500,000 or more, with a disproportionately large amount coming from just a few dozen contributors -- none of whom, I imagine, were small business owners.
Even Mr. Donahue himself admitted as much in a letter to a Philip Morris executive in 1997, noting that small businesses "...provide the foot soldiers, and often the political cover, for issues big companies want pursued," according to the March/April issue of Public Citizen News. It is interesting to note that the calculations for this report were based on an analysis of an itemized list of contributions of $5,000 or more, which must be given to the I.R.S. and made available to the public upon request. However, the Chamber may remove donors' names from these lists, which it does. The "Gilded Chamber" report also reveals a stunningly small number of entities that made those donations, from $5,000 all the way up to $5,000,000 and more.
Employees of the Chamber have held seats on numerous advisory committees to Congress, so their reach into the legislative branch of our government extends far and wide. Their main lobbying issues are torts, finance, regulation "reform," copyright laws, patents and trademarks, banking, law enforcement and crime, federal budgets and appropriations, taxes, immigration, trade, energy and the environment. They oppose efforts to regulate greenhouse gas emissions through the Clean Air Act, as well as opposing the Clean Water Act, the Endangered Species Act and the National Environmental Policy Act. Instead, they suggest that India and China should address these issues, not us.
They want lower taxes, deficit reduction and public lands opened to fracking and oil exploration, as well as supporting the Keystone XL pipeline. They call for so-called "entitlement" reform (which are actually our hard-earned benefits), "modernizing the regulatory process" -- especially in the financial sector -- in order to boost the "free" market, and advancing American innovation by protecting intellectual property. They support "fixing the flaws in Obamacare" and having the U.S. enter into more trade deals like the truly awful Trans-Pacific Partnership, while opposing any immigration reform that would endanger the pool of cheap labor they exploit to do those jobs that supposedly Americans don't want. The Chamber further opposes paid sick days for workers, and opposes raising the minimum wage, even though such a raise would give those workers more buying power to purchase products from the Chambers' benefactors -- they should support this.
On the Chamber's website, the word "reform" appears in relation to many issues, but few details are offered on just what kind of "reform" is being sought, so you can imagine that it is likely just a euphemism for "elimination" in most cases. These are just a few of the goodies listed on the Chamber's site under U.S. Policy Priorities for 2014, which includes under the category "Elections and Grassroots Advocacy" the statement that the Chamber will "(o)ppose attempts to limit the ability of the business community to engage in the electoral and policy making arenas at the federal and state level," as well as a call to action for its supporters to "(p)lay an aggressive role in candidate recruitment and primaries to attract pro-business candidates with general election appeal."
Politically active non-profits have become a major force in the past three election cycles, and now, with the new sibling of Citizens United named McCutcheon being unleashed on the American people by the Supreme Court a few weeks ago, donations will be arriving at these organizations by the truckload. Surely there is something for the I.R.S. to look into here, wouldn't you think?
Calling all HuffPost superfans!
Sign up for membership to become a founding member and help shape HuffPost's next chapter